Bayern Munich are due some home truths after fourth game without a win in troubling start to the season
Bayern's 3-0 defeat at home by Borussia Monchengladbach at the weekend was their fourth game without a win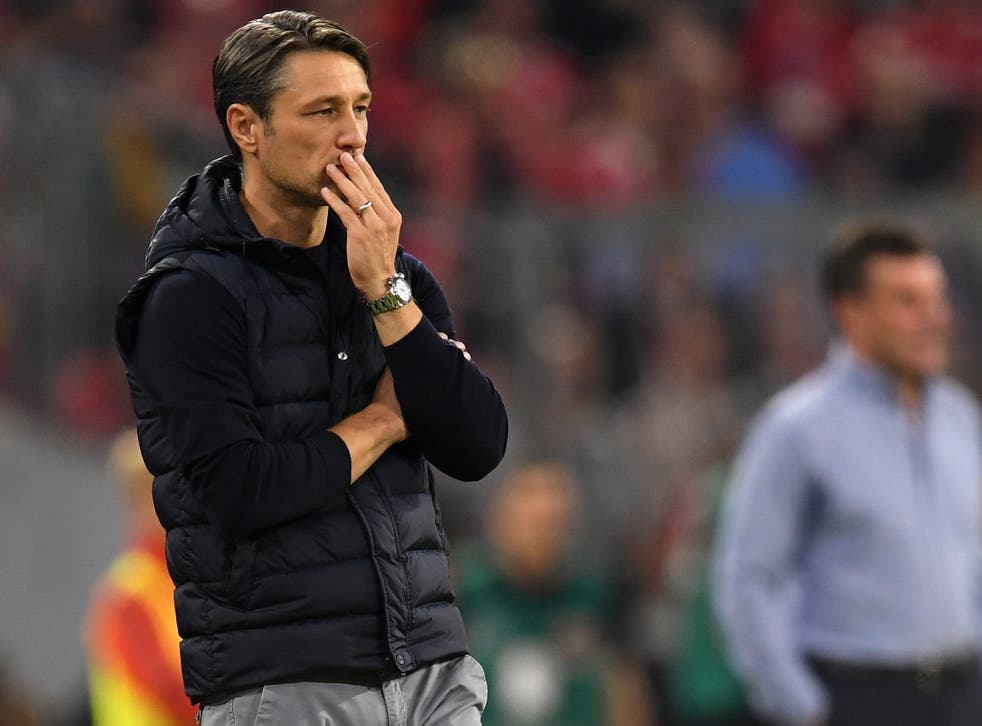 "Sometimes you have good times, sometimes you have bad times. Everybody is trying at the moment, but we cannot bring it together on the pitch."
It's not often you hear that from the head coach of Bayern Munich but these are strange times at Sabener Strasse, and Niko Kovac doesn't appear to know what to do.
In some ways you can't blame him.
The performance against Borussia Monchengladbach on Saturday was in many ways as dominant as you'd expect. Bayern had over 70 per cent possession, twice as many shots as their visitors and yet they played out the last 15 minutes of a home game knowing they were never going get back into it. When Gladbach got their third unanswered goal with just three minutes left it added a kind sheen to a scoreline that was already somewhat generous, but the visitors defended stoutly and were lethal on the counter. Bayern kept the ball well but did everything else fairly poorly and created precious little.
"We had no chances," moaned Joshua Kimmich post-match.
"This isn't good enough. It wasn't even that we messed up opportunities today. We didn't have any."
In isolation this result wouldn't be a concern but in the context of a four-match winless streak there is an unease around Bayern now. For a club that is neurotic at the best of times, even when everything appears to be great, the mood is turning dark. All indications are that Kovac will be given more time to turn this around but heading into the October international break outside the top four and with two weeks to mull over such a poor run of results, there is a feeling around the club that some home truths are incoming.
Kovac's post-match comments focused on individual mistakes that spawned the early Gladbach goals but these errors also must be viewed in context. Thiago and Neuer were both sloppy as Bayern went 2-0 down inside the first 16 minutes on Saturday but Neuer also made the key mistake against Augsburg that kicked off this poor run of results. Jerome Boateng, absent this weekend, gave away a brainless penalty in the defeat at Hertha Berlin last week. Consistent errors and unconvincing play from proven, elite performers do begin to bring the coaching into question.
Bild claims that James Rodriguez was very pointed about exactly that. "This isn't Frankfurt" he is reported as saying, in a shot at his new manager's coaching pedigree.
Searching for answers, Kovac has shuffled his pack from game-to-game to try and rediscover the formula that saw him win his first seven games in charge. Those questioning whether Bayern could go a season unbeaten under their new coach have fallen silent. The question now is whether Kovac even stays in the job that long.
Bayern are known for being patient and in Kovac they found a promising manager who was a former player. That continues that fine tradition of installing those who brought success to the club previously back into senior roles in order to preserve that winning culture, which is all well and good, but you wonder if – down the line – the club may regret putting all their eggs in Kovac's basket rather than going for the outstanding Julian Nagelsmann.
The Hoffenheim coach, who will join RB Leipzig next summer, was deemed too young for the Bayern role but will surely come into contention down the line. For now, social media in Germany is ablaze with jokes at FCB's expense, most notably a mock-up of Jupp Heynckes' wife on her hands and knees cutting the phone cable to their house, ensuring that the Bavarian giants don't turn to their usual safe pair of hands and attempt to lure him out of retirement once again.
The problem is that Kovac was supposed to be a symbol of what Bayern needed to do. The 46-year-old Croat replaced the 73-year-old Heynckes at a time when the squad was also deemed in need of some youthful rejuvenation but that recruitment was put on hold for a year and the age is beginning to show, and with it the inexperience in the dugout is being highlighted.
Arjen Robben is bringing so little to the party that he has been substituted early in each of the last three games. Franck Ribery doesn't have an assist or a goal this season. Neuer has made more mistakes already this season than he used to in an entire campaign. Boateng and Mats Hummels are no longer the solid pairing Europe had become so used to.
Most of all, though, to watch Bayern labour against Ajax in midweek and then against Gladbach – both times in front of their own support at the Allianz Arena – was to see a team short of ideas. There are creators in this squad and brilliant ones at that; Thiago, James Rodriguez, the injured Corentin Tolisso, even Serge Gnabry brought some spark from the bench on Saturday. But for all the possession Bayern had, Gladbach boss Dieter Hecking was right in saying that "Bayern could only come up with half-chances."
For a team with so much talent, seeing them struggle against a well-organised but fairly basic defence is troubling. Top-level teams have had to become accustomed to the tough task of breaking down the 'low block' and dedicate much time on the training field to doing just that. Bayern's attempts to pick the lock appeared as if it was the first time they'd taken a jigsaw puzzle out its box and were yet to work out which way was up.
That puzzle is going to be increasingly under the spotlight during the international break and if Kovac is still in charge by the time Bayern head to Wolfsburg for another tough game in two weeks, he might well count himself lucky.
Register for free to continue reading
Registration is a free and easy way to support our truly independent journalism
By registering, you will also enjoy limited access to Premium articles, exclusive newsletters, commenting, and virtual events with our leading journalists
Already have an account? sign in
Register for free to continue reading
Registration is a free and easy way to support our truly independent journalism
By registering, you will also enjoy limited access to Premium articles, exclusive newsletters, commenting, and virtual events with our leading journalists
Already have an account? sign in
Join our new commenting forum
Join thought-provoking conversations, follow other Independent readers and see their replies