Bayern Munich have won the Bundesliga title already and they've only played eight matches
Bayern smashed rivals Borussia Dortmund 5-1 on Sunday night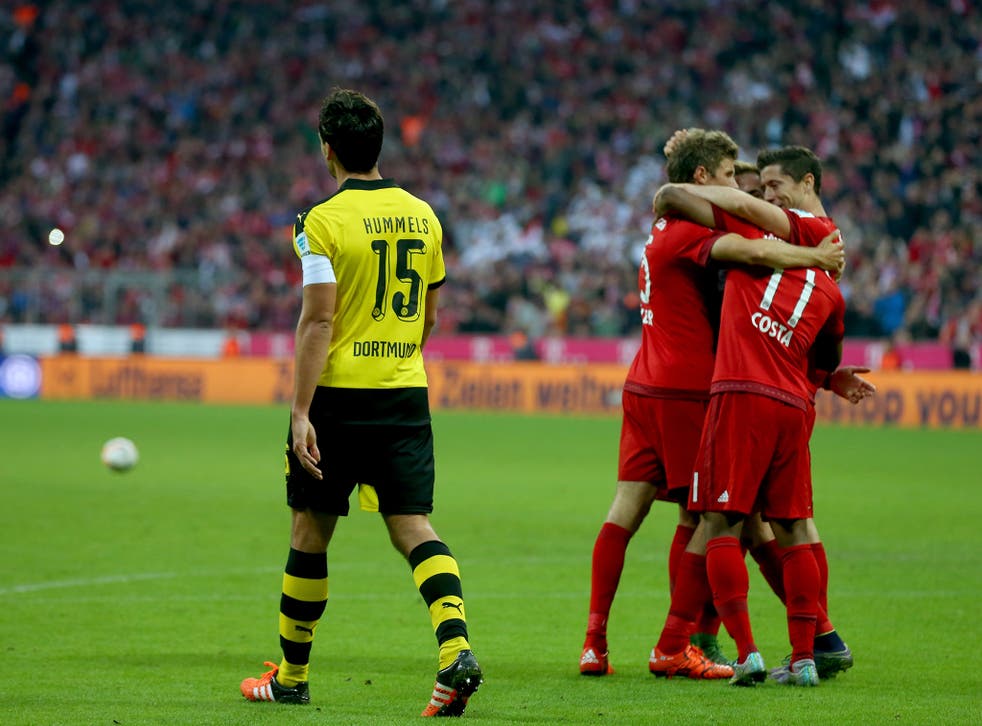 The title race is over. Bayern Munich are already champions of Germany. The leaves of October have barely hit the ground and Pep Guardiola has the first trophy of the year wrapped up.
Such are the verdicts emanating from Germany and elsewhere this morning, and not without reason. In the space of ten days, Bayern have beaten both their closest challengers, with a scoreline of 5-1 on each occasion. Robert Lewandowski has scored 13 goals in five games. Bayern have only once begun a season so strongly – in their treble winning season of 2012/13.
Last night's second half destruction of Borussia Dortmund was, as Der Tagesspiegel put it, not so much a top drawer clash as a demonstration of Bayern's power. Howls of despair echoed around the Federal Republic as Bayern crushed the team which was supposed to be their nearest rivals. How are we supposed to promote a league which is so predictable, the howlers pondered. How are we supposed to enjoy it?
Dare I say it? The howlers can't see the wood for the trees. Rarely in the history of sport can such beauty have been greeted with such anguish, such rage, as it is in the reaction to Guardiola's Bayern.
In this age of commercialism, sport is too rarely left to its own devices. Athletics administrators often pin their event promotion on a potential world record, only to be left red faced when it doesn't happen. The Bundesliga, constantly under needless pressure to "compete" with its fellow European leagues, had the same problem this week.
After an impressive start to the season under Thomas Tuchel, Dortmund became the unwittingly anointed Pep hunters. In the game which, for marketing purposes, has come to be called Der Klassiker, they were supposed to show Bayern that they had a challenger. But as Thomas Müller put it after the game "in the 90 minutes when 22 young men chase a ball around, a lot of different things can happen".
Müller was actually talking about Bayern's first goal, but he may as well have been speaking to all those who are now mourning the title race. Sport is unpredictable, and the desire to predict takes the joy out of it. Those who predicted a Dortmund challenge are now upset, those who glumly foresaw more Bayern dominance are left cynical and empty.
The irony is that all this predicting meant that few stopped to enjoy the sheer wondrousness of what Bayern were doing on the field on Sunday night. Lewandowski's ferocious form continued. Müller's rag-doll brilliance was electrifying. Mario Götze, a man supposedly out of form and favour, played what would have been the best assist of the season had it not been only the second best assist of the game.
But no, Bayern are not brilliant. Bayern are bullies. Bayern are cruel. Bild's headline was "Tor-Prügel für Tuchel", a relatively poor play on words meaning Tuchel was beaten up.
You have to feel for Pep Guardiola. When his team fail to win the Champions League, he is lambasted as an un-Bavarian, lofty intellectual with no backbone. When his team succeed in dominating the Bundesliga, he is decried as a bully.
There is little space in between for pure admiration of Guardiola's brilliance. This team may become the first to win four consecutive Bundesliga titles. Against Dortmund they showed once more their ability to effortlessly switch formations, to magically guide the ball into the goal as if their opponents weren't there. Yet, one way or another, Guardiola's reign at Bayern will probably go down in history as having been unsatisfying.
This is rubbish. It is the self-important hyperbole of a sport which has reduced itself to its commerical entities and its biggest clubs. The great Ajax, Brazil, Real Madrid and Liverpool teams were heralded as near super-humans when they dominated their competitions. People cared about the football they played. They did not moan that Cruyff, Pelé, Di Stefano and Dalglish were making the product of football more difficult to sell.
Of course sport is at its most exciting when there is strong competition and memorable duels. But the next best thing is a team so good that even their dominance is exhilarating.
And besides, last season's Bundesliga saw a relegation fight involving six teams last until the final day. It saw lowly Augsburg finish fifth and qualify for the Europa League. The idea that this is not a competitive league is simply erroneous.
In two weeks, Bayern Munich play Arsenal in the Champions League. The Gunners need to win. If they do so, let us herald a superb achievement by Arsene Wenger's side, rather than exercise snide soundbites about a lack of quality in the rest of the Bundesliga..
If Bayern destroy Arsenal like they did Dortmund, then let us take a moment - in between the adverts for Gazprom and Heineken - to simply enjoy the magic of a truly remarkable football team.
Register for free to continue reading
Registration is a free and easy way to support our truly independent journalism
By registering, you will also enjoy limited access to Premium articles, exclusive newsletters, commenting, and virtual events with our leading journalists
Already have an account? sign in
Register for free to continue reading
Registration is a free and easy way to support our truly independent journalism
By registering, you will also enjoy limited access to Premium articles, exclusive newsletters, commenting, and virtual events with our leading journalists
Already have an account? sign in
Join our new commenting forum
Join thought-provoking conversations, follow other Independent readers and see their replies