Arjen Robben would 'rather face Leicester' than Arsenal, but Bayern Munich winger won't take Gunners easily
Robben's story of redemption was completed when Bayern won the 2012/13 Champions League, but the 33-year-old tells Miguel Delaney that he's not finished yet with Europe's elite competition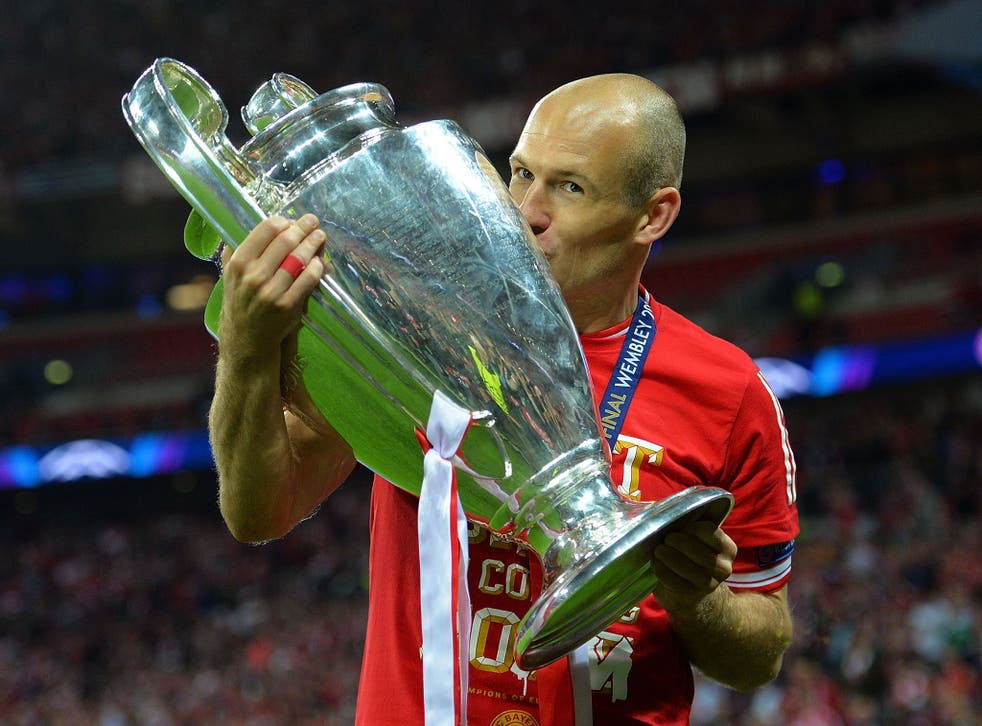 Arjen Robben readily admits it. Like so many others, he'd rather have something else this week than yet another Bayern Munich-Arsenal tie. Something different.
"I prefer to play Leicester," Robben freely says, albeit with a quick diplomatic caveat. "That's different… not easier, or more difficult, just different.
"If you have the choice, yeah. It was not this time 'let's get Arsenal again'. I like, as a footballer, to play another team who we've never played before."
Even beyond that, you can understand Robben. This is the fourth time Bayern and Arsenal have drawn each other in five Champions League seasons, making it one of the fixtures to be most played over such short spells of time in in the competition's entire 62-year history. Barcelona and Paris Saint-Germain have suffered the same level of magnetism over the same half-decade, and the only pairing to actually trump it is Bayern-Real Madrid. They were put together four times in just three seasons between 1999 and 2002, due to meeting in the group stage and semi-finals in 1999-2000.
While they bettered each other twice each in those encounters, that has not been the case with Arsenal and Bayern. Munich have come out on top every time, even finishing first in the group when Arsene Wenger's side have beaten them, and the wonder is whether that very consistency can alter the distinctive dynamic to a game like this. Will Bayern just naturally retain that superiority and edge over Arsenal, or will it inevitably lead to a complacency on one side and greater conviction on the other?
Robben insists that Arsenal are "dangerous" regardless and that this is "50-50", but then he knows better than anyone the beneficial flipside of this type of situation; of perseverance when you've developed a particular tag, a record of failure - especially in the Champions League.
He is actually one of the competition's great individual redemption stories in that way. Because, for quite a while, Robben had been seen as… something of a bottler. And that was for a long time during his spell at Bayern specifically. It was in his very first season at the club, after all, that he played in his first Champions League final. He was completely ineffective in that 2009-10 defeat by Internazionale, only to be effective in the wrong way with Netherlands in the World Cup final two months later. Robben squandered two one-on-ones against Iker Casillas, buoying Spain for their eventual victory when they probably should have been finished. Anyone would have forgiven Robben for feeling finished himself when he suffered more decisive deflation in another grand occasion two seasons later. In a Champions League final that Bayern were themselves hosting, he missed the extra-time penalty that sent Chelsea on the way to an improbable victory.
A perception had become fixed. It now seemed probable that, if Robben was presented with a big opportunity like that, he would miss.
Except, that changed. Something different happened.
The following season, Bayern were back in the final and drawing 1-1 with Borussia Dortmund going into the 89th minute, and Robben was back in a fortuitous position bearing down on Roman Weidenfeller's goal. He scored. He'd made the difference.
Robben had won the game, finally won his Champions League medal, and banished so many ghosts and criticisms about his character in the best manner possible: a last-minute winner.
"To do it in that way was amazing," Robben says now, as he sits in Bayern's Saabener Strasse training base. "It was like a book, you know, you can write a book about it… it was like a dream come true."
His words at the time were less romantic, and a lot more self-consciously robust: "That's three finals and you don't want the stamp of loser. You don't want that tag."
Robben chuckles when that comment is put to him now. That matter-of-factness nevertheless reflects an appropriate sense of logic when it comes to such supposed trends.
"That's also something you can see it in a negative or positive way," he says. "If you're playing at this high level and you achieve a lot, like reaching finals and semi-finals, finals are there also to lose. Of course, what I meant was you don't want to be remembered like someone who always reached a final and was at such a good level but never won it. You need to win it at least once, so that was of course a big relief after we lost already two Champions League finals, with Bayern, there was the third one, of course one World Cup final, yeah, it's positive they are also great results but in the end it's about titles and to win the Champions League is not for everybody."
Robben arguably personifies Bayern's own modern history in the competition: that, with sufficient ability and attitude, your time will eventually come if you keep persisting.
He himself keeps persisting at the exact same athletically high level of performance as a player, even though he turned 33 a few weeks ago. As emphasised by a vest that shows off that ready-to-spring sprinter's body as he speaks, he is in the same imposing physical shape as ever, and has fully found his form again after a rare long-term muscle injury greatly curtailed his 2015-16 campaign. Robben has hit seven goals in 14 Bundesliga games this season. That represents one of the best returns of his career, and it's been all the more important this season because it's often rescued a patchier Bayern.
The forward admits that the injury and his age caused a bit of thought about his physical condition, and brought a few minor changes to his regime. On the day he is interviewed, two weeks before Arsenal's visit to the Allianz on Wednesday, he doesn't actually train with the rest of the Bayern squad in the bitter cold but instead undergoes his own personal programme.
"I don't know if it's like that, fitter now, but of course along the way you get to know your body better and better. And of course I've had my problems but I've always been trying to solve them and always analysing what I can do, what I can do better, what can I change to make it better? And in the end there is always a risk and maybe I am a bit riskier than other players but at least all I can say is I always try to prevent it by working hard and doing my stuff in the gym, doing my stuff with the physios… I came back [in the summer] from a long period of injury, three months, and I started pre-season and the first friendly match I got injured straight away and it took me six weeks. After that one, I was like 'okay' and I just analysed everything - in terms of treatment, nutrition, blood, everything. Not big, big changes, but just some little details.
"I don't get into the details too much because otherwise I can see the headlines already!"
So Robben won't be publicly praising avocados as his secret ingredient then?
"Everything, not only avocados!" he laughs. "It's like all the specifics, all the boxes ticked and trying what I can… sometimes it can help half a per cent or even less but most of all it's about getting in training, getting in your game, getting the rhythm."
If Robben has stayed the same, though, he came back into a Bayern team working at a completely different rhythm: the more relaxed beats of Carlo Ancelotti, rather than the intensity of Pep Guardiola.
The German champions have found form again, with eight wins in a nine-game unbeaten run, but it's still difficult to dismiss some of the doubts that linger. Bayern now seem even more dependent on the individual brilliance of players like Robben again, precisely because they don't have a system that works as slickly. The player says it's down to adapting to that new system.
"Of course it's a change, but it's always a change," Robben says. "I think I've had now four managers here, four great managers but they all did it their own way and they will always need some time to adapt. Every new coach is interesting."
Robben actually uses that difficulty of initially adapting to a new style very conspicuously - and very voluntarily, given he wasn't specifically asked - to defend Guardiola from some criticism he's received at Manchester City. He evidently has a lot of time for his former manager.
"We've been working with the other manager, with Pep, for three years and it was this regime [performs a hard chopping hand gesture] and also with him it took some time. In the third year, we were far more complete than in the first year, so it is always normal that you need some time. Now there's a different manager, he brings his new ideas, it's a little bit different, his own specific details, you know, it's just this… you have to switch again, and that's quite a normal process."
So he wouldn't be worried about Guardiola's relative under-performance at City so far?
"No, I'm not worried about him at all. I know his philosophy. I know the way he thinks about football and I also know the Premier League, as I've played there for three years, so I know, with all the teams that are in it, it's very, very difficult. Every game is a new battle but what I can see - I haven't seen a lot because it's difficult to see a lot of games because we're playing all the time - but the thing I have seen a little bit, you can already see his handwriting, you know and that's for me something that is very positive. You don't [generally] see that so quickly that you can see the handwriting of the coach and the way they are playing, in my opinion, is I don't know better but maybe more attractive than it was before and that's what I say.
"He loves the game, he loves football, he loves attacking football. He wants to have the ball, he wants to play and to me, for players, it's also the best. You want to play football. So, yeah, for me, no negative word about it because I love working with him for the last three years."
One huge positive for any Bayern manager, Robben believes, is that they have a core of repeat winners setting a culture, and setting highly demanding standards.
"We have a lot of players who have been together for a very long time. As players we also have quite a lot of experience. There are four, five players who are over 30 and a few just below 30 also. So you have this experience in the team and we all know how we have to play. For example, we won the game away to [Werder] Bremen, 1-2, but no-one was satisfied because everybody knows that if we want to achieve something this year we have to improve, we have to do better.
"I think that's what you need at a club. I think that's also what's special about the club. You need like this core and normally it's like, in this case, German players or at Man U it was English players and you need that. Every club needs that and the tradition of the club, I think that's very important, and also this connection with the fans and the people around the club."
That premium of player, however, also creates a certain pressure. They're all well aware Bayern should probably have won more than one Champions League in the last half-decade, especially under Guardiola, and especially feel it now as so many of that core are into their thirties.
"That's also why I want to stay and renewed for a year because I think we've got so much quality in the squad and so much quality at this club and we have the possibility to achieve something," Robben admits. "Our biggest target, of course, is to win the Champions League again. We won it in 2013 and we've got some older players – Philipp Lahm, Franck Ribery, Xabi Alonso – so it's like we don't have a lot more chances anymore. It's not like we have five, six more years left. So if we are in good shape as a team and in the best condition then we can beat any team in Europe so that, of course, is the target."
Does he feel he has to win it again?
"No… 'have to' I think is a big word. 'Have to' I think is when you haven't won it before and you were two, three times that close and losing two or three finals but we've won it once. It's also not the other way around that 'OK it doesn't really matter': no. But also, I love football and when I'm on the pitch I want to win. Also, the German league we won now four times in a row, I want to win it a fifth…"
So, it's a very different type of pressure and motivation to 2012-13?
"From the first day, it was really like [something] I had not experienced before, from really the first day of training, we noticed everyone was like [clicks fingers] 'hey, let's get back…'
"There's also experience, I think, where you approach the game and I think, if you play it for the first time it's a different one than when you play it the third time, but especially the third final, the last one really was like 'whatever happens today, we're going to win it'… 'whatever happens today, we are going to win this one'.
"Afterwards it's always easy to say 'I knew we were going to win it' but, no, it was like this feeling, one time, two times… but third time."
They now face Arsenal for the fourth time, in pursuit of a second title for this group, and sixth for Bayern.
Same step as in the past, but they hope with a different ending to the journey. Whatever happens, it will likely see the same Robben, still making the difference.
Join our new commenting forum
Join thought-provoking conversations, follow other Independent readers and see their replies