Bayern Munich vs Barcelona match report: Barcelona prevail on aggregate after Neymar double to reach Champions League final
Bayern Munich 3 Barcelona 2 (Barca win 5-3 on aggregate)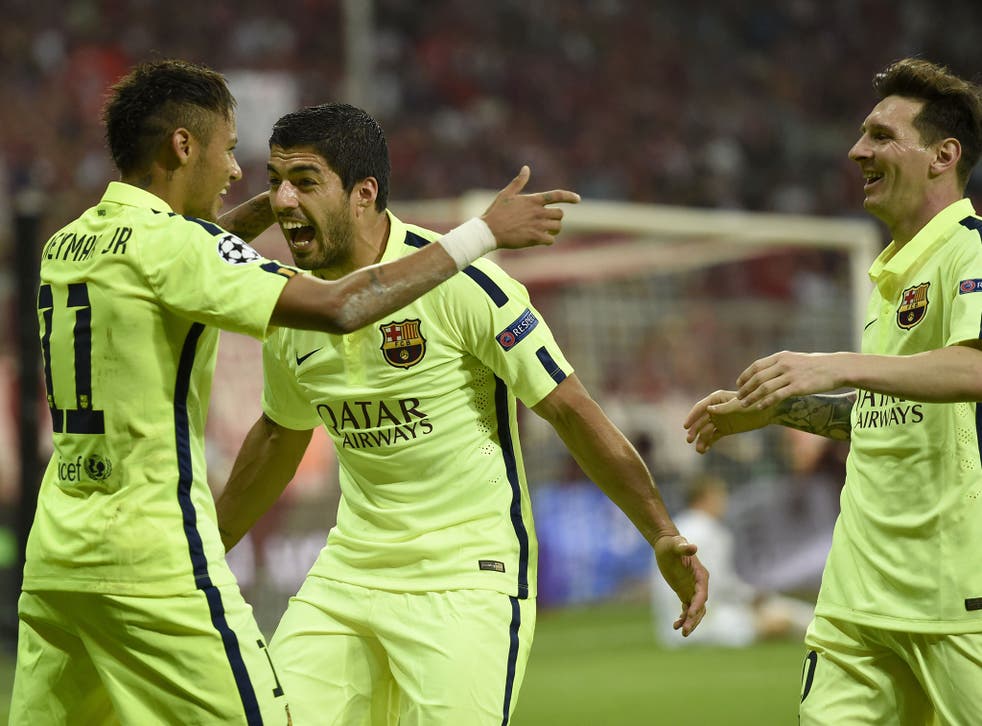 When the European Cup is presented in Berlin next month, as usual it will be accompanied by a rendition of Queen's godawful "We are the Champions" which contains the line "no time for losers".
As Barcelona reached their fourth Champions League final in nine years, the team they left behind lost as well as anyone could have done. Bayern Munich were 3-2 up on the night, they needed three more in a quarter of an hour. Pep Guardiola was tearing down the touchline like a man possessed. There was a slim, stupefying possibility they could do it.
Bayern are known in Germany as "FC Hollywood" and had this match been made in Los Angeles they would have found those three goals. They did not and the lasting image of this semi-final would be of Lionel Messi putting Jérôme Boateng on his backside before scoring in the Nou Camp, where this game was decided.
Barcelona have reached the final with victories over Manchester City, Paris Saint-Germain and now Bayern – they have beaten new and old money and they have overcome the man who in so many ways created them.
Guardiola was killed by the thing he loved and when the teams came in for half-time, the match obviously lost, he gave Messi, the player he loves perhaps more than any other, a little pat on the head. His team rallied and after the final whistle his players did a lap of honour going to every corner of the ground. But there will be no more steps on the road to Berlin.
Only once since the Champions League came into being had any team succeeded in doing what Guardiola had demanded of Bayern. In the 2004 quarter-finals, Milan, the reigning European champions, had taken a 4-1 lead to Deportivo La Coruna and been knocked out.
Bayern Munich vs Barcelona player ratings

Show all 22
It would be hard to imagine the Riazor Stadium could have been any louder than the Allianz Arena was last night. Die Südkurve, awash with banners and fervour, seemed almost to be shaking, the chants were orchestrated by a man with his back to goal shouting into a megaphone – the one Thomas Müller grabbed after the 6-1 demolition of Porto last month, pledging to Bayern's fans that they would never give up on the European Cup.
A vast picture of the trophy dominated one side of the stadium before kick-off, on another was the slogan: "One City, One Dream". For the seven minutes when Bayern were 1-0 up, it seemed there might be substance to those dreams, although the reality was that if Barcelona's glittering trinity of Messi, Luis Suarez and Neymar broke through once, Bayern would have to score five against a team that came to Bavaria not having conceded a goal in more than 10-and-a-half hours of football.
The Guardiola philosophy is built around short, sharp passing – he had warned against cavalry charges, although sometimes Bayern resembled the Light Brigade. They had three times as many shots before the interval, forced Marc-Andre ter Stegen into three superlative saves and were picked off by the kind of Barcelona counter-attacks Pep had specifically warned his players about.
One almost produced a breakthrough in the opening exchanges as Ivan Rakitic's shot was tipped away at full stretch by Manuel Neuer. When Bayern won a corner, Guardiola began making all kinds of frantic gestures from the sidelines.
Whatever he meant must have worked because Medhi Benatia, entirely unmarked, went up to meet Xabi Alonso's corner and they had the lead. Two more goals and the road to Berlin, which appeared to have been blocked by an avalanche in the Nou Camp, would be open.
There were two goals before half-time but they were both the creations of Barcelona's South Americans and there would be no more talk about a "Miracle of Munich". Both were similar in style and execution: a flick from Messi a cross from Suarez, a finish by Neymar.
The first was a tap-in after Suarez had taken the ball around the keeper and pulled it back for the golden child of Brazilian football. When it struck the net, the electronic scoreboards high above either goal took an age to change from 1-0, as if they could not believe the semi-final seemed effectively over.
The second required only a little more work from Neymar. He had time to take Suarez's cross on the chest, bring it under control and drive it past Neuer.
In the run-up to this match every Bayern footballer confronted by a microphone had promised the club would "fight to the very end" and like a bloodied, broken boxer they pushed on into the night.
Ter Stegen is 23, very young for a keeper, and on his form this season, Joachim Löw might be taking Germany into the European Championship with the two best keepers in the world. The boy from Mönchengladbach managed to get a substantial part of his glove on Benatia's header and now he tipped similar efforts from Müller and Bastian Schweinsteiger over the bar.
His best moment came when Thiago Alacantara, whose brother Rafinha was watching from the Barça bench, used dazzlingly quick feet to set up Robert Lewandowski in front of goal. Ter Stegen was committed the wrong way but as he fell he managed to parry the ball with a glove and then scramble back to stop it on the line.
Bayern were going down fighting and when Lewandowski turned Javier Mascherano as effortlessly as Messi had turned Boateng in the first leg, the scores were level. When Müller smashed his shot from the edge of the area past Ter Stegen, they were ahead.
Had this been the first leg, Munich would have hosted one of the great European ties but this one was decided last week in another country.
Register for free to continue reading
Registration is a free and easy way to support our truly independent journalism
By registering, you will also enjoy limited access to Premium articles, exclusive newsletters, commenting, and virtual events with our leading journalists
Already have an account? sign in
Register for free to continue reading
Registration is a free and easy way to support our truly independent journalism
By registering, you will also enjoy limited access to Premium articles, exclusive newsletters, commenting, and virtual events with our leading journalists
Already have an account? sign in
Join our new commenting forum
Join thought-provoking conversations, follow other Independent readers and see their replies