Jurgen Klopp hits out at claims Liverpool should accept Champions League exit
Bayern vs Liverpool: Cool victory endorses this brave side's status among Champions League elite
Such is the desperation to win the league – nobody has really mentioned the possibility of a double but there are few opponents who can stop them in Europe so who knows what might happen?
As the rain fell in Munich and as the temperatures plunged to below freezing, a cooler Liverpool emerged; this relentless team assembled by Jurgen Klopp delivering one of the club's greatest European away victories.
When Virgil van Dijk soared through the Bavarian night to plant a header beyond Manuel Neuer there was no shudder of surprise, it felt right because Liverpool deserved to be ahead for a second time. They deserved to be going through.
From his position in the technical area, Klopp was unmoved, with his hands in his pockets, his chin nuzzled into his coat and his hood up; staring at the south west corner of this enormous arena where van Dijk was celebrating way below Liverpool's delirious supporters in the top tier.
It should be respected how Liverpool managed this game and this tie overall and the manner of their progression characterises not only a heightened maturity and strength but endorses their status amongst the continent's elite.
Such is the desperation to win the league – nobody has really mentioned the possibility of a double but there are few opponents who can stop them in Europe so who knows what might happen?
Player ratings: Bayern vs Liverpool

Show all 25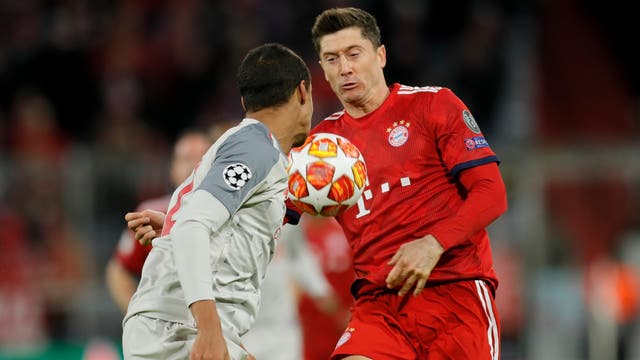 The pattern of events invited another opportunity to reflect on how far Klopp has taken Liverpool because Bayern's equaliser may have brought anxiety in the past. Here, it seemed to fire Liverpool again, just like Burnley's opening goal at Anfield on Sunday did. That they won reminded this is not a team that has a habit of allowing a firm grip to slip away.
Liverpool had lost from a winning position at the semi-final stage of this competition in Rome still meant a path to Kiev so the moment never felt like a defeat. Earlier last season, they had led West Bromwich Albion only to get knocked out of the FA Cup, though the team that took to the field that night was weakened. It meant that their last defeat at Anfield two years ago to Crystal Palace also represented the last time they had lost after being ahead. In total, it has happened just five times under Klopp.
The advantage had indeed been Liverpool's. The goal from Sadio Mane which gave them the lead combined the sublime of the Senegalese and the calamity of Neuer, the German international captain goalkeeper who bounded out from his line to try and help Rafinha from van Dijk's long pass. Mane's first touch was plucked from the sky, his second was a Cruyff turn which eliminated Neuer's presence, and his third touch was the best of the lot – a twisting finish.
Bayern is not a club which tends to panic when faced by immediate but retrievable problems. Though they are in transition, they are still more than likely to win the Bundesliga. It would not be accurate to say their equaliser had been coming but you did sense there was a confidence it would arrive. Liverpool's defence had dealt well with the threat posed by Robert Lewandowski, with van Dijk and Joel Matip prepared to get physical, driving into tackles whenever passes were fizzed towards him from Bayern's imaginative midfield.
In fact, Franck Ribery had been Bayern's most dangerous attacker and Klopp was always on at Georginio Wijnaldum to try and help Trent Alexander-Arnold, who was doing well but needed assistance in facing a winger who might be fifteen years older and is arriving at the end of his career but still has the trickery and experience to influence games at this level.
It was a surprise that the genesis of Bayern's equaliser was from the right flank rather than the left. Serge Gnabry was afforded enough room by Andy Robertson and Matip knew Lewandowski was going to score from the cross that followed so he dangled out his leg and hoped for the best. It became 1-1.
Liverpool's players, though, were like bloodhounds in the second half: their heart and appetite greater than Bayern's. Neuer was troubled by a series of Alexander-Arnold arcing corners but their lead was established from the boot of James Milner on the other side of the pitch and from there, van Dijk belted in a header.
Ranked and rated: Champions League contenders

Show all 9
It was left to Mane to seal a fabulous night. The forward is an underestimated figure in this team and he has been Liverpool's most consistent performer in 2019. His second goal, a Pele header, means he has now scored more times in European away games than any other player in Liverpool's history.
Join our new commenting forum
Join thought-provoking conversations, follow other Independent readers and see their replies