Benfica confident Eriksson on his way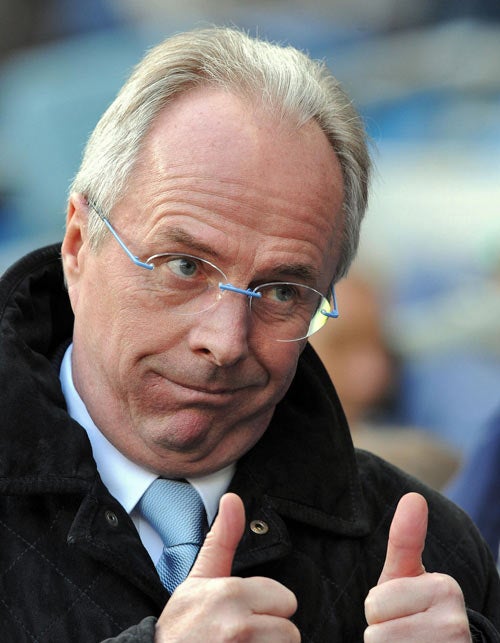 Benfica are privately extremely confident that they have persuaded the Manchester City manager, Sven Goran Eriksson, to sign for them after their meeting with him in Manchester on Wednesday. Sources in Portugal suggested yesterday that the club's refusal to discuss the meeting owes as much to their reluctance to jeopardise Eriksson's pursuit of severance pay as to an uncertainty about securing his services on an annual salary of £1.8m and they believe that only a counter-offer from a bigger club qualified for next season's Champions League will now dissuade him.
That is a real possibility. Valencia are also seeking a manager after Ronald Koeman's sacking and Eriksson's first Premier League season has done nothing to damage his own reputation. Failing to sign Eriksson would be a calamity for Benfica's president, Luis Filipe Vieira, who, Eriksson may not be best pleased to hear, is understood to have tipped off the Portuguese TV crew which captured the participants of Wednesday's meeting to show how hard he is working to find a new coach.
Vieira's popularity is at an all-time low following a poor season by his club's standards. His two-pronged strategy to shore up his own image includes pursuing Eriksson, a legend at the club for whom he delivered three league titles, plus European Cup and Uefa Cup finals, and elevating the legendary midfielder Rui Costa to director of football after his last game for the club on Sunday.
Though the SIC TV station's official line yesterday was that its crew had arrived in Manchester to undertake a Cristiano Ronaldo film, the absence of a reporter for the task in hand rather gave the game away and it is understood that the station was tipped off on condition that the footage was not screened until Wednesday evening, by which time discussions had been completed.
Benfica's only public utterance on the subject yesterday was their declaration to the Lisbon Stock Exchange that they had opened preliminary discussions with Eriksson, though they said that these had not included a contract, despite the presence at Manchester's Radisson Edwardian hotel on Wednesday of Paulo Goncalves – the club's lawyer. The club's brief statement to the Stock Exchange stated that "so far, no contractual details – pay and length of contract – have been discussed."
Despite Benfica's confidence, Eriksson has told friends that he is unsure about the offer and, though his agent, Athole Still, said last week that the Benfica berth was a possibility, his advisers certainly believe his experience and the job he has done at City mean other offers may follow. He will need no reminding that the task of transforming Benfica into a power to match their main Portuguese rivals Porto will not be an easy one.
The club will this weekend conclude one of their most disappointing seasons ever, during which they have had three coaches. The caretaker coach Fernando Chalana, a former player, has been in charge for the past two months. Unless rival clubs lose, Benfica will probably finish fourth in the league, only the fourth time in their history they have finished outside the top three.
With Eriksson's departure looking increasingly probable, the list of managerial jobs with which he is being linked is growing by the day. The latest yesterday was the Mexico post vacated by the sacked Hugo Sanchez. Coaches ranging from Javier Aguirre, Jose Pekerman and, almost inevitably, Luiz Felipe Scolari have been linked with that job, although Eriksson is not thought to harbour any desire to re-enter the international scene.
While the Swede ponders a future outside of Manchester, Thaksin Shinawtra may have his work cut out finding a replacement. Amid fears that Luiz Felipe Scolari may simply be using Manchester City's offer to generate an improved deal from the Portuguese Football Federation, Thaksin has the Croatia manager, Slaven Bilic, in his sights as a back-up option to replace Eriksson.
A feeling persists in Portugal that Scolari has no intention of swapping his popularity in a country whose climate suits him for the pressure of Thaksin's Manchester project.
That is why Bilic is still on the City owner's radar, despite the fact that he has just signed a new two-year contract under which his salary will double.
Join our commenting forum
Join thought-provoking conversations, follow other Independent readers and see their replies