Bojan Krkic: Catalan kid
The local boy is the fans' favourite and Barça's youngest ever scorer. With Ibrahimovic injured and Henry out of form, the 19-year-old could be the one to shatter Arsenal dreams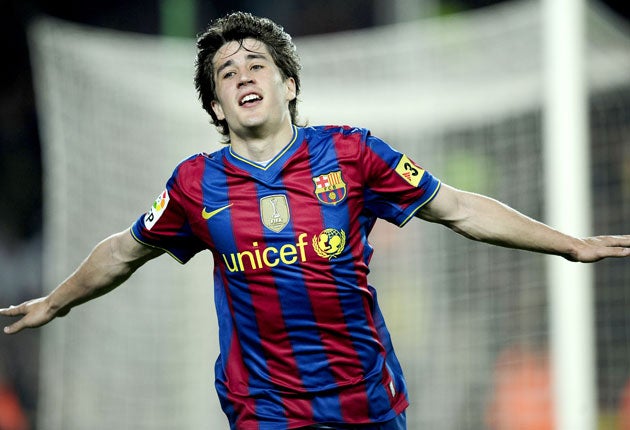 Sol Campbell will be more interested than most to see Pep Guardiola's Barcelona team sheet tonight. If, as expected, the Englishman is picked to play alongside Thomas Vermaelen in Alex Song's absence, he will be faced with the job of shackling either Thierry Henry or Bojan Krkic – one lined up alongside him in the Champions League final Arsenal lost in Paris, the other one was still at school back in 2006.
Nineteen-year-old Bojan was talking up the various striking options open to Guardiola ahead of tonight's second leg but he knows his manager has, in reality, just one simple choice to make – him or Henry and, you suspect, he knows which way his coach will go.
"Nobody better than the manager knows how we should approach this game," Bojan said. "I want to play but there are a lot of players playing at a high level and I will have to wait and see," he said. But with Henry out of sorts and Zlatan Ibrahimovic injured, Bojan is the favourite to be charged with breaking Arsenal hearts.
He has been breaking Barcelona records since signing as an eight-year-old, scoring more than 900 goals in various levels of the club's youth system. He broke into the senior squad under Frank Rijkaard in the 2007-08 season, becoming the third youngest player in the club's history to play for the first team when he made his debut against Osasuna in September 2007.
When he scored against Villarreal a month later he became the club's youngest scorer, aged 17 years and 53 days, running on to a pass from Lionel Messi, who was the previous record holder.
His Serbia-born father, Bojan snr, a Barcelona scout when his son signed up with the club, had played for Red Star Belgrade before moving to Catalonia where he turned out for local side Mollerusa and met Bojan's mother, a nurse, who helped him recover from a serious injury.
His son's dual nationality seemed to hasten Spain's willingness to cap the youngster. After he won the player of the tournament award two years running at the Under-17 European Championship, he made his debut for the Under-21 side at 16 and became the second youngest player to represent his country when he made his full national debut in September 2008.
But Rijkaard's warning that the young striker's second season would be much harder than the first proved correct. "It does not matter if a player is only 17, if he gets to play with even better players then, especially in the beginning, his level will increase hugely," he said. "But it is when people get to know who you are that the really important moment starts for a talent."
Guardiola took over from the Dutch coach in the summer of 2008 and was less keen to blood the local hero. Some suggested he did not like the way Bojan had left the youth side Guardiola was in charge of to play for the seniors under Rijkaard and was looking to give the striker a reality check. Last season he was largely overlooked but he did score five goals in the Kings Cup, including one in the final against Athletic Bilbao that enabled Barcelona to win the trophy.
"Maybe I have a debt to him," said Guardiola this week, hinting at an acceptance that he was hard on Bojan last season. "When he plays he scores. It is as simple as that and I am happier than anyone when he is successful."
And the suspicion is that that debt will be part paid tonight by playing him ahead of Henry. The two have been linked ever since Bojan was unable to go to the Frenchman's presentation as a Barcelona player because he was at school. Henry was the first to put an arm around Bojan when he needed it and accepted his fate when the debutant took his place in the starting line-up. "You can understand it," Henry said in his first season at Barcelona. "He is having a fantastic campaign and he is a Catalan kid – the supporters love nothing more than to have a local hero."
It was on Barcelona's pre-season tour of Scotland in 2007 that Bojan first caught Rijkaard's eye. He travelled with the first team when Henry-mania was in full swing and his performances alongside the former Arsenal striker were so good that Barça had to fend off advances from both Ajax and Celta Vigo to take him on loan.
Scampering over tackles and appearing in the right place at the right time, Bojan has always looked the part at centre-forward, drawing comparisons with Spanish legends Raul and Emilio Butragueno, but this season he has also been effective playing either side of a central striker. There is a feeling, though, that after perhaps hitting the front too soon in 2007 and falling behind last season, he is now ready to take the lead for Barcelona once again. He showed his Champions League pedigree back in that first season. Barça needed a goal against Schalke in the quarter-finals to avoid elimination and he found the crucial breakthrough to become the second youngest goalscorer in the competition's history.
If Barcelona fans were picking the side tonight his name would be on the team-sheet. The man who is picking it gave a wry smile when asked if, in view of questions over Henry's attitude, Bojan (who netted twice at the weekend) was favourite to start.
"Scoring goals will give Bojan a lot of confidence," said Guardiola. "He is another possibility for us and he knows how to play these big games. Henry has a problem because people always seem to doubt his commitment and he has been playing for a long time with a tendon problem. But I am expecting the best from him as I am of all my players tonight."
No clues then for Campbell, who would probably rather see his old pal Henry running at him in the Nou Camp tonight than a player in far better form than Henry, and far younger.
Arsène Wenger described Bojan as the exact opposite to the injured Ibrahimovic, saying: "He is small, with pace and quick feet. He is a special player but whoever plays up-front for them does not change the fact that we need to score a goal."
Asked if it would be easier playing against a side without Ibrahimovic, Wenger seemed to take for granted that it would be Henry and not Bojan who would be called up, adding: "If Zlatan plays or if Henry plays, they are both world class. That is what happens when you play a big side, if they have one player injured then another great player steps in."
Wenger may not think of the Catalan kid as world class just yet but after tonight he might.
900 goals
Bojan Krkic's scored over 900 goals in the Barcelona youth teams after signing for the club as an eight-year-old.
Join our commenting forum
Join thought-provoking conversations, follow other Independent readers and see their replies