Champions League: Barcelona bank on 'fit' Lionel Messi to achieve almost impossible comeback against Bayern Munich
Argentine was back to his best at the weekend after a poor performance in Germany last week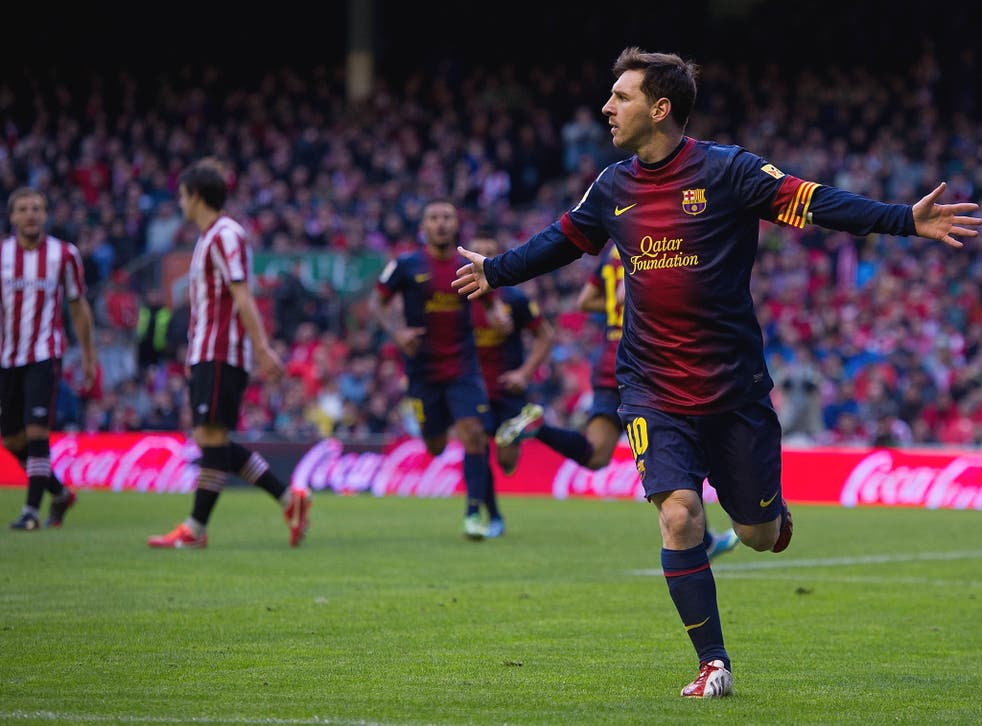 Barcelona will rely on the most decorated player in history to overcome a heavy Champions League defeat to Bundesliga champions Bayern Munich.
The Spanish league leaders were thrashed 4-0 in the first leg of their semi-final by a superior Bayern side with an out of sorts Lionel Messi unable to inspire Barça in Munich.
Messi, who had a spectacular 2012 finishing with an astonishing 91 goals, was back to his best at the weekend – rescuing his side in their La Liga match in San Mamés.
Messi scored a sublime goal, then set up Alexis Sanchez as Barça were held to a 2-2 draw by Athletic Bilbao at the weekend. The result means the Catalan club must wait until after their tie against Bayern to secure a fourth Spanish crown in five years.
Messi has scored an incredible 169 goals in 180 official matches at Camp Nou, whilst also scoring 12 of his 59 Champions League goals against German opposition. He has eight goals in Europe's elite completion so far this season and has scored at least one goal in each of his last 20 La Liga matches for Barça.
The World Player of the Year became the youngest player ever to pass the 50-goal mark in the Champions League (at 24-years-old) as well becoming the record scorer in the elite competition's knockout stage with 26 goals.
Assistant manager Jordi Roura believes the Argentine is back to his best: "Messi is the best player in the world and obviously when you don't have him you notice it. He makes the difference," he told a press conference after the Athletic game.
"He will continue with his recuperation after the injury. He was very good today and we hope that little by little he arrives at his best level. He will continue improving and the better Leo is the more chances we will have against Bayern."
Messi says Barcelona will "try" to achieve what seems like an almost impossible comeback when Bayern Munich visit. Few will give Barca any hope of overturning the result, but after turning around a 2-0 first leg deficit in the previous round against AC Milan, hope remains in Catalonia.
"The comeback is very complicated," Messi said. "Bayern are a very good team, but we'll try."
Adriano returns to the line-up and is expected to replace the suspended Jordi Alba, however the biggest doubt remains who will partner Gerard Pique in central defence. Javier Mascherano has returned to light training but Vilanova is expected to start either Eric Abidal or Alex Song.
On their over-reliance on Messi, Barça manager Tito Vilanova said: "How are we expected not to depend on the best player in the world?"
Join our new commenting forum
Join thought-provoking conversations, follow other Independent readers and see their replies