Champions League draw: Thibaut Courtois cleared to play against Chelsea in semi-final after Uefa declare loan clause is 'null, void and unenforceable'
The Blues had the clause inserted in his loan deal at the Vicente Calderon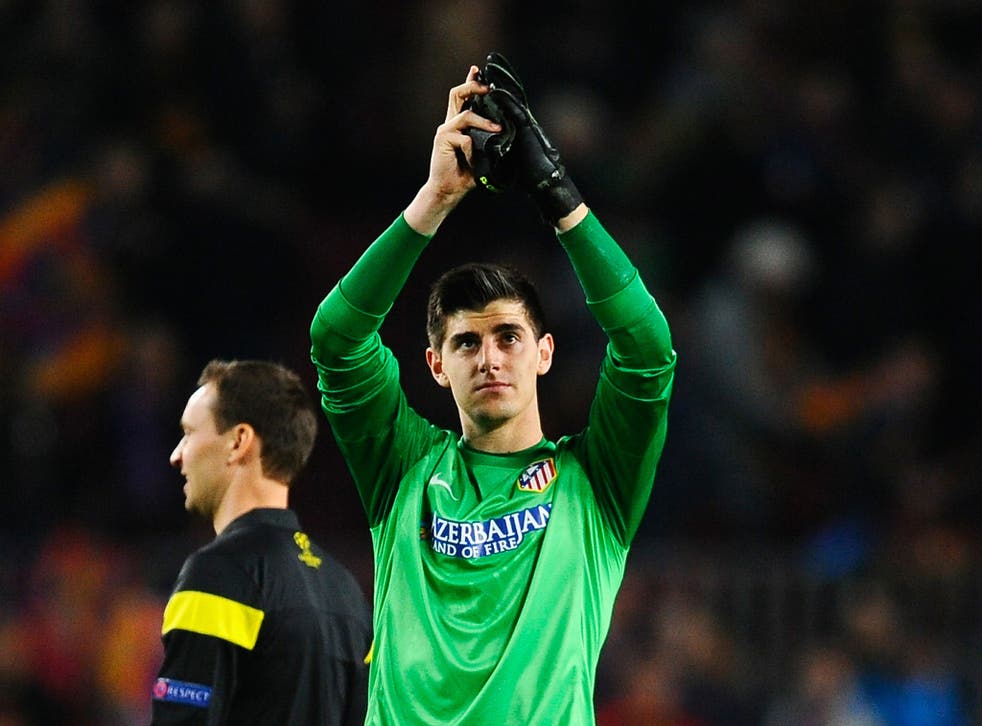 Uefa have confirmed in a statement that Chelsea cannot enforce the clause in Thibaut Courtois's loan contract that states Atletico Madrid will have to pay a fee should the goalkeeper play in their Champions League semi-final meeting.
The issue is likely to be a major talking point after the sides were today drawn against each other in the final four of the competition.
The Atletico president Enrique Cerezo said yesterday that his club would not play the goalkeeper if the teams meet because they could not afford the fee, believed to be £4.5m for the two legs, but Uefa have today said that the clause is "null, void and unenforceable".
Uefa said in a statement released: "In response to media reports referring to the situation of Club Atlético de Madrid goalkeeper Thibaut Courtois, Uefa would like to reiterate its position.
"The integrity of sporting competition is a fundamental principle for Uefa.
"Both the Uefa Champions League and the Uefa Disciplinary Regulations contain clear provisions which strictly forbid any club to exert, or attempt to exert, any influence whatsoever over the players that another club may (or may not) field in a match.
A guide to the Champions League semi-finalists

Show all 4
"It follows that any provision in a private contract between clubs which might function in such a way as to influence who a club fields in a match is null, void and unenforceable so far as Uefa is concerned.
"Furthermore, any attempt to enforce such a provision would be a clear violation of both the Uefa Champions League and the Uefa Disciplinary Regulations and would therefore be sanctioned accordingly."
On Courtois, Chelsea chief executive Ron Gourlay said after the draw: "The loan was arranged at the start of the season. He could play against Chelsea - that was never in doubt.
"Regarding the [Uefa] statement that came out, we'll evaluate it over the next 24 to 48 hours. As far as we're concerned we complied with loan rules. He can play against Chelsea - if selected."
Register for free to continue reading
Registration is a free and easy way to support our truly independent journalism
By registering, you will also enjoy limited access to Premium articles, exclusive newsletters, commenting, and virtual events with our leading journalists
Already have an account? sign in
Register for free to continue reading
Registration is a free and easy way to support our truly independent journalism
By registering, you will also enjoy limited access to Premium articles, exclusive newsletters, commenting, and virtual events with our leading journalists
Already have an account? sign in
Join our new commenting forum
Join thought-provoking conversations, follow other Independent readers and see their replies