Champions League final 2016: Real Madrid beat neighbours Atletico on penalties
Real Madrid 1 Atletico Madrid 1 (Real Madrid win 5-3 on penalties)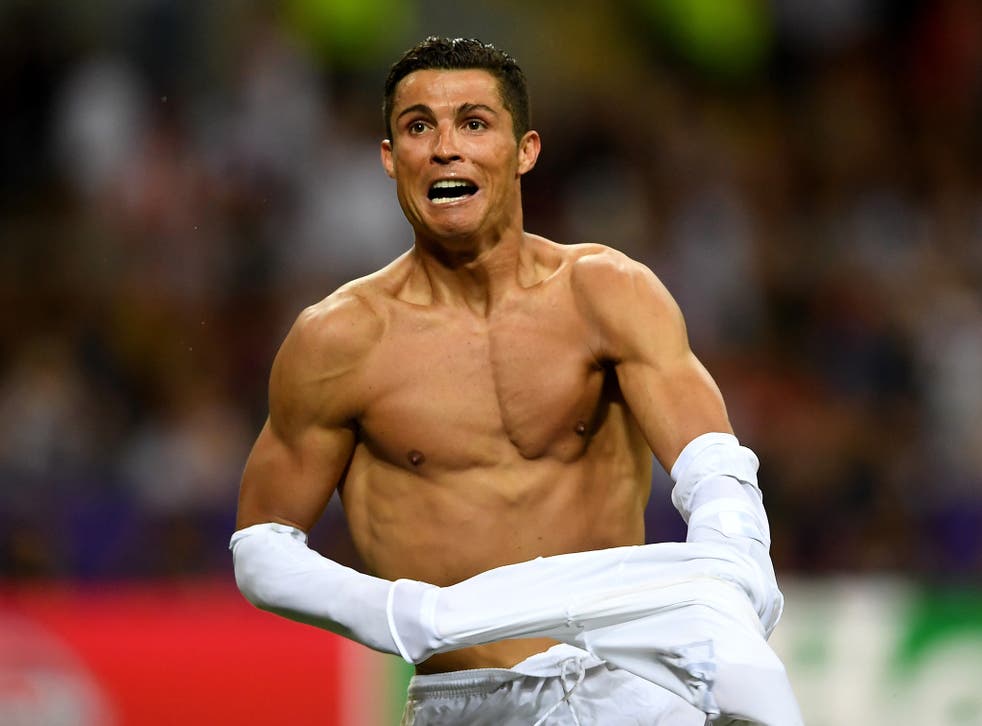 Cristiano Ronaldo scored the winning penalty as Real Madrid won the Champions League for the 11th time in their history in Milan on Saturday night.
Gareth Bale scored his shoot-out spot-kick too as Real put five out of five past Atletico keeper Jan Oblak. And with Juanfran hitting the post with Atletico's fourth penalty Diego Simeone's side were beaten.
They had looked a beaten side in the first half after Sergio Ramos put Real Madrid in front with a goal that looked off-side but they recovered in the second half with Carrasco equalizing from Juanfran's cross. The Atletico right back had typified his team's spirit in the comeback – it was so cruel on him to be the man to miss.
The European triumph crowns an incredible season for Madrid – ordinary for so long they had found their best form in the last 90 minutes starting it with such intensity they almost put sealed victory before half time.
Bale typified the powerful start to the game. He went down the Madrid right running at three Atletico Madrid defenders and was brought down by Gabi. He then took the free-kick himself and whipped it in to Benzema who didn't get enough on it from the edge of the six-yard box to turn it past Oblak.
At the other end of the pitch Bale was setting the tone too. He robbed Griezman brilliantly to turn defence into attack once more. Real were playing with incredibly intensity – a little too much in the case of Dani Carvajal who flew into Griezmann and was booked but only after English referee Mark Clattenburg appeared to be influenced by Simeone's reaction – leaving his technical area outraged at the challenge.
There was far more to be outraged about on 15 minutes when Ramos put Real ahead from an offside position. Toni Kroos took a free-kick from the left and when Bale flicked it on Ramos looked offside as he turned it past Oblak. Everything was going against Atletico. Real Madrid really were in control of a game that everyone thought would be tight from first whistle to last. There were Ole's from their supporters and we were not even at the halfway point of the first half.
Simeone, meanwhile, was desperately telling Oblak to hang on to the ball whenever he had it – Atletico needed to breathe and not go in anymore than 1-0 down at half time.
Champions League final: Real Madrid vs Atletico Madrid player ratings

Show all 24
Griezman at least managed at shot on target but Real remained dominant. Their front three were working harder than they have ever worked in unison, hunting down Atletico, forcing slack passes, and capitalizing when their rivals gave the ball away.
Simeone needed to react at half time and he did so. Augusto Fernadez was replaced by Carrasco and the shift to a 4-3-3 gave Atletico some impetus.
They should have been on level terms on 47 minutes when Griezmann threaded the ball in to Torres and he was clumsily kicked from behind by Pepe. Clattenburg pointed to the spot but the Frenchman blasted the ball against the underside of the crossbar – hope given with one hand and snatched away with the other.
It did lift Atletico however and when Dani Carvajal hobbled off to be replaced by Danilo it felt like a sign that the leaders were weakening. Saul acrobatically volleyed just wide and Simeone was urging the Atletico supporters behind the goal they were attacking to suck the ball in past Navas.
Real began to wobble more than at any other time in the game and Pepe resorted to some play-acting as he tried to break the game up. Clattenburg was not interested and warned the Portuguese defender.
Lucas Vazquez came on for Benzema and almost scored when put thought by Modric but Madrid were not taking the chances they were creating and no one was more guilty than Ronaldo when he over-elaborated with a stepover before a shot and so failed to get the power into it to send it past Oblak. Bale had his shot form the rebound parried and Atletico scored from their next attack.
Juanfran, who had been pinned back by Madrid's first half onslaught, was now remembering his roots as a former Real Madrid youth team winger. He crossed from the right and Carrasco turned the ball in from the six-yard box before running to his girlfriend for a kiss.
Real Madrid's heads dropped almost as one and they nearly lost it on 90 minutes but Ramos chopped down Carrasco who had raced clear. Madrid were now tiring. Bale's calves were tightening, Benzema was off and so no longer available to hold the ball up, and Zidane had made all his changes.
There was still a Ronaldo free-kick opportunity after Torres handballed but he blasted straight into the wall. Atletico were breaking fast but running down blind alleys and as the extra-time clock ticked down towards injury time the nerves born of two finals lost in the final breaths of matches started to way heavy.
Both teams threw bodies on the line to prevent a late winner and so it went to penalties. Agony for Juanfran and Atletico, ecstasy for Ronaldo and Real Madrid.
Register for free to continue reading
Registration is a free and easy way to support our truly independent journalism
By registering, you will also enjoy limited access to Premium articles, exclusive newsletters, commenting, and virtual events with our leading journalists
Already have an account? sign in
Register for free to continue reading
Registration is a free and easy way to support our truly independent journalism
By registering, you will also enjoy limited access to Premium articles, exclusive newsletters, commenting, and virtual events with our leading journalists
Already have an account? sign in
Join our new commenting forum
Join thought-provoking conversations, follow other Independent readers and see their replies