Klopp speaks of his 'relief' after Liverpool's Champions League win
How Liverpool and Tottenham defied engineered entertainment to make an awful Champions League final
Perhaps not for Liverpool or Tottenham, but for everyone else – the hundreds of millions of viewers, some watching their only game of the year or perhaps even their first game ever – it does matter what sort of game it was
Hugo Lloris punts the ball long. Virgil van Dijk heads it away. Moussa Sissoko takes a heavy touch. Gini Wijnaldum tackles him and wins the throw off Sissoko. Andy Robertson takes it. Kieran Trippier heads it clear. Roberto Firmino can't control the loose ball. Dele Alli tries to thread it through to Son Heung-Min, but overcooks the pass. Trent Alexander-Arnold clears it. Trippier heads it away again.
And so, there you have it: 40 seconds of football in which not a single pass is completed, the ball is given away eight times, and which in many ways was a far more accurate précis of the 2019 Champions League final than any highlights package, soft-focus video tribute or No Filter compilation on BT Sport. A mediocre microcosm of a game that, for all its weighty flourish, never remotely threatened to shout down its own bickering mediocrity.
Not that you could blame anyone for sugar-coating things. For all the outpourings of emotion at its conclusion, the elation of Liverpool and the defiant pride of Tottenham, this was one of those games that you suspect not even the victors would want to relive in full. The commemorative DVDs will still shift a few copies, particularly in the Merseyside area. But you can't imagine anybody actually wanting to unwrap the plastic and watch the thing.
The first task is to try and pin down exactly what made this such a poor spectacle. By some of the bare statistics – two goals, 30 shots on goal – you wouldn't instantly peg this as an awful game. But most of those chances were hemmed into final stages, as Tottenham's players poured themselves forward in search of an equaliser, with mixed success. They didn't have a shot on target until the 73rd minute. And with the possible exception of Christian Eriksen's curling free-kick, you'd be hard-pushed to describe any of them as heart-in-mouth moments.
Then there was the lack of fluency. The unconventional opening, in which Liverpool were awarded a penalty after 24 seconds but didn't end up taking it for more than a minute, helped set a disjointed tone to the game. It wasn't until the fifth minute that Tottenham completed a pass in the Liverpool half. It wasn't until the sixth that Liverpool managed to string more than three together. And their overall passing accuracy of 68 per cent was shocking, even for a direct, risk-taking team. "Hopeless," was Andy Robertson's verdict on their first-half display.
Best photos from the Champions League final: Tottenham 0-2 Liverpool

Show all 100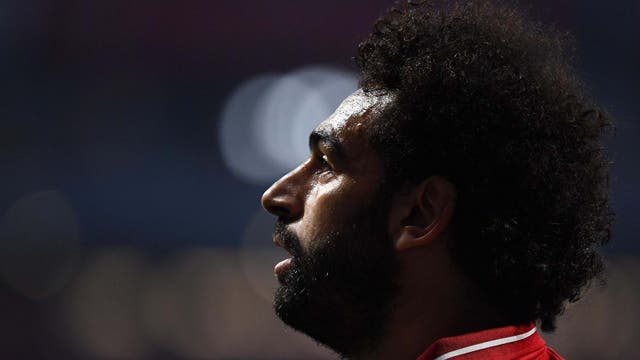 Because of the oppressive heat, neither side was able to enact their fierce running game. Liverpool's total distance covered was 95 per cent of their average in the Champions League this season; Tottenham's just 92 per cent. The ball was out of play for 40 minutes in total, well above normal, and that doesn't count the time the ball was either in the air or being inexpertly shovelled among the Tottenham back five: like late-2000s Barcelona, as interpreted by your local pub team.
Perhaps this was the biggest contributory factor to the lack of thrills: the interminable periods of holding-pattern football, in which Tottenham were neither good enough to do anything with their possession, nor Liverpool good enough to win it back off them. Had you watched Tottenham on Saturday night without any prior knowledge of them, you would surely have concluded that Hugo Lloris was their danger man, given the unerring regularity with which Tottenham sought to find him. Almost a quarter of their completed passes were exclusively between Jan Vertonghen, Toby Alderweireld and Lloris, simply recycling the ball between them.
The second point is to try and ascertain the extent to which this matters.
Certainly, the triumphant Liverpool side were in no mood for complaint. "I don't want to explain why we won it, I only want to enjoy that we won it," Jurgen Klopp insisted afterwards. "When we look back, we won't see that the game was slow, but that we're European champions," said Trent Alexander-Arnold.
Even Tottenham weren't going to argue the toss. "I'd look stupid if I say we dominated and had 65 per cent of the possession and we shot eight or nine times on target and they shot four times," Mauricio Pochettino admitted, whilst saying exactly those words. "The final is to win. It's not about deserving. Nobody is going to remember that maybe we deserved a little bit more."
This wasn't surprising. When the biggest trophy in club football is on the line, you don't get extra points for entertainment or style. But for everyone else – the thousands in the stadium, the hundreds of millions of television viewers watching around the world, the vast majority of them neutral, some of them watching their only football game of the year or perhaps even their first game ever – it does matter what sort of game it was.
Part of the reason Liverpool v Tottenham felt so unsatisfying, I think, was that it didn't fit into any of the broader currents or narratives surrounding this competition or either of these two clubs. It didn't fit with what we'd been told about Pochettino or Klopp teams, about the vivacity and aggression of their football, about the thrilling drama and scintillating comebacks of this season's Champions League, about the magnitude or importance of this game. In short, the 2019 Champions League final didn't feel like the culmination of anything. It just was. It happened. And at the end of it, one team was dancing around, and the other wasn't.
There's a way of seeing this in glum terms. Unlike World Cup finals, which with a couple of honourable exceptions aren't expected to be very good, the Champions League sells itself on the concept of pinnacle. The idea that this is the very best that club football – and by extension, football itself – has to offer. Virtually every major development in the competition over the last two decades, from the increasing number of teams to the increasing prize money to the increasing concentration of the best players at a handful of top clubs, has been conceived with the aim of generating the 'best' – and thus the most lucrative – spectacle.
For a long time, it's worked handsomely. The number of goals per game has been steadily rising for a decade. Until Saturday night, we hadn't seen a proper stinker of a final since Milan's shocking goalless draw with Juventus in 2003. The standard of attacking football seen in the Champions League in the last decade has far outstripped anything on offer in any other single competition, be it domestic, continental or international. The accumulation of the world's best players has created a series of perpetual star collisions. Meanwhile, elite football has increasingly come to see itself as a branch of the entertainment industry: a place for guaranteed thrills, not sporting chance.
The proposed changes to the competition format, guaranteeing more games between the biggest clubs, should be seen in this context. So too the decision to create a sort of buffer zone around the final, which by Uefa mandate must be the last domestic fixture of the season. The three-week build-up gave the game a sort of gladiatorial feel, time for legs to be rested and tactics to be honed.
In essence, virtually all of the ingredients that you could possibly engineer to guarantee an entertaining game were in place. A competition that rewards the richest leagues with the biggest stars. Two teams with a reputation for playing attacking, full-throttle football. Rules systematically loaded in favour of attackers, from the offside law to the VAR interpretation of handball. And a three-week gap that would allow both teams to play the game at maximum freshness. And still, it was an utterly terrible game. What are we supposed to make of that?
Perhaps that, despite all the attempts to harness it, football at its core remains defiantly resistant to control. That despite every imperative to flatten out the peaks and valleys of sporting chance in favour of smooth business certainty, once the whistle blows you can't guarantee a thing. That the biggest and most lucrative sporting fixture of the year, the pinnacle of the men's domestic game, was a total washout. I don't know about you, but I find that quite cheering.
Join our new commenting forum
Join thought-provoking conversations, follow other Independent readers and see their replies