Champions League final 2016: Atletico's Fernando Torres ready for 'most special game of his life' against Real Madrid
Following horrible spells at Chelsea and Milan, Spanish striker is back at club he supported as a boy, one step from glory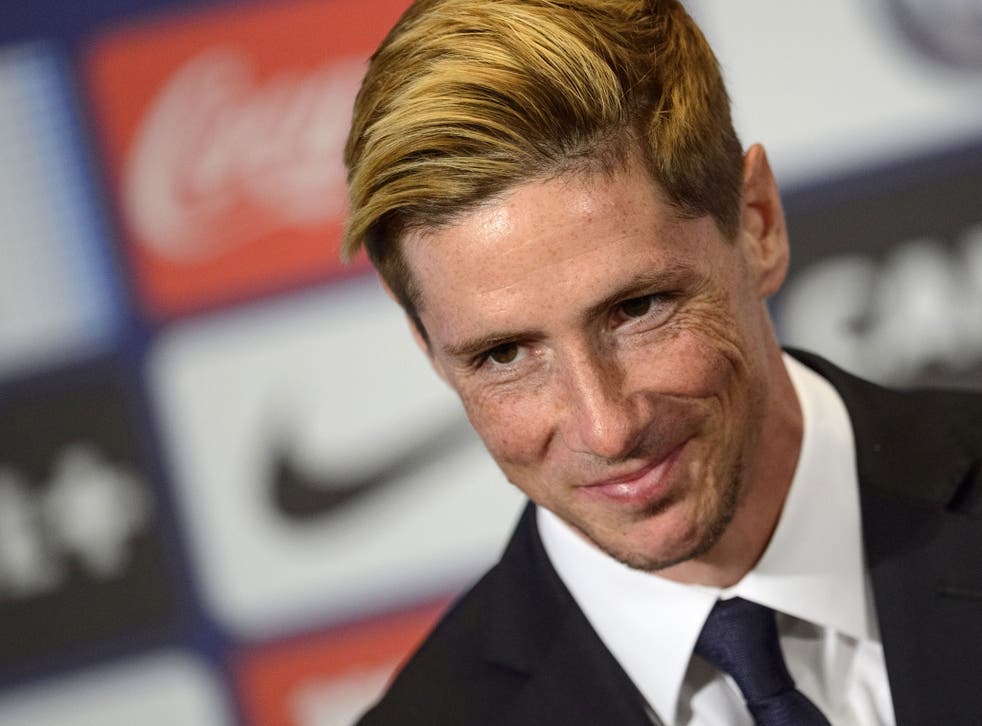 Fernando Torres' return to the summit of European football has been almost as spectacular as the slide down the mountain he suffered after he moved from Liverpool to Chelsea in 2011.
On Friday night he was pinching himself at the Stadio Giuseppe Meazza on the eve of what he called: "the game of his life". The temptation was to say this was a dream come true but he admitted it was more than that – it was something he never imagined possible.
"It is the most important and the most special game I have had in my life," he said. "I have won with Chelsea and I have won with Spain but this is different. I have been a fan of this club since I was five years old so how can it not be different?"
To fully understand the marvel of it all ending like this for Torres his last two years need to be brought back into focus. He had joined the veterans' ranks at Milan after finally waking up from the Chelsea nightmare where he had became one of the Champions League's most melancholic winners - picking up his medal at the club where he never felt he belonged in 2012.
When he rejoined Atletico Madrid again in January 2014. The old Vicente Calderon stadium was full just to see him walk out on to the pitch in the red and white shirt again flanked by his two young children Leo and Nora who wondered what all the fuss was about.
For all that he tried to be the same player that left the club for Liverpool in 2007 he looked as pedestrian as he had at Milan and was a squad man for manager Diego Simeone. The club stalled on giving him a permanent deal last January with the coach saying he would have to earn it with his performances between then and the end of the season. He has done that, and after starting Saturday's final he will get to sign a new two-year deal potentially keeping him at the club until he is 34.
"I had the chance to come back and fight for what I really wanted [to win things with Atletico]. It has not been easy and I have had to fight for my place in the team, score goals again and be an important player for the team. That is why this is the game of my life without doubt.
"It means everything to me. I have been able to play for great clubs and for the Spanish national team and win many things."
Torres is the first of an attacking lineage that has seen the club pass through Sergio Aguero to Radamel Falcao to Diego Costa. Simeone turned his attention to Costa yesterday when asked if any of the club's favourite sons from the past had been in contact with good luck messages.
It was Costa's fitness that Simeone gambled on two years ago. He came into the game with a niggling hamstring problem. He was desperate to play and the Atletico Madrid manager let his heart rule his head and picked him to start. The decision backfired after just nine minutes when Costa asked to be changed, and how Atletico Madrid missed having that extra substitution to make as the game dragged on into extra time.
Simeone said: "We always receive messages from people who have been with us in the past. He [Costa] has not said anything to me before this game but he congratulated us when we knocked out Bayern and Barça. I know all of the boys who have played here will be wearing their Atletico shirts in the stands and in front of their televsions."
Costa was not the only player to leave Atletico Madrid when they failed to beat Real Madrid two years ago. There were five key departures and the club want to guard against the same happening this time. Chelsea have long been admirers of Antoine Griezmann and Manchester United have been watching Saul Niguez for the last three years. But buoyed by another appearance in the biggest club match in the world and by the new television deal that will reinforce their attempts at toppling Real Madrid and Barcelona, Atletico will feel in a better position to resist all advances.
"I was asked recently about players who might leave and I said at the time that there are very few better clubs than Atletico," said Simone. "Maybe Barcelona, Bayern Munich and Real Madrid and not much else." It will not have gone unnoticed that he left the Premier League predators off of that list. It was also noteworthy that he listed two of the teams that Atletico Madrid have beaten on their way to the Milan final as well as the team they must topple if they are to lift their first European Cup.
They have done it the hard way having beaten both Bayern Munich and Barça in the last two rounds.
Simeone does not come across as someone too concerned with the various comments being made about his team's lack of artistry. The Brazilian striker Ronaldo is the latest to say he does not like the way his former Inter team-mate's team play. "I have only respect for such a great player," the Argentine coach said. "Like politics and religion, football enables us all to have our opinions. It doesn't wear me down at all, especially not now that we are in the final."
The little gripes about Atletico's rudimentary approach will count for even less if they win tonight. Both Simeone and Torres know it will be their finest hour.
Register for free to continue reading
Registration is a free and easy way to support our truly independent journalism
By registering, you will also enjoy limited access to Premium articles, exclusive newsletters, commenting, and virtual events with our leading journalists
Already have an account? sign in
Register for free to continue reading
Registration is a free and easy way to support our truly independent journalism
By registering, you will also enjoy limited access to Premium articles, exclusive newsletters, commenting, and virtual events with our leading journalists
Already have an account? sign in
Join our new commenting forum
Join thought-provoking conversations, follow other Independent readers and see their replies