Champions League final 2016: Inside or out? Decision time for Atletico on how to stop Real Madrid
Inside Football: Simeone must weigh up his tactical options to counter Real's wingers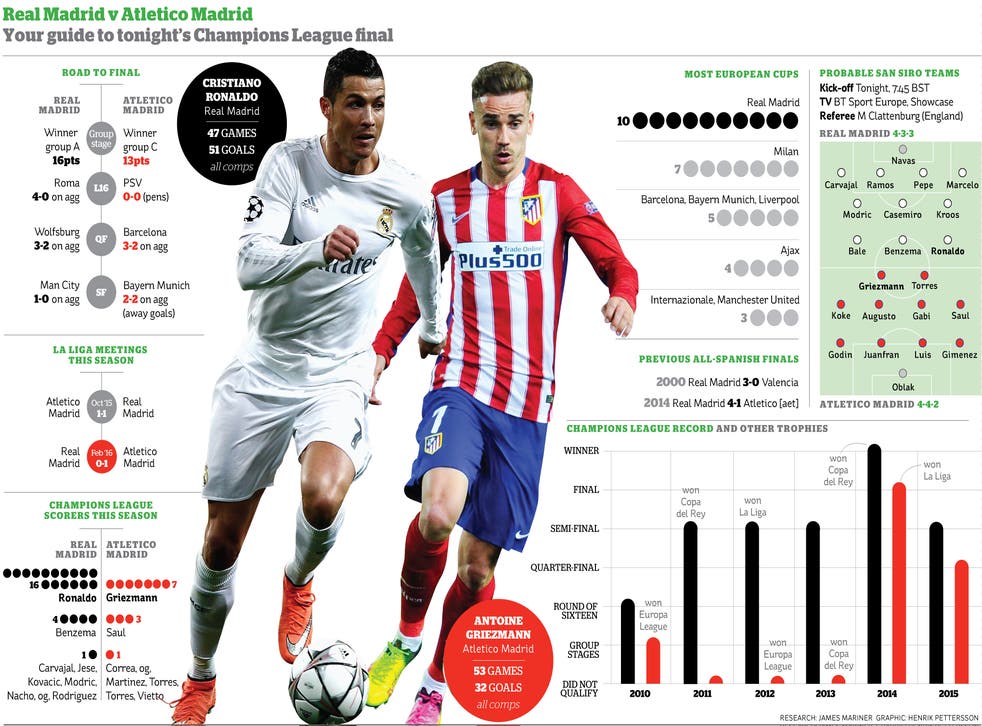 Diego Simeone is on the brink of one of the greatest achievements in modern football. He has had a brilliant campaign, taking Atletico Madrid to the Champions League final, masterminding defeats of Barcelona and Bayern Munich along the way. But there is one question hanging over Saturday's final: does he stick with the plan that has worked so well so far?
What Simeone has to decide is how he defends against Cristiano Ronaldo and Gareth Bale. Does he follow the approach that has taken Atletico to the final, of sending the pair inside, into a mass of bodies? Or does he go in the opposite direction, and send them outside? The biggest games can be settled by small details, and I believe this could be make the difference at San Siro.
Altetico's basic plan with opposition wide players is to funnel them into the middle of the pitch. They play a narrow 4-4-2 and know that if their full-backs Felipe Luis and Juanfran can push the opposition wingers inside, they will only run into the mass of bodies in midfield. The two central midfielders Gabi and Augusto Fernandez play straight in front of the centre-backs, and with Koke and Saul Niguez tucking in, Atletico form a solid wall in the middle. That is why Atletico conceded just 18 goals in 38 games in La Liga this season, an unbelievable record.
The crucial thing to understand is that this is not just a defensive strategy, a way of stopping Bale and Ronaldo from deciding the game. It is also an attacking strategy, the way to create the space to counter-attack into, so that Atletico can break from "in to out" as quickly as possible.
Here is how it is meant to work. If Juanfran and Felipe Luis direct Bale and Ronaldo into the middle of the pitch, they will leave the wide areas free. This would mean Real Madrid's attacking full-backs Marcelo and Dani Caravajal would likely push all the way up into the space, from where they can get crosses in.
Atletico, though, would be very happy with this. They are very comfortable defending crosses, and have conceded just three goals from crosses in the league. What Simeone needs is for the Real Madrid full-backs to attack as high up as possible, leaving space in behind.
Neither Cristiano Ronaldo nor Gareth Bale will do much defensive work, and when Real Madrid lose the ball their 4-3-3 will not become a 4-5-1. So when Atletico win the ball back from Real, especially if Marcelo and Caravajal are stranded high up the pitch, Atletico will have space in wide areas to break into.
Toni Kroos and Luka Modric are unlikely to defend in wide areas either, leaving Real with a triangle of Casemiro, Pepe and Sergio Ramos to defend against the counter-attack. Those channels outside Pepe and Ramos will be the areas Atletico are targeting, especially with the pace of Antoine Griezmann and Fernando Torres. And it all starts with dragging the Real full-backs up the pitch.
This is the approach that worked so well for Atletico when they beat Bayern and Barcelona beforehand. Even with Lionel Messi they were happy to show him inside, in part because he was in a deeper role, closer to where Xavi used to play for Barcelona.
This is also how Atletico played in the two La Liga games against Real Madrid this season. Real scored 110 league goals, scoring at least three in 20 games. But they managed just one in their two matches against Atletico. Gareth Bale, though, did not start either of those games and I just wonder whether the prospect of him and Ronaldo playing in tandem might make Simeone briefly think about changing his plan.
Real Madrid are unlikely to out-run Atletico Madrid, or to out-manoeuvre them tactically. The one way they can beat them is through individual quality. That is why it is dangerous to direct Bale and Ronaldo inside. Bale is a left-footer who will probably play out on the right. Ronaldo is right-footed and will play on the left. If they pick up the ball 30 yards from goal and are driven inside into shooting positions then they could beat Jan Oblak from distance. And if Real Madrid take the lead it will be a very different game. There is an argument that these circumstances should force a change of plan.
It is the biggest decision for Simeone since he played an unfit Diego Costa in the final two years ago. But ultimately I think he will be brave and stick to his principles. If Atletico did change plan, and send Ronaldo and Bale outside, it would stop Atletico creating the space they need to break into. With Bale and Ronaldo in wide areas, Marcelo and Caravajal are unlikely to push forward as well, and are more likely to be backing up the play. But if they hold their positions then there is no space either side of Pepe and Ramos for Atletico to break into.
This is why I think that Atletico will take their chances with the plan that has worked so far, even if it leaves them exposed to the danger of Ronaldo or Bale scoring from distance.
While Atletico will be hoping that Real throw everything at them from the start, leaving themselves unbalanced, I think Zinedine Zidane's team would be better served playing patiently. They should make sure that they leave themselves well-protected against the counter-attack, which means recognising that they are never more vulnerable than when they are going forward.
Real should see if they can turn Atletico's game against themselves, and try waiting for them to grow impatient or make a mistake. Modric and Kroos will have enough time on the ball to try to pick clever passes through the Atletico defence. When the time comes they could try exploiting the height of Bale, Benzema and Ronaldo with balls into the box. But if they try to throw everything at Atletico from the start they will fall into Simeone's trap.
Atletico have been the best team in the competition and I have been backing them to win it since the quarter-finals. Simeone's plans have worked so far and if he sticks to them again tomorrow, on the biggest stage of all, I think he will emerge with the trophy that just evaded him two years ago.
Register for free to continue reading
Registration is a free and easy way to support our truly independent journalism
By registering, you will also enjoy limited access to Premium articles, exclusive newsletters, commenting, and virtual events with our leading journalists
Already have an account? sign in
Register for free to continue reading
Registration is a free and easy way to support our truly independent journalism
By registering, you will also enjoy limited access to Premium articles, exclusive newsletters, commenting, and virtual events with our leading journalists
Already have an account? sign in
Join our new commenting forum
Join thought-provoking conversations, follow other Independent readers and see their replies