Record-breaking Cristiano Ronaldo leads Real Madrid to their second successive Champions League title
Juventus 1 Real Madrid 4: Cristiano Ronaldo strengthened his claim to be considered the greatest player ever with two superb goals as Real defender their European title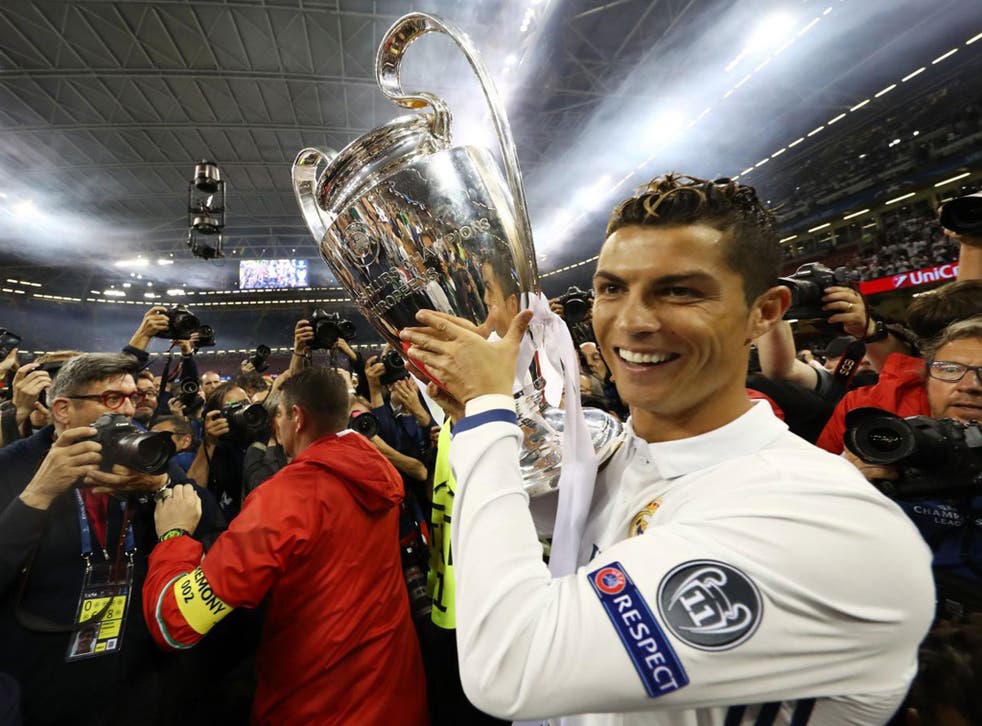 A goal for the ages, a player for the ages, a team for the ages and a feat for the ages.
The European Cup's most successful ever club have so fittingly and flourishingly ended the 27-year wait for the gold-standard achievement of retaining that great silver trophy, as Real Madrid claimed their 12th Champions League by so convincingly routing Juventus 4-1.
Cristiano Ronaldo through that strengthened his claim to be considered the greatest player ever with two superb goals and, if there is still some debate about that, there can be absolutely no doubt that this Real Madrid are currently Europe's greatest team.
In winning his second Champions League as a manager, Zinedine Zidane has fashioned and honed a team that so fantastically responded to every challenge, that just went up a several levels according to the severity of the test. You only have to look at their run, and how they built up to this crescendo.
Few European champions have had a path to the final as difficult as Bayern Munich, Atletico Madrid and this Juventus, but few teams would have made it look so easy; just getting better and better as the season went on and the stages supposedly got more exacting, just as Ronaldo has seemed to get better and better as a player as he supposedly physically diminished.
It was hard not to feel sympathy for Gigi Buffon and manager Max Allegri, but also hard to say they deserved victory. Real just suffocated their surging start, rendering Mario Mandzukic's brilliant goal little more than a consolation.
Juventus vs Real Madrid: Player ratings

Show all 23
By the end of this, Juve were unrecognisable from the team that started the game, and for so much of the season. Real were just that good, upped it that convincingly, something all the more creditable given how Juve came out.
A pace was set when Miralem Pjanic powered a volley at goal that Keylor Navas did brilliantly to pound away. Juventus were at this point pounding the Spanish champions… so, in a match where so many players were performing at such a high level, it was probably inevitable that its best star would choose that moment of difficulty to offer yet another defining - and record-breaking - moment.
On 20 minutes, with Juventus finally being pushed back a bit, Ronaldo surged through the centre of the pitch before exchanging passes with Dani Carvajal and sweeping the ball into the corner of the net. It took a deflection, but was still a deft finish given he so clearly seemed to have the picture of the strike in his mind before even shaping to shoot.
He is now clear on his own as the only player to score in three modern Champions League finals, although his predecessor - in so many ways - Alfredo Di Stefano scored in five in the old European Cup.
There were times when this seemed like it was going to be a goal-laden match of that era, except for the glorious reality that this represented the best of modern football, the game played at high speed and high sophistication.
That was pretty much the only way to describe Juventus' response, as they scored a goal to rival Zidane's from 2002. On 27 minutes, they scored a goal for the heavens, pretty much in the heavens.
Leo Bonucci first so supremely pinged the ball forward, in what was the only time in the move when the ball touched the ground of the Real half before it touched the net, as Alex Sandro then volleyed a cross for Gonzalo Higuain to chest up and tee up. Mario Mandzukic then rose up, arching a beautiful effort over Keylor Navas, his despairing dive only making the goal look even better.
Brilliant.
If that was a team goal of the level that the Champions League final has scarcely seen, Real then showed they are a team that Champions League has scarcely seen, with Ronaldo showing he is a player the Champions League has scarcely seen.
Zidane's side just upped it, killing the entertainment of the contest by so entertainingly killing Juventus.
From the second half, it was relentless, and the eventual game-breaking goal was a reflection and extension of what was happening. Juve were just battered back, as Casemiro battered the ball back towards Gigi Buffon's goal on 60 minutes, the deflection to take it past the goalkeeper not lucky but a consequence of the pattern of play.
If that was all strength, though, the game-clincher was all stealth and stunning velvet movement.
Luka Modric picked out Ronaldo with one of those passes he is celebrated for, and Ronaldo picked his spot with one of those classic number-nine finishes he is celebrating for, leading to raucous Real celebrations.
The game was at that point won, as Juve began to lose their heads, with Juan Cuadrado getting sent off for a second booking, before substitute Marco Asensio slipped home the Spanish champions' fourth goal.
Juventus were by then a very distant second best, as Real won their second successive Champions League and third in four years.
By so fittingly ending the long wait for that record and defending the trophy, they have undeniably reclaimed their place as the competition's defining club, with Ronaldo one of its defining modern players.
Join our new commenting forum
Join thought-provoking conversations, follow other Independent readers and see their replies