Chelsea 1 Basel 2 match report: Jose Mourinho left with egg on his face as Swiss side force historic win at Stamford Bridge
Manager - whose name had been sung all around the ground earlier in the game - leaves to a smattering of booing from home fans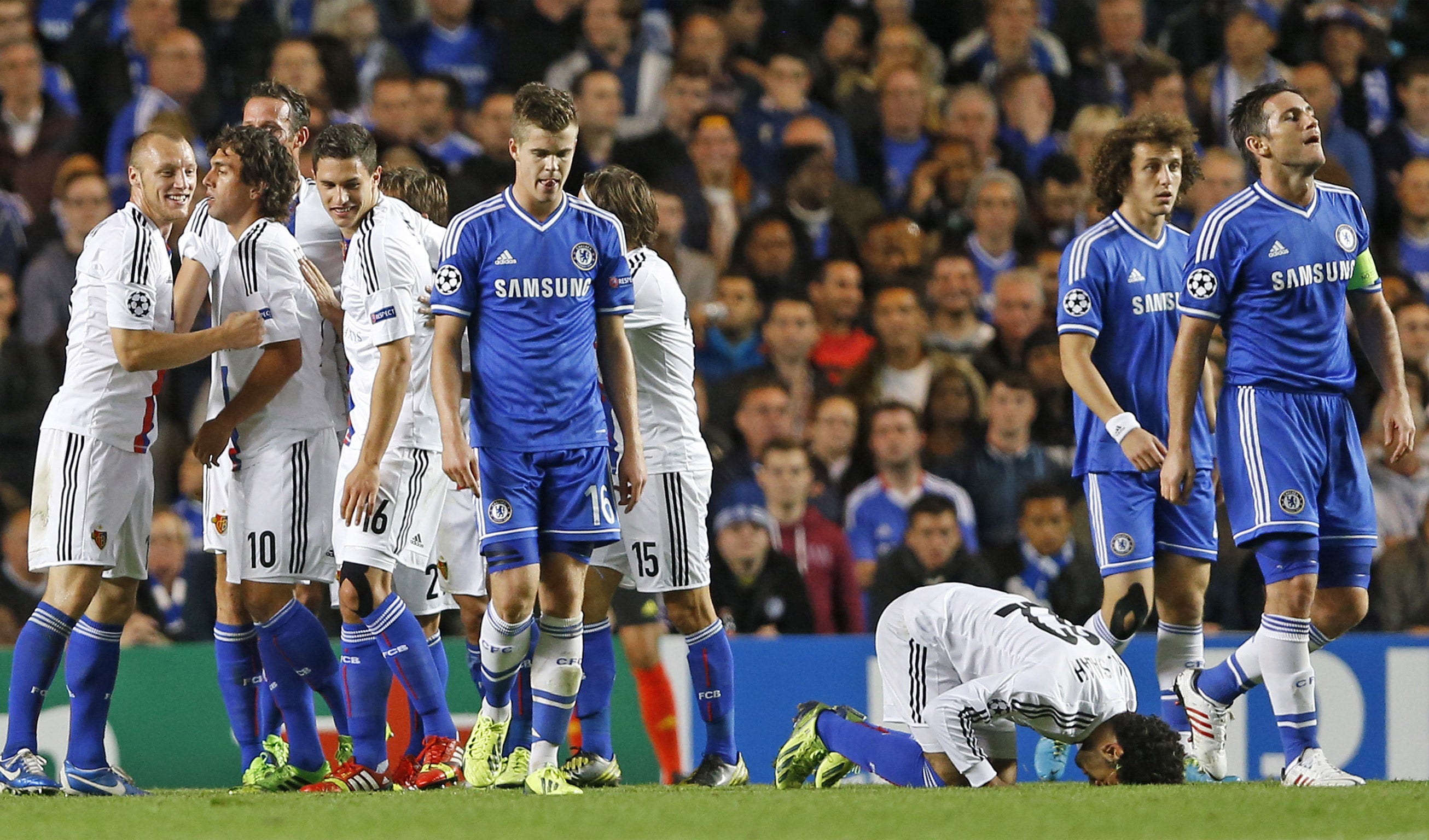 Even when the end came at Chelsea for Jose Mourinho precisely six years ago, it was a draw that did for him against Rosenborg - ending months of strife and simmering resentment. In those days a draw was, by the standards of the time, unacceptable but tonight things got a whole lot worse.
Chelsea's defeat to Basel was the first time that the club have lost in the group stage at home since a defeat to Besiktas in October 2003, in the days when Mourinho was still Porto manager and Roman Abramovich's millions had just turned European football upside down. The Chelsea owner was pictured on a cycling holiday in Croatia earlier today but he was back at Stamford Bridge to watch and down the tunnel to the home dressing room within minutes of the end.
Last season it was the draw with Juventus in his opening home group game that left Roberto Di Matteo playing catch-up and ultimately saw his side eliminated by Christmas. This season Chelsea's group E does not have quite such a difficult array of opponents but still, Mourinho's side have given themselves an awkward task from the very start. Win your home games in the Champions League and you are most of the way to qualification.
It was politic not to mention the analogies about good eggs and mediocre ones, after a Chelsea performance that never really caught the imagination and had Mourinho scowling on the touchline for most of the evening. Oscar scored with the last kick of the first half, but the uninspiring Swiss side, equalised through Mohamed Salah and then their captain Marco Streller claimed an unlikely win.
Later, Mourinho tried to protect his team and offer himself up as the fall-guy for what was just the third home group stage defeat in the Champions League of his entire managerial career. But he could not help himself pointing out that this is a Chelsea team that lacks "maturity and personality" and even, in his words, "shakes a little bit".
Even more worrying for Mourinho, Chelsea had very little cutting edge. Samuel Eto'o does not have the razor-sharpness that the Champions League requires, not yet anyway. And the second option was Demba Ba who came on to no effect. Fernando Torres was not even on the bench.
It makes the next Champions League match, a trip to Steaua Bucharest on 1 October a game that, at the very least, Chelsea cannot afford to lose. Rafa Benitez's side dispatched the Swiss team in the semi-finals of the Europa League last season but they simply proved too obdurate for Mourinho's players tonight when Chelsea had precious few goalscoring chances despite the better possession.
"I'm happy with the three strikers for the rest of the season," Mourinho said. "I'm happy. The players are the players, they're good professionals, they're trying their best every match. I can't complain about any of the three." He sounded like he was trying to convince himself, above all. Especially given the impact of Wayne Rooney, his summer target, for Manchester United on Tuesday night.
There was a debut tonight for Willian, whose last game was 2 August for his previous club Anzhi Makhachkala. There was a second consecutive start for Eto'o, who was playing for just the second time since 24 August. These new signings are under-cooked, and it showed. In all, Chelsea looked sluggish throughout their ranks.
Once again, Juan Mata found himself on the bench, along with John Terry. Chelsea, as custom befits, found the proverbial bus parked in front of the Basel goal and could not find a way round until virtually the last kick of the half.
They lack the pace on the counter-attack, especially when Eden Hazard is obliged to come short and occupy the playmaker's role. It is early days yet for Eto'o but he struggled to get into the game. As for Marco Van Ginkel, making his first competitive start for the club, he had a struggle finding his touch which affected his confidence and he was eventually replaced with John Obi Mikel.
The liveliest livewire of all before the break was the Egyptian winger Salah who is raw but direct and had the Chelsea defence scuttling back on a few occasions. With 30 minutes gone, David Luiz gave the ball away and Basel worked it beautifully through their opponents to get Salah free. He cut inside on his left foot and could not keep his shot on target.
Mourinho looked nonplussed by the performance. In his programme notes, he had asked the supporters to be patient with his four "kids", in attack. In the event he selected the 32-year-old Eto'o and the three youngsters - Oscar, Hazard and Willian - who cost a combined £92n. These are young players but they are the kind of young players who are expected to make an immediate impact.
In the end, the Chelsea goal came just moments before half-time. Luiz surged forward and found Frank Lampard in an advanced position. His pass into the right channel was beautifully weighted through the Basel back line into the stride of Oscar who dispatched a right-footed shot across Yann Sommer and into the far corner.
For Oscar it was his sixth goal in seven Champions League games. He struck the bar with a beautifully hit shot from the left side on 56 minutes; a hit that came from nothing and beat Sommer with its flight and dip. But that was just about as close as Chelsea came as the momentum sagged in the second half.
It took until 65 minutes for Mourinho to look down the touchline and call Mata over from the group warming up. Coming on for Willian, Chelsea's No 10 occupied the right side of the attacking three, allowing Oscar to continue in the central role.
There had been little pressure on Chelsea's goal until the equaliser and the chances, few that there had been, had been in the away side's area. Yet the first Basel goal was a beauty. There was a ball from the left from Behrang Safari that went from Marco Streller to substitute Matias Delgado and out to Salah on the right who beat Petr Cech.
Mourinho played his last hand in response. Off came Van Ginkel, replaced by Mikel, and, more surprisingly, Lampard, who had been at the heart of Chelsea's best work, also came off. His little flick to Eto'o on 69 minutes might have made a goal had the striker been sharper. Lampard was replaced by Demba Ba as Chelsea went to a 4-2-4 system with Eto'o pushed left.
Streller's winner was glanced in direct from a corner from the left with Gary Cahill unable to get past the big centre-forward. By then, Chelsea had run out of ideas and the manager whose name had been sung all around the ground earlier in the evening left to a smattering of booing.
Chelsea (4-2-3-1): Cech; Ivanovic, Cahill, Luiz, Cole; Van Ginkel (Mikel 75), Lampard (Ba 75); Willian (Mata 66), Oscar, Hazard; Eto'o.
Basel (4-4-2): Sommer; Voser, Schar, Ivanov, Safari; Salah (Xhaka 87), Diaz, Frei, Stocker (Ajeti 81); Sio (Delgado 65), Streller.
Man of the match Salah.
Match rating 7/10.
Referee D Orsato (Italy).
Attendance 38,000.
Join our commenting forum
Join thought-provoking conversations, follow other Independent readers and see their replies