Chelsea 2 Galatasaray 0 comment: Jose Mourinho has different aims now he no longer has Didier Drogba as a target
The Blues have changed style since Drogba was last at the Bridge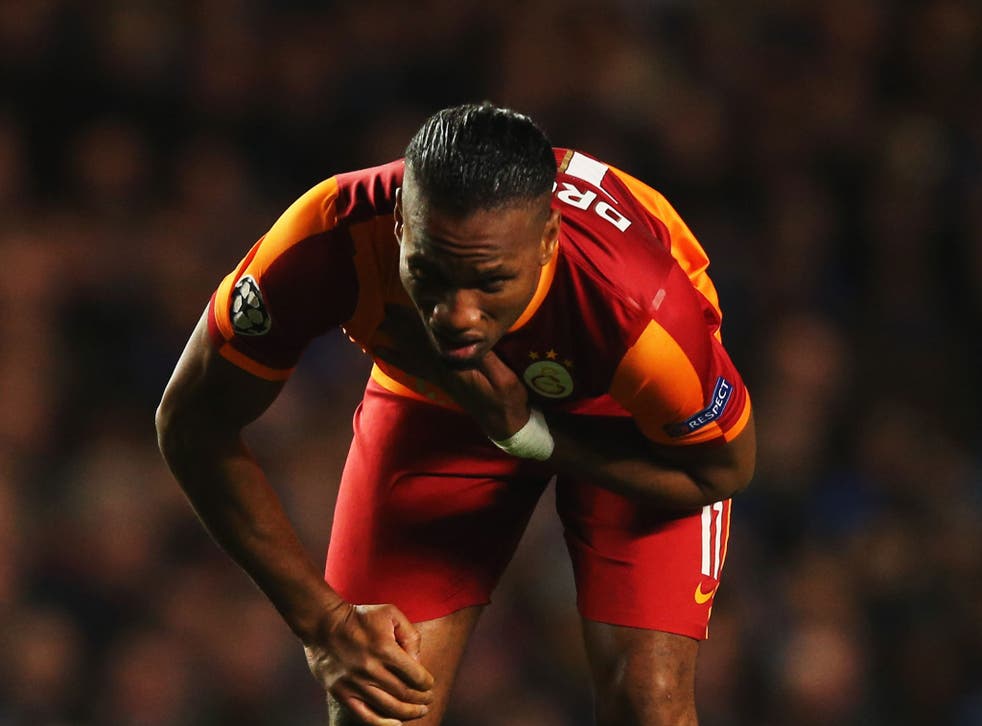 It is hard to believe, but Didier Drogba's last match under Jose Mourinho was more than six years ago, 2 September 2007. Co-incidentally, given Saturday's set-back at Villa Park for his former club, it was a 2-0 defeat at Aston Villa. Drogba was then ruled out with a knee as Chelsea were held in successive home matches by Blackburn Rovers and Rosenborg precipitating Mourinho's axing on 20 September.
Stamford Bridge looks and sounds much the same now as it did then. They still sing 'Blue is the Colour', they still play Harry J Allstars' "The Liquidator", and they still wave plastic flags. The team Drogba faced was, however, very different. Not so much in personnel - Petr Cech, John Terry, Frank Lampard and, occasionally, Ashley Cole, are still playing, which is quite a lot given the turnover of players in modern football - but in Chelsea's approach.
Mourinho's Chelsea Mark I was a powerful unit built around a strong, imposing, spine. Defensively it still is. Cech and Terry remain while Branislav Ivanovic, Gary Cahill and Cesar Azpilicueta are at least as solid as the key figures in the old Chelsea: Ricardo Carvalho, William Gallas, Paolo Ferriera, Asier del Horno and Cole.
It is further forward the differences lie. The Mark I played 4-3-3 with Makelele at the base of a narrow midfield trio, breaking up opposition attacks and starting Chelsea's with quick, short passes. In front of him were Lampard and either Michael Essien or Michael Ballack. They had licence to push on, secure in the knowledge that Makelele guarded the back door.
Chelsea 2 Galatasaray 0: Player Ratings

Show all 11
Width was provided by the full-backs, up to a point, and the flank players in the front three. One of these was usually a genuine winger, such as Arjen Robben, Damien Duff or Shaun Wright-Phillips, sometimes both, though Joe Cole and Salomon Kalou also featured regularly. Mourinho liked to have pace (most managers do) because that made defences wary of pushing too high up the park. That is what the opposition centre-halves usually wanted to do because the last place they wanted to be battling with Drogba was on the edge of the 18-yard box.
That, though, is where they often found themselves, vainly attempting to win possession off the big Ivorian as he took a long forward ball from, perhaps, Cech or Terry, on to his chest, before either turning to shoot or playing in one of the midfielders who had broken forward in support. So many of Lampard's goals came this way. There was a moment last night when Drogba, with Terry on his back, took a long goal-kick from Fernando Muslera on his chest and laid it off so easily it was as if his old team-mate was not there. It was not Lampard, however, who took the shot but Felipe Melo and it was wide and weak.
Drogba was one of Mourinho's first signings when he first came to Chelsea in 2004, for £24m from Marseille, and he built his gameplan around him. But there are not many players around like Drogba and contenders such as Diego Costa, Zlatan Ibrahimovic and Radamel Falcao were out of Chelsea's reach in this FFP age. So Mourinho brought in Samuel Eto'o, as much an African legend at Drogba, but also no longer young and a very different player.
Moreover Mourinho inherited a squad constructed to Andre Villas-Boas' specifications with the three Amigos, Oscar, Juan Mata and Eden Hazard, brought in to play a version of tiki-taka. This surfeit of 'tanner ball' players had one advantage for Mourinho: by making a scapegoat of Mata, the crowd's darling and the club's back-to-back player of the year, he ensured the others would put a shift in. The way Oscar tacked back to tackle Emmanuel Eboue at 2-0 highlighted the tactic's success.
He restored Terry, deciding his leadership qualities outweighed his declining pace – so exposed by Villas-Boas' high line, but now protected by deeper defending and a two-man midfield shield. That includes Lampard, no longer a goal-hungry predator but a disciplined holding player. And in attack he has made the best of what he has, which is players of great technique rather than physique. Hazard is a wonderful player, Willian busy, diligent and versatile, and, as the opening goal underlined, Eto'o still a high-class finisher whose movement is almost as good as the peerless Antonio Di Natale.
Some of the front four's attacking interplay brought Arsenal to mind, but the second goal came from a route more familiar to Drogba. Lampard is still delivering good corners and Terry is still meeting them. And with Muslera between the sticks there was no need to have Ricardo Carvalho on the line impeding the goalkeeper, the Uruguayan parried Terry's header straight to Cahill without encouragement.
Which is better? If you needed a one-nil away from home Mourinho's first team would be the one, if you were paying £50 to watch, the second incarnation is preferable, and it leads the league. The signing of 6ft 4in Nemanja Matic as a holding midfielder suggests Mourinho wants to remake the original, so enjoy the sequel while it lasts.
Register for free to continue reading
Registration is a free and easy way to support our truly independent journalism
By registering, you will also enjoy limited access to Premium articles, exclusive newsletters, commenting, and virtual events with our leading journalists
Already have an account? sign in
Register for free to continue reading
Registration is a free and easy way to support our truly independent journalism
By registering, you will also enjoy limited access to Premium articles, exclusive newsletters, commenting, and virtual events with our leading journalists
Already have an account? sign in
Join our new commenting forum
Join thought-provoking conversations, follow other Independent readers and see their replies