Chelsea 3 Schalke 0 match report: Samuel Eto'o takes his chance to shoot down German side
Cameroon striker scores twice after coming in to starting line-up to replace the injured Fernando Torres
Sam Wallace
Wednesday 06 November 2013 22:53 Comments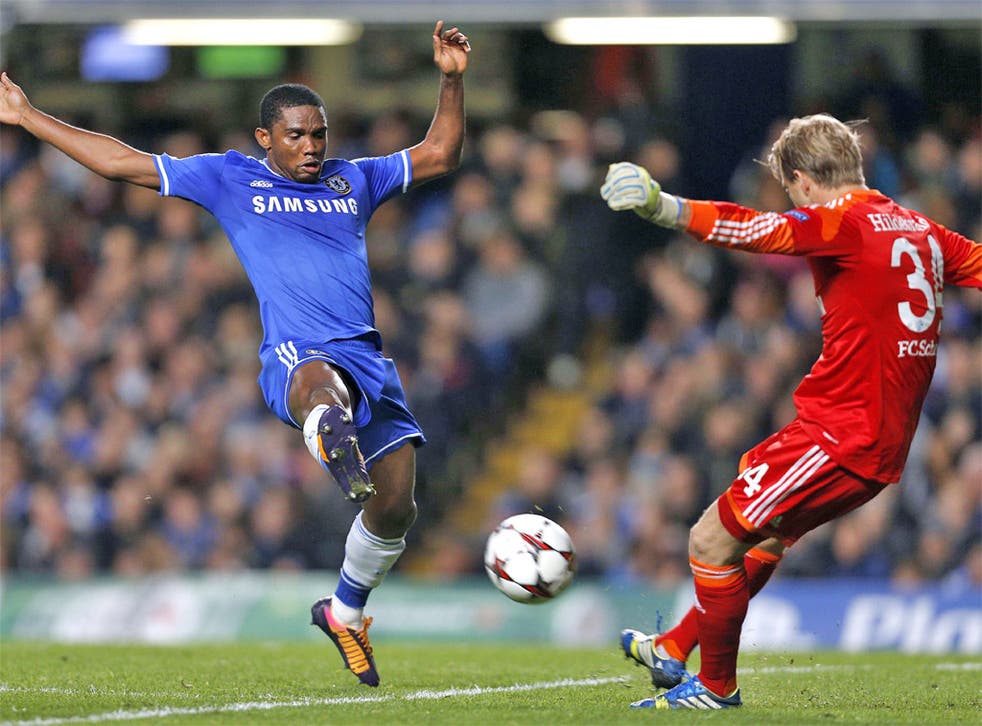 One centre-forward's misfortune at Chelsea is another's opportunity and for Samuel Eto'o, his first Champions League goals for the club tonight will once again change the way that Jose Mourinho thinks about his squad of players.
Fernando Torres' training ground injury on Monday left the Chelsea manager with no choice but to make a change in attack and so his team moved on from that scrappy defeat to Newcastle on Saturday with a classically ruthless European performance. Mourinho's side were not at their best, and they will have to play much better sides than Schalke, but it was the home team who took their opportunities.
That was Eto'o who scored his second and third goals for the club, the first of which was a perceptive poacher's goal that severely embarrassed the Schalke goalkeeper Timo Hildebrand. He scored a second on 54 minutes to kill the game and left to a standing ovation. His replacement Demba Ba scored the third, his first goal of the season.
For this night at least, the erratic goalscoring contribution of Torres was not missed. He has an adductor injury and will require the international break to recover. It leaves Chelsea on top of Group E with nine points and in a strong position as they go to Switzerland to face Basel away in the penultimate group game. Basel, who beat them in the first game of the group at Stamford Bridge, only drew with Steaua Bucharest.
Six changes were wrought on the Chelsea team that made Mourinho feel so angry and mystified at Newcastle on Saturday. The notable one was the decision to drop Eden Hazard for returning late on Monday and missing training. But he also left out Ashley Cole and moved Cesar Azpilicueta over to left-back again. There was a return to the bench for Juan Mata and David Luiz.
The benefits were not immediately noticeable, not with Chelsea overrun in the early stages and looking more like the away side than one of the big boys of European football. The Hungarian striker Adam Szalai had two good chances in the first six minutes, made by Atsuto Uchida and Julian Draxler, both of which he snatched at and dragged wide.
In those moments, Chelsea had singularly failed to impose themselves on the game and a better side than Schalke might have punished them. But Schalke did not have much of a cutting edge up front and although they fought hard in those early stages they did not test Petr Cech. Draxler flitted in and out of the game and picked up a silly booking for dragging Azpilicueta back by the shirt.
From that free-kick in the 20th minute, Andre Schurrle struck a very nice right-footed shot that faded and dropped towards Hildebrand's right post. The goalkeeper got both hands on it and then embarked on a round of gratuitous high-fives and self-congratulatory shouting and clapping before the corner came in.
Oh, what a fall from grace he had awaiting him. Chelsea had only really tested him the once before the goalkeeper, who has seven caps for Germany, inexplicably lingered over a clearance in his own area in 31 minutes. At first, Eto'o angled his run to take him into the periphery of Hildebrand's vision but by the time he got close there was no doubting that the goalkeeper knew he was there.
Yet, for some reason Hildebrand had taken two big steps back to get a run-up at the ball and by the time he struck it, Eto'o had eaten up the ground and was in front of him. His block was skilfully done. It was no accident that the ball cannoned off his foot and into the empty goal. For Hildebrand, the fist-bumps and look-at-me celebrations after the Schurrle free-kick must have felt a very long way off indeed.
Later Mourinho would claim that he spotted the weakness in Hildebrand's game and encouraged Eto'o to chase him down. Certainly they both looked very pleased with themselves when Eto'o headed over to the touchline for a conspiratorial goal celebration.
Before then, John Terry, excellent all night, had caught an elbow from Szalai in the face which he was particularly unhappy about. Then after half-time, Schalke prised Chelsea open at last and might have scored when Draxler cut inside on his left foot and forced a great save out of Cech, diving to his right.
Mourinho can still rely upon his trusty old goalkeeper in moments such as these and so Cech came through for him yet again. Within two minutes of that save Eto'o scored Chelsea's second goal and the game began to look very comfortable for Mourinho's team.
The second was a fast-breaking beauty. It started with an Oscar ball across the middle of the pitch nicked away from Christian Fuchs by Willian who surged forward in possession. Eto'o broke to his right and had the ball delivered to his feet perfectly. He picked his spot beyond Hildebrand with some confidence.
Chelsea were in control. Had he still been under contract, Paulo Ferreira, the half-time guest at Stamford Bridge, might even have been given 15 minutes at the end of the game. Mourinho gave Kevin De Bruyne his first taste of Champions League football for the club, as a late replacement for Schurrle.
Ba scored with seven minutes left, a nicely taken volley from a player whose confidence will have suffered in recent months. It was Ba who chested down Gary Cahill's free kick forward from there it went from Willian to another substitute, Frank Lampard. He struck a nicely weighted ball over the Schalke backline which Ba volleyed past Hildebrand.
It was a bad night for the German goalkeeper. As for Eto'o he showed some signs of the kind of form that Mourinho requires from his strikers. He needs a goalscorer to lead this team and one suspects that while he is still not entirely satisfied with any of his options, Eto'o gave him something to think about.
* Giovanni Sio's injury-time equaliser for Basel denied Steaua a first win in the group.
Results so far
Chelsea 1-2 Basel, Schalke 3-0 Steaua Bucharest; Basel 0-1 Schalke, Steaua 0-4 Chelsea; Schalke 0-3 Chelsea, Steaua 1-1 Basel; Basel 1-1 Steaua, Chelsea 3-0 Schalke.
Remaining fixtures
26 Nov Basel v Chelsea, Steaua v Schalke. 11 Dec Chelsea v Steaua, Schalke v Basel.
Chelsea (4-2-3-1): Cech; Ivanovic, Cahill, Terry, Azpilicueta; Ramires, Mikel; Willian, Oscar (Lampard 81), Schurrle (De Bruyne 78); Eto'o (Ba 76).
Schalke (4-4-1-1): Hildebrand; Uchida, Howedes, Matip, Aogo; Draxler (Clemens 62), Jones, Neustadter, Fuchs (Meyer 66); Boateng (Kolasinac 76), Szalai.
Man of the match Terry.
Rating 6/10.
Referee S O Moen (Nor).
Attendance 40,000.
Register for free to continue reading
Registration is a free and easy way to support our truly independent journalism
By registering, you will also enjoy limited access to Premium articles, exclusive newsletters, commenting, and virtual events with our leading journalists
Already have an account? sign in
Join our new commenting forum
Join thought-provoking conversations, follow other Independent readers and see their replies