Chelsea 4 Bordeaux 0: Chelsea less than vintage but Bordeaux lack bottle on opening day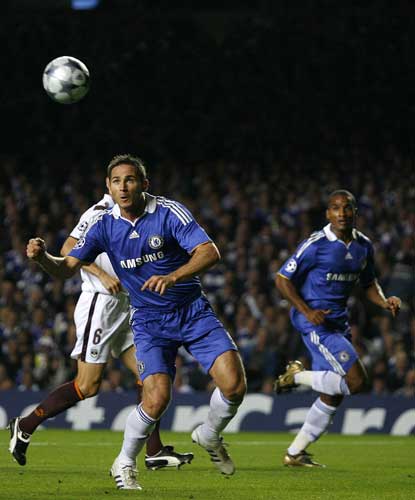 Not really a vintage Bordeaux, more a crate of Laurent Blanc plonk. Chelsea, on the other hand, were sparkling as they began a new Champions League campaign after the tears and rain of Moscow in May. This year they really believe it is their turn for the big one and as opening statements go, this one will reverberate around Europe.
"We're on our way to Rome," was the introduction from one of Chelsea's pitchside announcers with the kind of modest understatement to which we have become accustomed at Stamford Bridge. You can take it as read that he meant the Champions League final in Rome on 27 May rather than the Group A game against Roma in November. At this club they have a sense of entitlement when it comes to success in this competition. Last night you could see why.
At times it was captivating to watch, although Blanc, the Bordeaux manager, may have preferred to have removed his trendy spectacles and rubbed his eyes in despair. The English, Frank Lampard and Joe Cole, led the charge with the goals in the first half; the French contingent in blue shirts, Florent Malouda and Nicolas Anelka, finished the visitors off after the break. It was brutal at times. And the only one who was not completely impressed was Scolari.
It was a favoured tactic of Jose Mourinho to deflate the mood after a big win and this time it was Scolari who chose that approach. From his manner it sounded as if the Brazilian had just cut short the party mood in the changing rooms with his complaints about what he said was a lack of discipline in the second half. "We didn't play very well, they made many mistakes when they had the ball," Scolari said. "You need to control the game more, and we didn't control it very well in the second half." They controlled it enough to make sure that Bordeaux did not muster a single meaningful shot on target all night.
Sometimes you had to remind yourself that this was the second-best team in France, the football nation that reached the last World Cup final. In the strange world of European club football that we inhabit, skewed by the Premier League's billions, France's league runners-up cannot even give England's equivalent a decent game. But tell us something we don't know. There was not an area of the pitch in which Chelsea did not dominate.
While the Romanian team CFR Cluj held on for a momentous win against Roma in the other group game, Chelsea showed how to deal with European football's second tier. They drove Scolari to distraction with their sloppiness in front of goal, but that was only because when it came to scoring goals it was inevitable that they would win with a few to spare. Lampard and Anelka both missed sitters in the first half. Scolari threw his arms up in disgust. And yet when they put their minds to it, Chelsea ripped Bordeaux to shreds.
"We took some punishment because we lost many balls in the middle," Scolari complained. "On another night, another team getting those positions in front of goal might have hurt us quicker. If they'd had more quality, it would have been dangerous for us." Quality, however, is in abundance in the Chelsea team and before they had even settled into the game, this young Bordeaux side found themselves two goals behind and struggling to keep pace.
First to strike was the in-form Lampard who glided into the spaces between Bordeaux's defenders to guide in with his head the third goal of his season and the 113th of his Chelsea career. It came from a cross from Jose Bosingwa who was excellent, an overlapping right-back who has given Chelsea a new dimension in attack. Bordeaux could not stop him.
The second goal was flicked in off Joe Cole's sore head from Lampard's corner. The elbow from Robert Kovac against Croatia last week does not seem to have done any permanent damage to the England midfielder who out-jumped a much bigger Bordeaux defence. There was more of the same in the second half, the blue torrent showing no sign of abating. Even Malouda was having a good game.
Just after the hour, Michael Ballack came on for his first appearance since the Wigan game on 24 August and he did so to a rapturous reception. How times have changed at Stamford Bridge for the German midfielder about whom the locals were once so distrustful. He was the driving force in Chelsea's late run last season and now Scolari must try to keep him, Deco and Lampard all happy. It will not be simple.
Under Mourinho, Chelsea would have closed this game down long before the hour but, to their credit, they kept up the impetus to go forward long after Bordeaux had given up hope. Malouda scored the third after a brilliant flick from Lampard. Anelka's goal came in injury time when goalkeeper Ulrich Rame touched Juliano Belletti's shot onto the bar and the French striker tidied up the loose ball. Chelsea took the first step on their way to Rome, although successful Champions League campaigns are not built in a day.
Chelsea (4-1-4-1): Cech; Bosingwa, Carvalho, Terry, A Cole; Mikel;J Cole (Belletti, 75), Deco (Ballack, 61), Lampard, Malouda (Kalou, 83); Anelka. Substitutes not used: Hilario (gk), Di Santo, Ferreira, Alex.
Bordeaux (4-2-3-1): Rame; Jurietti, Diawara, Planus, Placente; Diarra, Fernando (Ducasse, 75); Gouffran (Obertan, 65), Gourcuff, Wendel; Chamakh (Cavenaghi, 65). Substitutes not used: Valverde (gk), Henrique, Bellion, Abdou Traoré.
Referee: P Vink (Netherlands).
Join our commenting forum
Join thought-provoking conversations, follow other Independent readers and see their replies