Chelsea striker Fernando Torres sets seal on the miracle of Barcelona
Barcelona 2 Chelsea 2 (Chelsea win 3-2 on aggregate)
Sam Wallace
Wednesday 25 April 2012 15:36 Comments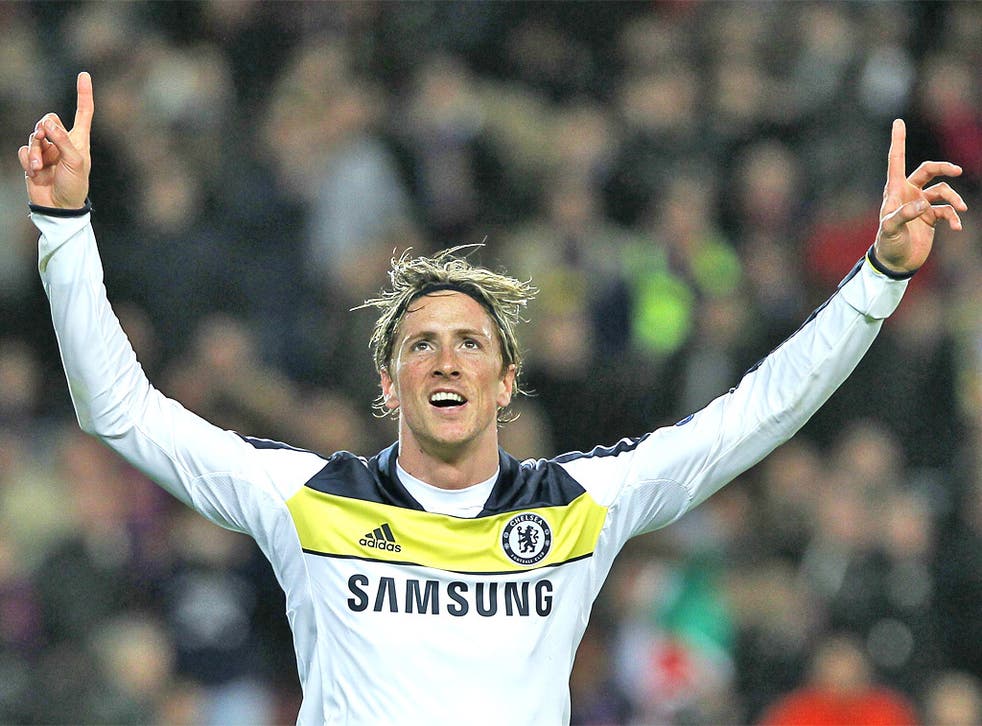 On the occasion of the great Nou Camp siege of 24 April, 2012, the ten men of Chelsea held the fort and through the drama, the desperation and their sheer bloody determination they saved the best moment until last.
That was undoubtedly when Fernando Torres, the browbeaten, weight-of-the-world-on-his-shoulders, £50m man ran free on the Barcelona goal, tricked his way past Victor Valdes and slotted in the goal that secured Chelsea's passage to the Champions League final. It had been a magnificently gritty performance but Torres' finale gave it that flourish of style it deserved.
It was a historic night for the club but the price of victory was steep. John Terry's red card seven minutes from half-time for a knee in the back of Alexis Sanchez's leg, means he is suspended for the final. So too Raul Meireles, the first goalscorer Ramires and Branislav Ivanovic – all of whom got a second booking last night. Ivanovic had the bad news broken to him live on Sky Sports and looked as if he might need a moment to compose himself.
Yes, a place in the final came at a cost. But what a night. From two goals down and having lost both their centre-backs – Gary Cahill to injury, Terry to stupidity – Chelsea formed up into two defensive lines of white and held their nerve wonderfully. Their first goal chipped in by Ramires was a beauty and it set Barcelona a task to which even they were simply not equal.
If there was a moment that encapsulated Barcelona's bad night then it was the penalty miss by Lionel Messi three minutes after half-time. Yes, you read that right. The man with 63 goals this season, the original penalty area assassin, did not even force a save from Petr Cech. His shot clipped the bar. But Barca did not have two bads night by accident. They had them because in both legs Chelsea refused to let them play the way they wanted.
The scale of the rebuilding job is huge. Cahill's hamstring pull looked bad and David Luiz is currently injured too which means that along with the suspended Terry and Ivanovic there is a chance that all four centre-backs will not be able to play in the final in Munich on 19 May. Whether it is Real Madrid or Bayern Munich who come through tonight's semi-final, that final will be a monumental task for Chelsea.
Such a pity that Roman Abramovich was not at the game last night, as Roberto Di Matteo revealed in the aftermath of the match. Abramovich has lavished the best part of £1bn on this club and last night was evidence that whatever the politics in this squad or the personal agendas, there is a soul to this team. "Something in the DNA of the players," was Di Matteo's explanation for their competitiveness.
For Terry it was a bad night. He has done some foolish things in his career but this one, an act of impetuosity that was always likely to land him in trouble, was out of character for a player who, at the very least, is usually too cute for such silliness. It should not be forgotten that he has been so crucial for Chelsea when he has been fit, especially in the worst times since the turn of the year, and he was exceptional in the semi-final first leg.
Terry, as much as any Chelsea player, should have been able to celebrate this revenge on Barca for the semi-final elimination of three years ago. As for another man who has bad memories of that night, Didier Drogba was superb. He chased Barca down all over the pitch and played at full-back on both flanks in the second half before finally he was replaced by Torres.
Drogba epitomised the devil in Chelsea that haunts Barcelona. In the 16th minute he came charging towards Victor Valdes like a bull across a field. The goalkeeper collided with the Chelsea man, but more damaging for Barca was Gerard Pique crashing into Valdes. Pique looked concussed and lasted another ten minutes before he had to be replaced and taken to hospital.
By then Cech had made his first excellent save from Messi with his legs on 20 minutes. The ball rebounded to Andres Iniesta, whose shot was blocked by the leg of Terry. With Jose Bosingwa on the pitch at right-back in place of Cahill and Ivanovic moved over to centre-half, Barcelona scored on 35 minutes. Alexis Sanchez slipped Isaac Cuenca down the left wing and his cross was met by Sergio Busquets in the centre.
Three minutes later came Terry's red card. "What happened?" you could see Frank Lampard ask as Terry passed him the armband. What happened? Terry might never be able to answer that. At least he has the sense to apologise afterwards.
With a minute left of the half Sanchez found Messi who had the time and space to play in Iniesta who scored the second. Drogba was so angry he took the ball from the kick-off and lashed a hopeless shot at Valdes' goal. Two goals down and ten men on the pitch. It looked grim for Chelsea.
It was Ramires' goal that turned the game just before half-time. The ball came from Lampard, who was excellent throughout, and a Barcelona defence that no longer thought it had to defend allowed the Brazilian to run through them. His finish was perfect. He had been booked two minutes earlier and already knew he would miss the final.
It was Drogba's trip on Cesc Fabregas for Messi's penalty. When Messi missed, the ten men of Chelsea were re-organised again. Di Matteo brought Salomon Kalou on in the place of Juan Mata. Meireles and John Obi Mikel ran themselves into the ground. Bosingwa popped up at centre-half. Ashley Cole tucked in. Hatches were battened down. Holes were plugged. At one point Drogba ran forward alone and shot from just over the halfway line
Chelsea dug in. Messi hit the post again and then came the final astonishing moment when Torres had a free run at Valdes as Barcelona pushed for the goal that would win the tie. It was the Torres of 2008 who went past Valdes for the winner: confident and focussed. Just like Chelsea. They need one more great Champions League performance, albeit with half a team, to win the trophy. You just would not bet against them.
Man of the match Cole.
Match rating 8/10.
Referee C Cakir (Tur).
Attendance 95,845.
'That special spirit is part of the DNA of these players', says Di Matteo
Di Matteo's men park the yacht with Messi left all at sea
Man for man marking: Barcelona v Chelsea
James Lawton: After Terry atrocity, Chelsea heroes produce performance of their lives
Register for free to continue reading
Registration is a free and easy way to support our truly independent journalism
By registering, you will also enjoy limited access to Premium articles, exclusive newsletters, commenting, and virtual events with our leading journalists
Already have an account? sign in
Register for free to continue reading
Registration is a free and easy way to support our truly independent journalism
By registering, you will also enjoy limited access to Premium articles, exclusive newsletters, commenting, and virtual events with our leading journalists
Already have an account? sign in
Join our new commenting forum
Join thought-provoking conversations, follow other Independent readers and see their replies