Chelsea vs Atletico result: Hakim Ziyech finishes off Champions League tie to book quarter-final spot
Chelsea 2-0 Atletico Madrid (3-0 agg): Thomas Tuchel remains unbeaten as the Blues' manager after another convincing display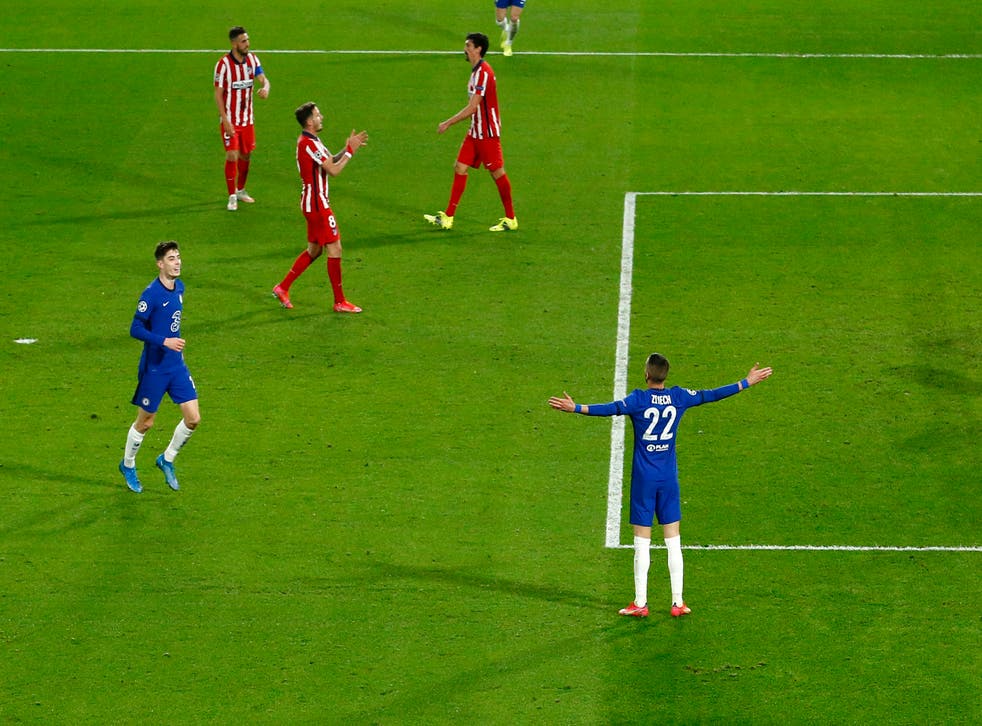 This was Thomas Tuchel's first big achievement as Chelsea manager, but it's telling the talk is already of feats way beyond single games – and whether his team can be European champions. They looked that good in this 2-0 win, to make it 3-0 on aggregate, and go through to the quarter-finals.
Atletico Madrid, meanwhile, have never looked further away from the trophy that Diego Simeone wants most. It will now be at least half a decade since their last semi-final, and they are a long way from that peak. Even allowing for that decline, there was a convincing definitiveness to Chelsea's display.
They themselves look much closer to the kind of football that was imagined after such an impressive summer in the transfer market, as well as Tuchel's ideal.
Hakim Ziyech's killer goal here was probably the best moment of the German's time so far, as well as the first when the season's three main signings combined to such effervescent effect.
The reality was they were just a level above Atletico, playing a more sophisticated style of football, that made Simeone's approach look so staid. The Argentine may be one of the Champions League's great modern figures, but he was here being visibly consigned to the past, in a vintage exhibition of how exacting the Champions League can be.
Atletico ultimately resorted to frustrated venting, such as when Stefan Savic was sent off for an elbow into the chest of the brilliant Antonio Rudiger.
Simeone's side bitterly disputed that, and it wasn't the only decision they disagreed with it.
It is of course possible the tie might have gone very differently had another decision been given on Cesar Azpilicueta's attempt to "catch" Yannick Carrasco in the first half, when it was 0-0. After a bad backpass, the defender clearly grabbed Carrasco even if the contact was light. A penalty would not have been harsh.
If Simeone could be aggrieved by that, he could be irritated by the error that led to the goal. Everyone else, however, could only be impressed. With Kieran Trippier hesitant in a manner you would not expect from an Atletico defender, Chelsea just surged through them.
This, really, was high-level European football at its best - the sort of eviscerating, lightning move that really elevates the elite end of the competition.
Having beaten Trippier to the loose ball with assertive force, Kai Havertz drove towards the centre before releasing Timo Werner with a deft ball. He scorched through the Atletico half to then play a slicing pass across for Ziyech to be left with the flourish of a finish.
What was so impressive about it was there was no halting, no doubt. Chelsea just accelerated towards the Atletico goal, as fluid as it was devastating.
And that's the thing about the penalty call, too. It always looked like Chelsea had more.
The feeling long after this was that there were more goals in the game for Tuchel's team. Werner had one of his best displays, dangerous every time he got the ball, and stretching the pitch with every run. Havertz was meanwhile just the best player on that pitch, running the play. N'Golo Kante wasn't far behind, as he ran down every Atletico player, and made a mockery of the idea he is now past his best.
A Simeone side, no less, found every battle with the French midfielder a duel that was too much. He won all of them, and won every ball.
There was still something of an irony that Chelsea kept two clean sheets. These are vintage Atletico scorelines, but it wasn't achieved in anything like the Simeone style. Tuchel's defensive record is a byproduct of a better game, that is built on attack, and fluidity.
That was emphasised by the fact they didn't settle on 1-0. Another resurgent player in Emerson Palmeri made it 2-0 with another fine break.
Atletico meanwhile couldn't even get that one goal to make it interesting. Despite a fine individual season so far, you could suddenly see the rationale in Barcelona letting Luis Suarez go. He no longer looked up to the level.
Joao Felix meanwhile looked wasted by this game.
The argument will only grow that this is now a waste of Atletico's potential. Much will depend on the domestic title.
Tuchel, however, really looks like he's maximising Chelsea's potential.
This is what they were supposed to be capable of. This is why they signed him. This is why they could well be real contenders for this trophy and, just as used to be said about Atletico, maybe one of the most dangerous teams left in the competition.
Join our new commenting forum
Join thought-provoking conversations, follow other Independent readers and see their replies