Pedro looks back at Chelsea's European history with Barcelona and why Barca may fear tie more than the Blues
Pedro revealed Chelsea were 'horrible' to play against and hopes that his former teammates will still feel that on Tuesday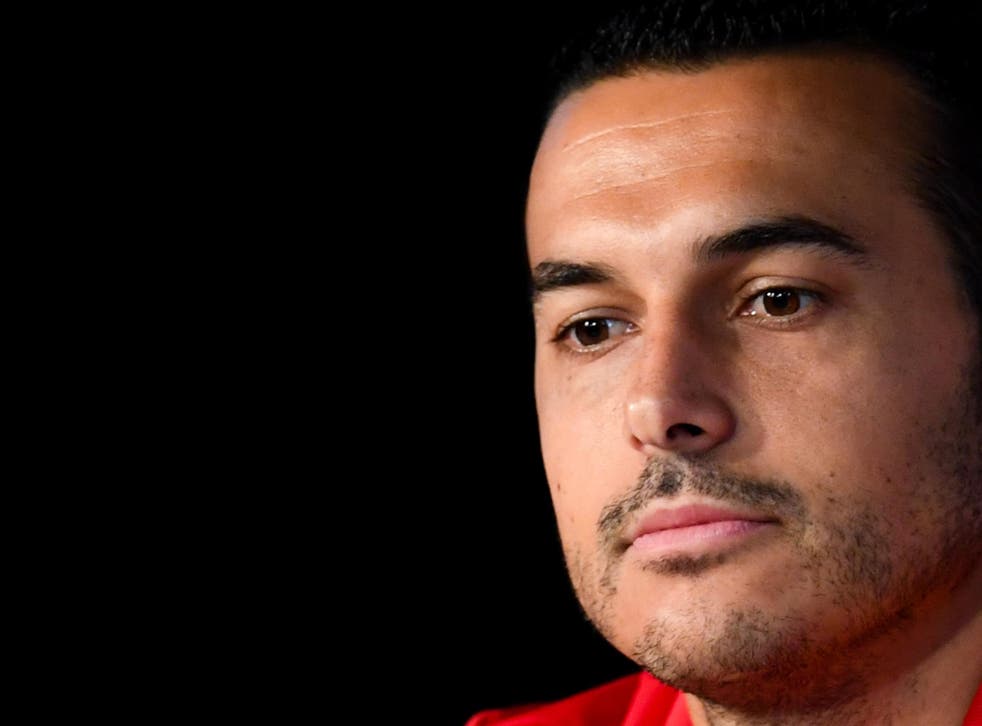 Although it's a fixture that Pedro naturally describes as personally "special", the winger has a few rather contrasting words that stand out when he discusses the last time that Barcelona and Chelsea met, back in 2012. One is "horrible". Another is "frustrating". Another, "sad". All of them, however, now serve as motivation to leave many of his former teammates suffering the same feelings.
The challenge for his current side is similar to then. Chelsea find themselves suffering one of those periodic problem campaigns, when they are off the pace in the league, and up against Barcelona again being spoken of as maybe the best on the continent. The Catalans went and duly dominated the 180 minutes of that last meeting in the 2012 Champions League semi-final, even going 2-0 up against 10 men in the second leg after John Terry's red card… but still couldn't go through to what would have been a second successive final and third in four years. Chelsea were too stubborn, too improbably defiant, too "horrible" to play against.
Pedro is one of two former Barca players from then in the current Chelsea team, along with Cesc Fabregas, having come on in the equally frustrating first leg. Didier Drogba scored the only goal that night to set up the sensational 2-2 return even though the Catalans were the side with multiple chances. Pedro now talks effusively about how he "defends the badge on this shirt, the Chelsea shirt, with great honour and pride" but you can't but notice the hurt when he discusses that elimination.
Champions League 2017/18 contenders

Show all 15
"It was frustrating," Pedro says. "This memory stays with me even now, a very sad day for me and my teammates. I remember a lot of things: when you control the game and score the first goal… but then Leo [Messi] missed a penalty and then Fernando [Torres] scored with the game's last touch to finish the tie. I remember it all because it was such a sad day for Barcelona and for all of us.
"Chelsea were always horrible opponents, very difficult in these games: compact, strong in defence, pressed very well. For that reason, we always found it difficult against them. For the players of Barcelona, they'll be thinking this tie is going to be very tough, this game for them, because Chelsea are strong. Chelsea are compact, and it's never easy to play against us."
This will be the extra psychological weight for Messi, Andres Iniesta, Gerard Pique and Sergio Busquets if the tie does start badly for Barca. Doubts may grow that it's going to be the same again, certainly if their feelings are any way similar to their former teammate's.
Pedro's feelings are probably all the stronger because the 30-year-old is much more than a former Barcelona player, from a Pep Guardiola side that made history. He actually represented one of the reasons they were so historic, as yet another youth graduate brought through whose deeper understanding of the Camp Nou way brought them to ever higher levels.
Pedro ended up winning 20 major trophies there, including three Champions Leagues and five Spanish titles, before leaving for Stamford Bridge in 2015.
"It's a special game for me," Pedro says. "I played for so many years in this team, and I have so many friends there, and a lot of good memories, of my time at that club.
"It was an incredible time with a special team. They're one of the biggest teams in the world. It's easier to win titles there, probably, than over here because they have very good players like Leo Messi and others, the best players in the world. For this reason, I'm very happy to have played my part and to have won those titles with them.
"It's unbelievable. They're such good players. Leo Messi is the best player in the world for me, but look at the others: Andres, Xavi and all the others, [Thierry] Henry, Ronaldinho, [Zlatan] Ibrahimovic, [Samuel] Eto'o… so many of them. Then there are the likes of [Carlos] Puyol, [Eric] Abidal… the list goes on. I was lucky enough to play with them all, such good players, and stayed more years with them. I learned so much from them as team-mates. It was a great honour for me to be there with them, and such a big part of my development as a player from a young age, playing with this type of player."
And playing with the star he considers one of a type. Pedro admits that he would try and copy Messi in training, but realised it was someway futile.
"Always you look and try and take on his movement and his skills. But he's on another level. It's very difficult to copy him and pick up how he moves. For him, it's instinctive and he's unique in the world. No one can do what he does. For this reason, to have played with him is special. Special for me, and something to tell my sons [Bryan and Kyle] in the future because, probably, he'll be considered the best in history."
So, from knowing him better than anyone at Chelsea bar Fabregas, is there any insight Pedro can offer as to how to stop Messi - or at least mitigate his effect?
"It's difficult... he's the best player in the world. But he's not invincible. It's probably a hard game for us, a massive game, but if the team are really focused on fighting together, you never know in football. We'll have possibilities to get through. But, obviously, it's Barcelona. It's Leo Messi. It's very difficult to stop this guy because he's very quick, very clever out on the pitch. But, look, it's not impossible."
And yet Messi's underwhelming record against Chelsea represents one of the quirks of the modern Champions League, one of the ways that Barca were beaten the last time, one of the reasons the English champions can again approach such a tie confidently overlooking contrasts in domestic form.
The Argentine has played eight games against Chelsea and never scored, while only winning once - 12 years ago. It might well be coincidence, but it is the type of thing that can potentially play on minds and cause hesitation at key moments, like when Messi missed that penalty in 2012 - in a year when he scored 91 goals. The very stakes of sudden death at this stage can cause strange things to happen.
"Things are different in the Champions League," Pedro argues. "It's a different type of competition. It's for good teams and good players, and it's another mentality when you fight with another top team.
"You change your mentality. It's one game, 90 minutes and you have to be very focused on the game from the beginning because anything can happen in these matches."
The history of this fixture even before 2012 proved that. It had already produced so many fireworks, from Jose Mourinho hiding in a laundry basket to Ronaldinho scoring one of the great Champions League and the improbable decisions of referee Tom Henning Ovrebo, only for their last meeting to match all of that across a mere two matches. There were so many chances and still so many goals, a Terry red card, a brilliant Ramires chip and then the twist of a great player who couldn't stop scoring missing from the easiest of chances to a struggling expensive player who couldn't buy a goal hitting one of the most memorable in his new club's history. It stopped Barca making history and becoming the first club to retain the modern Champions League.
Tuesday's Champions League action in pictures

Show all 29
"Guardiola got his players playing in a certain way in the A team at Barcelona with his players but, even though he has moved on and new players have come in, that style has remained," Pedro says. "It's the same process now, the same type of football. They still move the ball so quickly, shifting it from one side to the other to create chances. Some players may have moved on, but they have players like [Luis] Suarez, who is scoring more goals, and Messi. For this reason, it's very difficult to stop them and to fight with this team."
But not impossible. Not quite difficult enough for Chelsea to fear them. "No, not at all. If you start with fear, that hands it to Barcelona."
By the way Pedro talks, too, the Barca players might well fear the prospect of this tie even more.
Join our new commenting forum
Join thought-provoking conversations, follow other Independent readers and see their replies