Chelsea vs PSG: We have tougher training than PSG's games in Ligue 1, says Jose Mourinho ahead of Champions League tie
The Chelsea manager questions the quality of the French top division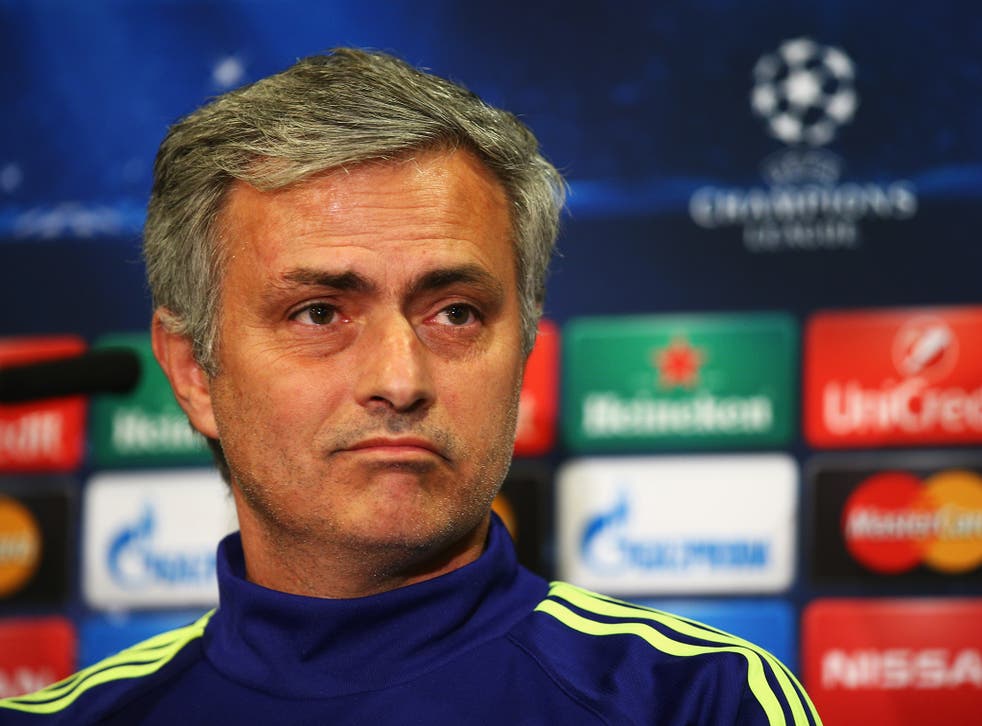 Jose Mourinho has raised the stakes ahead of Wednesday night's Champions League last-16 second-leg tie with Paris Saint-Germain by claiming that Chelsea have more competitive games in their training sessions than the French champions do in Ligue 1.
Mourinho's team have not played since they defeated West Ham 1-0 last Wednesday, while PSG beat Lens 4-1 in the French league on Saturday – a game that the Chelsea manager said had a lower intensity than his squad's training session on the same day.
It was a remark that formed part of an answer to the question of whether the Premier League could claim to be the strongest league in the world if Chelsea were the only English side who made it into the last eight of the Champions League.
"I think so," Mourinho said. "Do you imagine for example, in the quarter-finals, looking to the fixtures, the English team in the Champions League competing with Bayern Munich that has an 11-point advantage? They can play with a second team [in the Bundesliga] without any kind of pressure.
"Even PSG, I saw their game on Saturday. I think our training session on Saturday was harder than their game on Saturday. My players on Sunday, they were resting from the hard training session on the Saturday. I think on Sunday their [PSG] players were not resting from their game against Lens. It's more difficult for English clubs.
"Do you think it's normal where Everton are [14th] in the Premier League? It's not normal, but they play every Thursday in the Europa League and travel and come back and play again on Sundays. This league is very difficult and the Champions League is a completely different situation."
PSG 1 Chelsea 1 player ratings

Show all 22
With the tie delicately poised at 1-1 from the first leg in Paris on 17 February, Mourinho also said that his team did not need the same bonus incentive that will see the PSG players paid €250,000 (£178,000) each for prevailing in the tie. The Chelsea manager said that he was only paid bonuses for winning trophies and had not been on a bonus programme based on round-by-round progression since he was manager of Porto.
Mourinho said: "The club pay us a very good salary to do our job the best we can. We do that job as best we can. If we take the club into quarter-finals, semi-finals, finals, but we don't win the competition, we are doing a very good job for the club financially. I don't think we should get extra money, on top of our salaries, if we don't win the last prize."
The Chelsea manager said that nothing could match the satisfaction he felt at winning trophies, and that he would "pay to win" – pay with his own money to experience that feeling of victory, were that possible.
"When you win [a trophy], you can get an extra bonus like people do in other walks of life, like in some companies when you reach certain objectives. That happens in many areas of society. You reach certain objectives and people get extra payments, reaching some targets or numbers. That's fine. But football is about our passion for the game, the happiness and the pride of victories. They have no price."
Register for free to continue reading
Registration is a free and easy way to support our truly independent journalism
By registering, you will also enjoy limited access to Premium articles, exclusive newsletters, commenting, and virtual events with our leading journalists
Already have an account? sign in
Register for free to continue reading
Registration is a free and easy way to support our truly independent journalism
By registering, you will also enjoy limited access to Premium articles, exclusive newsletters, commenting, and virtual events with our leading journalists
Already have an account? sign in
Join our new commenting forum
Join thought-provoking conversations, follow other Independent readers and see their replies