Chelsea vs Schalke: Controversial Gazprom deals cast cloud ahead of Champions League game
The Russian energy giant and one of the growing corporate forces in the European game
Jack Pitt-Brooke
Wednesday 17 September 2014 16:27 Comments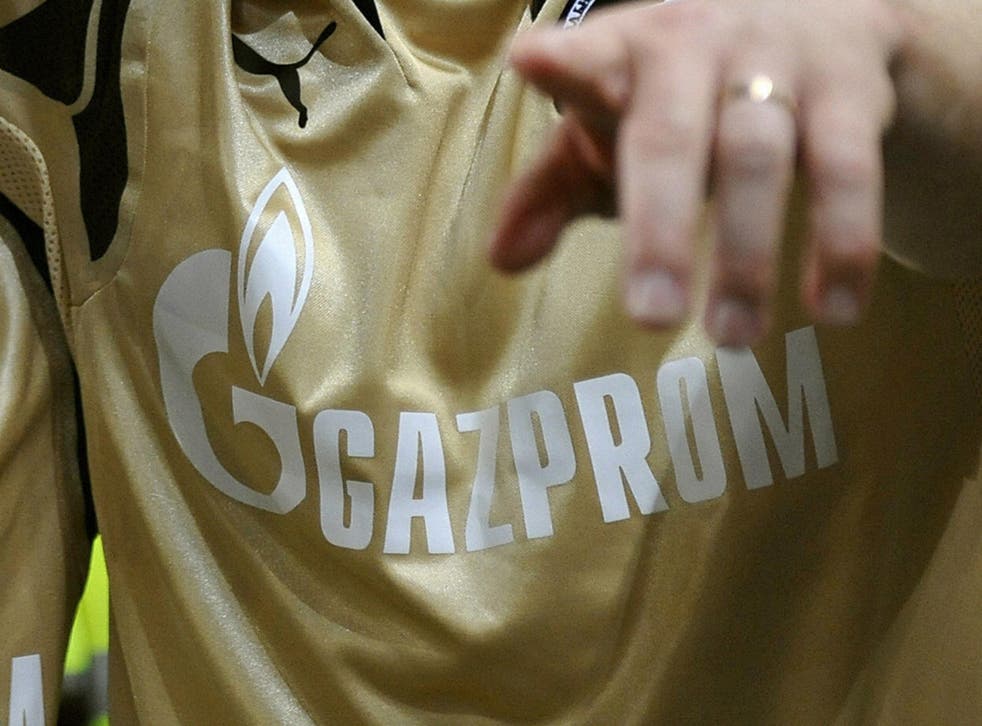 Chelsea and Schalke are familiar enough opponents, having met at this stage of the Champions League last season, but the two teams have something else in common: a connection to Gazprom, the Russian energy giant and one of the growing corporate forces in the European game.
Gazprom is majority-owned by the Russian government and provides 30 per cent of Europe's gas. It is also Chelsea's official global energy partner, shirt sponsor of Schalke, the major backer of Zenit St Petersburg and one of the six partners of the Champions League itself. It is difficult to watch a Champions League game on television without seeing the firm's advert.
While Gazprom's deal with Chelsea is relatively small, compared with the club's larger partners, the firm does provide some of the energy at Stamford Bridge and at the Cobham training facility. Its tie-up with Schalke, though, is far more significant and controversial.
Gazprom has been sponsoring Schalke's shirts since 2007, after a deal which the former German Chancellor Gerhard Schröder helped to facilitate. Schröder now works with Gazprom. It has been a lucrative arrangement for Schalke, with the sponsorship estimated at €17m (£13.5m) annually. There has been disquiet, though, from many Schalke supporters, especially over the close relationship between the club's chairman, Clemens Tönnies, and Russia's President, Vladimir Putin. Jürgen Roth , a German investigative journalist, told The Independent that these relationships amounted to an "ethical scandal".
When Schalke played in Basel last October, Greenpeace protesters unveiled an anti-Gazprom banner at St Jakob-Park. In March, there was talk of a planned visit by Tönnies and the Schalke team to Russia to meet Putin, in the aftermath of the Winter Olympics in Sochi. Given the unrest in Crimea at the time, there was enough public criticism, including from fans, to delay the trip indefinitely.
"FC Schalke 04 is a club with democratic foundations, that holds freedom of opinion in high esteem," wrote one fanzine. "We should not serve an autocrat."
There is still a public silence on the issue. German newspaper Handelsblatt described Schalke as "completely speechless" on the topic of Gazprom.
Gazprom's influence at Schalke, though, is dwarfed by its role at Zenit, where it is a major backer as well as shirt sponsor, helping with the purchases of Hulk and Axel Witsel for more than £30m each in 2012.
Alexei Miller, the Gazprom chief executive and an old colleague of Putin, was the key mover behind those deals, as well as the decision to bring back Andrei Arshavin.
Gazprom's heavy investment in European football is now taking it into the Balkans, where it has a deal with Red Star Belgrade. Critics say that the firm is using sponsorship of football to improve a global image that should take into full account its relationship with the Kremlin. But there is little sign of Gazprom's move into football slowing down yet.
Register for free to continue reading
Registration is a free and easy way to support our truly independent journalism
By registering, you will also enjoy limited access to Premium articles, exclusive newsletters, commenting, and virtual events with our leading journalists
Already have an account? sign in
Join our new commenting forum
Join thought-provoking conversations, follow other Independent readers and see their replies