Chelsea win group with canny demolition of Valencia
Chelsea 3 Valencia 0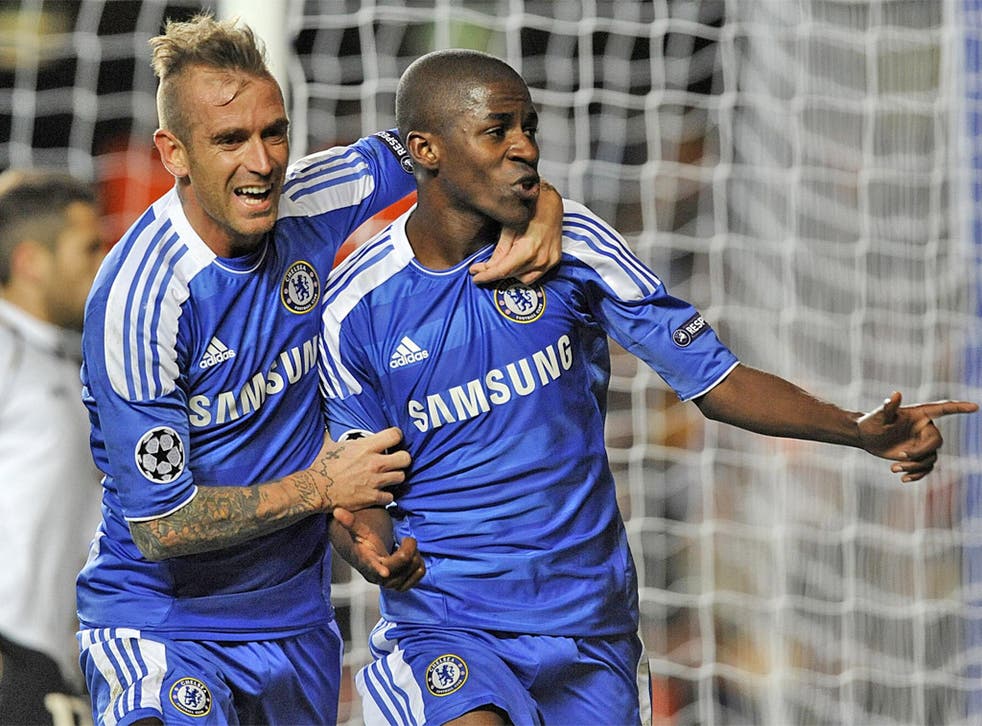 There are some occasions upon which only a vintage performance from Didier Drogba will do, and fortunately for Andre Villas-Boas last night, in his hour of direst need, Chelsea's young manager got one from his battle-scarred centre-forward.
This was, in the end, a return to the sledgehammer Drogba of his golden years, the sledgehammer with the gossamer touch, who can take defences on single-handedly and make opponents shrink with self-doubt. His first goal after three minutes calmed Stamford Bridge's mood, his second – Chelsea's third – put the game beyond doubt, and in between he led the line alone as only he can.
At times we were back in the golden Drogba years, from 2005 onwards, when defenders bounced off him and goals came easy, so much so that it was easy to forget that this is a player who is out of contract at the end of the season and, seemingly, heading towards the exit after more than seven years at the club.
From a night that began fraught with tension, Bayer Leverkusen's unexpected draw with Genk in Belgium meant Chelsea eventually finished Group E as winners and so avoid some of the more daunting opponents in the first knockout round in February. The club's young manager has survived his first serious crisis, although there will be more, you feel, before this white-knuckle ride of a season is over.
Villas-Boas then embarked on a post-match spleen venting at what he referred to as the "persecution" of his team and various other claims against critical newspapers and Gary Neville in particular that Chelsea were the victims of a conspiracy. "We've given everyone, those critics, a slap in the face," he said. Later he went for it again: "It's unfortunate for you guys because you'll have to write about Chelsea finishing first [in the group]."
Actually, there were many present who have chronicled the spectacular achievements of Chelsea over the last seven years and lauded them just as much as they will do with Drogba today. The emotions were running high for Villas-Boas last night and this is fresh territory for him but he should bear in mind that at Chelsea the tone is set by the regular sacking of the manager by the owner. That is what makes the club such a highly charged place to work.
For now, Villas-Boas can relax in the knowledge that he will not become the first Chelsea manager in the Roman Abramovich era who fails to navigate the group stages of the competition and can put that challenge aside until the knockout round begins. Among the teams who have already finished second in their groups are Marseilles, Zenit St Petersburg and Milan, all of whom Chelsea could be drawn against a week on Friday.
In an ideal world for Villas-Boas and Abramovich, it would have been Fernando Torres who scored the goals for Chelsea last night, not the 33-year-old striker who is almost out of contract. In moments of crisis, Chelsea can never quite leave behind the legacy of Jose Mourinho and the striker he brought to the club back in 2004.
Nevertheless, Villas-Boas did abandon one old rule of Chelsea last night when he left Frank Lampard out of the side and did not even summon the midfielder from the bench, a big call that worked out in the end. Not since the early days of the Abramovich regime, when Lampard was left out of the team for a Champions League game against Sparta Prague in 2003, has he been omitted from such a big game.
That Torres was also left out barely merits a mention these days. As for Lampard's omission, Villas-Boas would have preferred to focus on the tactical switch he masterminded last night where Chelsea sat back – farewell to the "high line" – and let Valencia have much of the possession. The away team came away with 66 per cent of the ball but could find no way through a Chelsea defence that was reassuringly solid.
All the statistics pointed to Valencia's dominance including their 612 passes completed to Chelsea's 258 but the home team were lethal on the counter-attack and no one was more crucial than Drogba. There were also impressive performances from the midfield three of Raul Meireles, Oriol Romeu and Ramires, who scored Chelsea's second goal.
Drogba was on his game from the start and scored the first of his two goals, both made by Juan Mata, within three minutes. The Spanish winger pulled down Daniel Sturridge's cross from the right wing and cut the ball back to Drogba who switched it from his right foot to his left and struck it low past Diego Alves.
"We made changes to the way we played," Villas-Boas said. "We tried it at Newcastle. We kept our block further down the pitch, a 'medium-low compact block' with not a lot of space between the lines. We gave Valencia a lot of possession. That was tremendous [for them], but nobody has given us credit for keeping possession [and not winning games]."
Although they never broke through, Valencia were superb at times. They hit the post two minutes after Drogba's first goal with a shot from the left-back Jordi Alba. The midfielder David Albelda, crucial in the middle for his team, forced a fine save out of Petr Cech on 10 minutes.
It was on the counter-attack once more that Chelsea scored their second. Drogba slipped the ball through to Ramires who made a run angled from right to left and forced his way past Victor Ruiz who, unforgivably, allowed himself to be out-muscled, and the Brazilian midfielder squeezed the ball in at the near post.
It fell to Drogba to see out the game. First he bounced the centre-half Adil Rami out the way and ran on goal but put his shot wide. Then he scored Chelsea's third from Mata's through ball.
Only then did Torres enter the game, waiting on the touchline while the home support applauded Drogba off. The old soldier had come through again. Villas-Boas had his say. It had been quite a night.
Man of the match Drogba.
Match rating 7/10.
Referee G Rocchi (Italy).
Attendance 41,109.
Leverkusen pay for Genk draw
Genk helped Chelsea finish top of Group E by improving on their previous wretched Champions League form by holding Bayer Leverkusen 1-1 at home. The Belgian side took the lead in the Cristal Arena through striker Jelle Vossen after 30 minutes. Eren Derdiyok denied them their first win in the group stage with the equaliser with 11 minutes to go, but the Germans could not find the second goal that would have meant they were group winners.
Register for free to continue reading
Registration is a free and easy way to support our truly independent journalism
By registering, you will also enjoy limited access to Premium articles, exclusive newsletters, commenting, and virtual events with our leading journalists
Already have an account? sign in
Register for free to continue reading
Registration is a free and easy way to support our truly independent journalism
By registering, you will also enjoy limited access to Premium articles, exclusive newsletters, commenting, and virtual events with our leading journalists
Already have an account? sign in
Join our new commenting forum
Join thought-provoking conversations, follow other Independent readers and see their replies