Could Lionel Messi really leave Barcelona for Chelsea or Manchester City? It's not completely out of the question
COMMENT: A dramatic weekend has left Messi's future up in the air
Nicholas Rigg
Wednesday 07 January 2015 01:31 Comments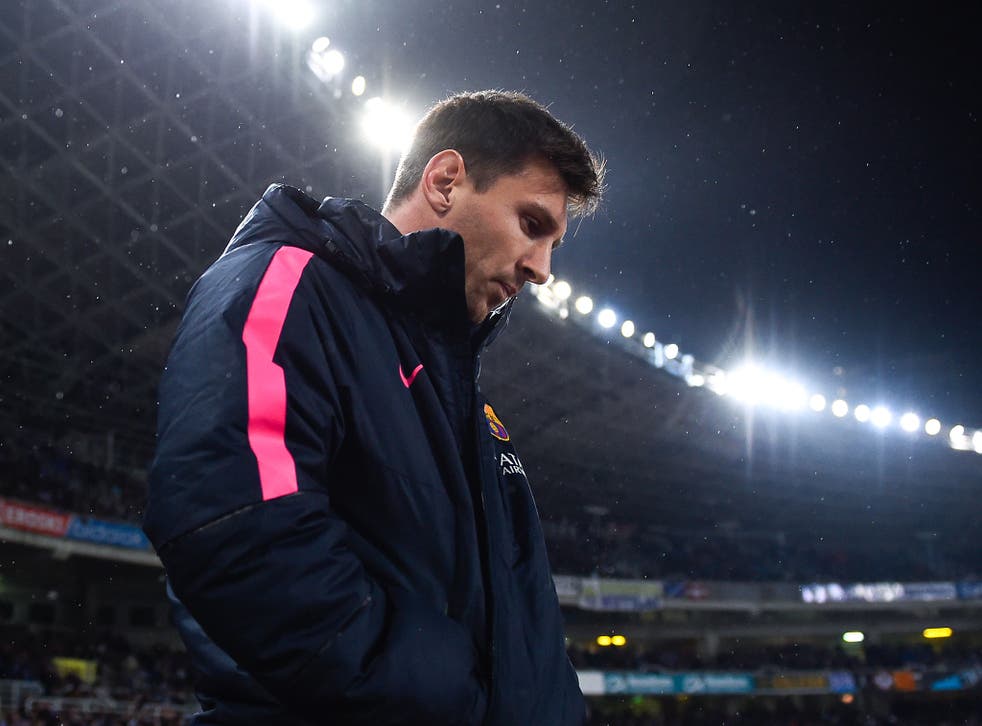 The question over whether Lionel Messi really can cut it on a cold, wet Tuesday night at Stoke is as close to being answered as ever before thanks to a dramatic weekend at Barcelona that has left the star's Camp Nou future up in the air.
While a place on the bench as Barcelona fell to a 1-0 defeat against David Moyes' Real Sociedad on Sunday may have acted as another failure against under-fire coach Luis Enrique, Messi's absence from training the following day set alarm bells ringing at the Camp Nou. Those bells may have been heard as far as Premier League pair Chelsea and Manchester City, both of whom have tenuously been linked with his services over the past 18 months.
The events involving the four-times Ballon d'Or winner over the past 48 hours may not be entirely new, nor will they indicate an imminent departure away from the club that has helped him become arguably the greatest player that has played the game. They are, however, the current tip of an iceberg that has been growing this season and the biggest indication yet that his future may lie away from Catalonia.
The Worst Tattoos in football

Show all 14
That the 27-year-old was only a substitute in San Sebastian on Sunday as La Liga resumed following its winter break is not the most pressing matter. He joined Neymar and Dani Alves, players who were also granted an extended break over the festive period and were perhaps not ready for 90 minutes in the eyes of their coach. Ter Stegen, Gerard Pique, Ivan Rakitic and Rafinha also made up more than €200m worth of talent on the bench.
Missing the first match of a new year is also nothing new for the freescoring forward. Despite the initial furore over Luis Enrique leaving his talisman on the bench, Messi has only ever started in one game after returning from the winter break, under the guidance of the late Tito Vilanova in 2013. On the other ten occasions since making his debut in 2004, he was either a substitute, injured or not involved at all.
That he missed training with the explanation that he had gastroenteritis, a stomach upset in other words, was more telling. It came just days after long-serving team-mate Xavi told a Barcelona TV journalist that "in football, a 'stomach bug' is seen as an excuse". The timing could not have been worse for the club. "[A player] might feel bad at first but you take a tablet then go out to play." Lionel Messi is a player who wants to play in every minute of every game and every training session.
He did not just miss any training session. The session was open for Barcelona fans to attend and watch their idols at the club's 'Mini Estadi', which sits alongside the Camp Nou. A crowd of 11,300 was announced and plenty of them, most children, will have left disappointed at not seeing Messi in action. The squad paid a visit to a local hospital straight after and there was still no sign of the club's leading star.
It played out just hours before the club's sporting director Andoni Zubizarreta was sacked and Carles Puyol, a Barcelona idol, decided to leave after being Zubizarreta's assistant for three-and-a-half months. The Fifa ban imposed on the club that prevents them from making signings this transfer window or in the summer still stands and to say Luis Enrique has endured a rocky start to life at the helm is to put it mildly. The Barcelona ship is on rocky waters.
Whether that prompts clubs such as Chelsea, City and French big-spenders Paris St Germain, the three believes to have a chance of affording the Argentine should he decide to leave, to up their interest remains to be seen. If they do have serious aims to complete the signing of the decade then there has been no better time to strike than now.
Messi, not usually one for the media spotlight but who can be media savvy, hinted at a possible departure earlier this season before he faced Portugal in an international friendly at Old Trafford. "I live the present," he told Argentinian newspaper Ole. "All I am thinking about is making this a great year and winning titles, and that's it. After that, we'll see. Football is full of unexpected twists and turns ... it is true that I said I would like to stay there [Barcelona] forever, but sometimes not everything turns out the way you want."
The love affair has been crumbling over the last 18 months. Messi, understandably, has been used as an icon of the club but when he and his father, Jorge, were subject of a tax fraud case the reports in Spain were that the player was upset at the lack of support from the club. Barca had taken on a muddy case of their own after the signing of Neymar and perhaps did not want to further darken the club's name.
The signing of the Brazilian star also started rumours that there would not be enough space in the club for both of them and that it was time to cash in on the Argentine. The addition of Luis Suarez from Liverpool in the summer further strengthened some of those rumours, although the chance to see all three leading the line was too attractive for many to look beyond.
That some in the club want to see Messi leave is not new. There is a strained relationship between the player, his representatives and some at the top table of the Camp Nou. Only in late 2013 director Javier Faus said the club had no obligation to continue renewing Messi's contract. It prompted a strong, and rare, outburst from the player. "Barcelona is the best club in the world and should be represented by the best board members, too," he said. "Senor Faus is someone who doesn't know anything about football and wants to manage Barcelona like a business, which it is not."
This all comes during a season that Messi, and some of his senior team-mates, have not enjoyed the way the first-team is run. Luis Enrique started in scintillating fashion but since losing to Madrid at the Bernabeu his method of forever changing his line-up and team shape is reported to have left many players disillusioned.
Messi still has three years left on his €20m per year contract and has a buy-out clause of €250m. It would require a world-record fee to sign the Argentine and that leaves only a handful of a clubs able to put any kind of deal together, with Financial Fair Play rules making that number even slimmer. It would also require a push from all parties with Barcelona banned from signing a possible replacement until 2016. Given the magnitude of a possible departure neither Messi, adored by the Catalan public, nor Barcelona will want to be seen to be keen on a deal, especially with elections coming up next year.
That the former Newell's Old Boys player followed Chelsea, Cesc Fabregas, his close friend ever since breaking through the youth teams at Barcelona, and Filipe Luis on Instagram straight after his training no-show should be taken with a pinch of salt. Chelsea manager Jose Mourinho, a former rival at Real Madrid, said reports linking the club with Messi earlier this season were "obviously not true" and told BT Sport in an interview over Christmas there was "no chance". Messi also follows Manchester City on the social network website.
There may have been no chance before but if any club other than Barcelona, and boyhood club Newell's Old Boys, where he plans to retire, wants to enjoy the services of one of the greatest players to have graced the game there may be no better time to start putting in motion what would be the signing of the decade. The coming months are going to be crucial in the future of Lionel Messi.
Register for free to continue reading
Registration is a free and easy way to support our truly independent journalism
By registering, you will also enjoy limited access to Premium articles, exclusive newsletters, commenting, and virtual events with our leading journalists
Already have an account? sign in
Register for free to continue reading
Registration is a free and easy way to support our truly independent journalism
By registering, you will also enjoy limited access to Premium articles, exclusive newsletters, commenting, and virtual events with our leading journalists
Already have an account? sign in
Join our new commenting forum
Join thought-provoking conversations, follow other Independent readers and see their replies