The rise of Dalkurd – a unique mix of Kurdish refugees' courage and Swedish discipline
Kurdish owners, Kurdish players and now a de facto Kurdish national team is ready for the top flight and, maybe, a tilt at Europe
Michael Yokhin
Friday 13 October 2017 13:15 Comments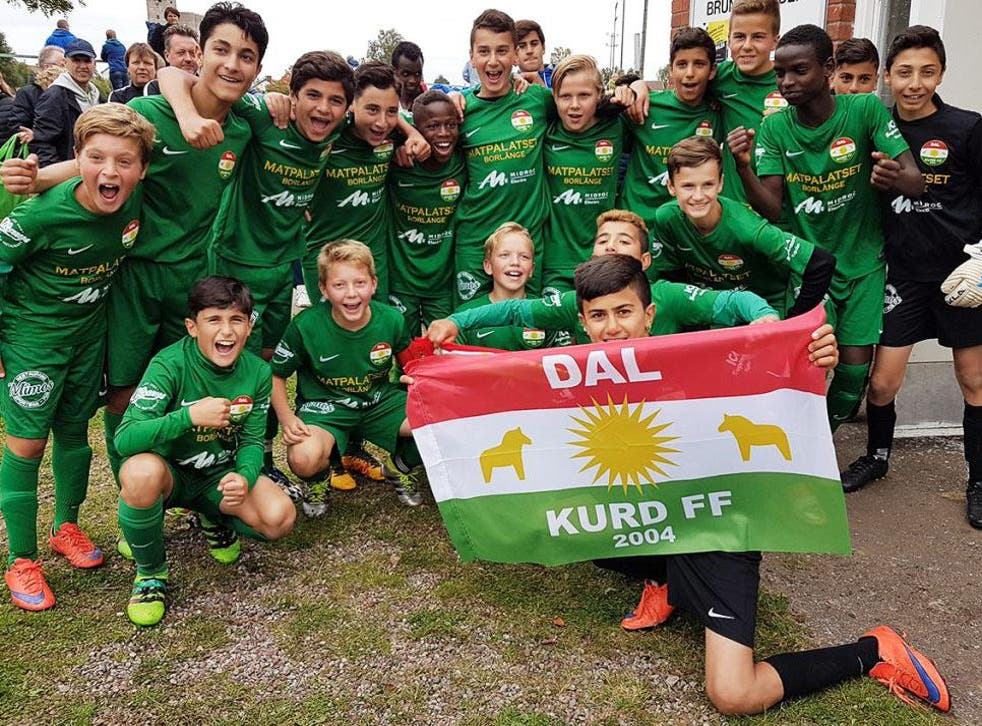 "We don't have a national team, but for me Dalkurd are the national team," says Rewan Amin.
The 21-year-old midfielder didn't have any doubts before moving to the club in early 2016, and now he is playing a key role in Dalkurd's sensational promotion to Allsvenskan, the top division in Sweden, which could officially be sealed this weekend.
Born in the Kurdish part of Iraq, Amin emigrated to Holland with his family at the age of three, received his footballing education at the magnificent Heerenveen academy, represented the Under-17 Dutch national team, and was followed by Arsenal at a certain stage. However, his father was delighted with the opportunity to join a unique club in central Sweden. "I immediately felt at home, and it is even possible to speak Kurdish with some people," Amin reflects.
And yet, the most remarkable part of this incredible script is that Dalkurd were never supposed to be seen as the "Kurdish national team", even though Kurdish flags are proudly shown at their modest Domnarvsvallen stadium. On the contrary, they are a diverse community open to everyone which was established in 2004 as a social project rather than a football club.
"There were significant drug problems in our town of Borlange those days, and my brother became drug addict. My father, Ramazan Kizil, was not really interested in football, but decided to establish a team that would enable youngsters to do something and take them off the streets. At the time, some players were kicked out of Brage for disciplinary reasons, and the new club gave them a second chance," says Adil Kizil, who started as a goalkeeper and serves as the sporting director since retiring in 2013.
The Kizil family arrived in Borlange from Turkish Kurdistan in 1989, and are very proud of their heritage. The club's crest shows Kurdish colours and the Kurdish sun, but has two Dala horses on it as well. "Those horses are the symbol of the Dalarna province, Sweden, and we are part of it. Dal stands for Dalarna, and Kurd for Kurdistan," Dalkurd board director Cego Heskali explains.
"We accepted youngsters from all origins – Swedish, Somalian, Arab, Albanian and so on. The average age of the squad was 17 when we started in the eighth division. I was the oldest player at 20," Kizil says.
It was a small local initiative, and bizarrely Dalkurd's first trophy was won in a futsal tournament. However, they trained for at least two hours every day, so that the kids would be too tired to join local criminal gangs, and the results on the pitch were astonishing. Dalkurd claimed a Swedish record by getting promoted five times in a row, while keeping the same nucleus of the squad. "We only lost four games during those five years," Kizil proudly remembers.
That is when it suddenly became much more serious. Upon reaching the third division in 2010, Dalkurd were more ambitious and gained significant popularity. The project was getting better known among Kurdish immigrants throughout Sweden and around the globe. As things stand, their Facebook page is followed by more than 1.5million people, and Kurdish fans from Iraq, Turkey, Germany, United States and other countries frequently watch Dalkurd games live via internet.
When the club were sensationally promoted to Superettan, the Swedish second division, ahead of the 2016 season, two Kurdish millionaires from Iraq, Sarkat and Kawad Junad, acquired 49 percent of the club and made significant investments. "People think that we are rich now, but that is not true. Our budget is just €2million as compared to €5million of Helsingborg. In the third division, we had always been the poorest club," Heskali says.
Nevertheless, Dalkurd took Superettan by storm. They finished fourth and marginally missed out on the promotion playoffs last year. This term are leading with 54 points from 26 games, possessing the best attacking (53 goals scored) and defensive (21 goals conceded) records in the division.
The secret, according to Heskali, is in the team's spirit: "We are one family. Every player who comes here feels that way. Players care about each other, always ready to help". New signings are warmly welcomed by veterans like Kurdistan-born captain Pershaw Azizi who joined in 2011 and Borlange native Alexander Ekblad who is at Dalkurd since 2008.
Another long-serving player is the star striker Ahmed Awad, who represents Palestine national team. "When we signed an American, Jewish player, David Abidor in 2015, outsiders joked that they will fight in the dressing room, but that is impossible at Dalkurd. All the nationalities are united here," Kizil says. The goalkeeper Frank Pettersson is famous for the brilliant quote: "The only time we differentiate between colours is when we do laundry".
In fact , that is Dalkurd's main motto. "Since the club was established, I learned a lot of different cultures. Our family had problems integrating in Sweden, but Dalkurd helped us, and now we speak perfect Swedish. This project has an important political message. We never segregate from anyone. We see Dalkurd as a Swedish club with Kurdish founders, and we take the best of all sides. We combine Swedish discipline with Kurdish courage. That is why we are so successful," Kizil states.
As Aftonbladet journalist Kristoffer Bergstrom puts it, "Dalkurd are the old Sweden and the new Sweden united in one team". It is easy to win hearts with such attitude, and that makes the club popular. While Brage continue to be the best supported club in Borlange, Dalkurd amusingly attract more fans in away games that in home fixtures. "The Kurds are always associated with struggles and war. We are glad to make positive headlines for a change," Kizil says.
Next season, they are bound to produce even more positive news in Allsvenskan, and Dalkurd are aiming high. "We will never be content with staying up and finishing in midtable. We will try to win every game", Kizil promises and dreams of facing Turkish opponents in European competitions. That would be a perfect way to close a circle for the family.
Register for free to continue reading
Registration is a free and easy way to support our truly independent journalism
By registering, you will also enjoy limited access to Premium articles, exclusive newsletters, commenting, and virtual events with our leading journalists
Already have an account? sign in
Join our new commenting forum
Join thought-provoking conversations, follow other Independent readers and see their replies