Did Manchester United goalkeeper David de Gea come of age against Real Madrid?
United keeper has been hit and miss this season but his coach tells Ian Herbert the club are confident he has a bright future at Old Trafford
Ian Herbert
Friday 15 February 2013 00:00 Comments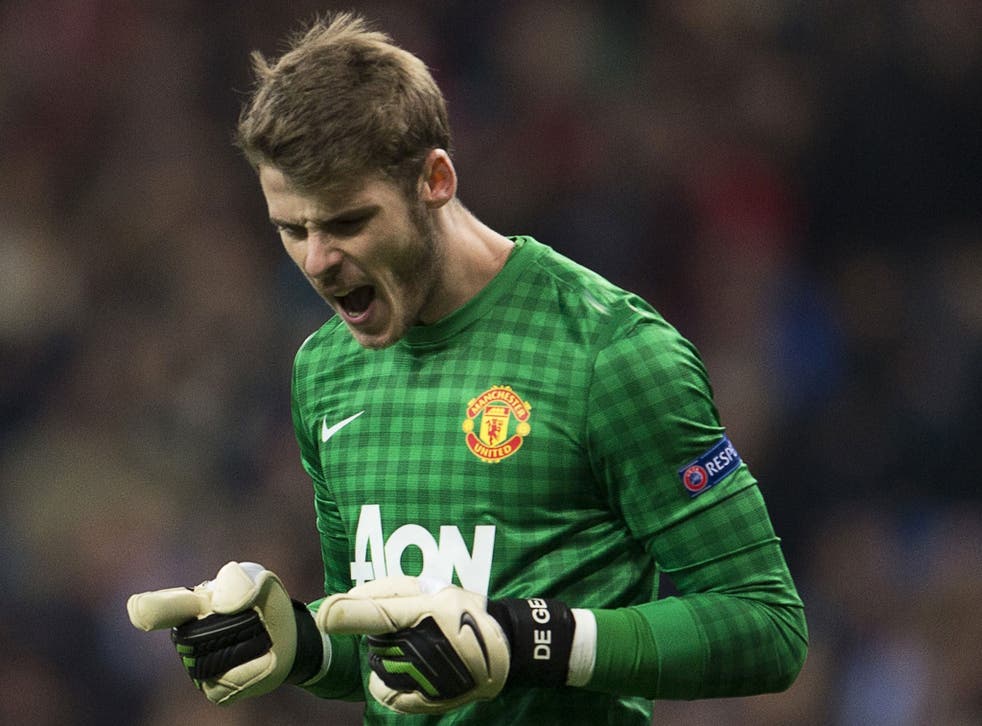 David de Gea's big disappointment came before his day of reckoning with Real Madrid dawned. The Madrileno had hoped to be asked a good number of questions at Tuesday night's pre-match press conference and so show off, in the depths of the Bernabeu, his English language skills which are gradually advancing. "He was ready to answer some in English," his Manchester United goalkeeping coach Eric Steele revealed. "He works with a very good professor twice a week but he only got two questions, so that was disappointing. When he arrived in England he needed to learn the football terminology first. He's doing very well."
De Gea's display in the 1-1 draw in the Bernabeu on Wednesday night left little doubt that he has the sangfroid required to make his acclimatisation to England more than a linguistic one. No one should pretend that the doubts about him are assuaged because of a performance which confirmed him both as an immeasurably fine stop-shotter – the best Steele says he has worked with – but also as one who generally flounders with a cross or two. With his popstar girlfriend Edurne Garcia Almagro, continuing to live in the warmth of Madrid, Barcelona and Real are monitoring him as much as United will observe the intentions of Victor Valdes, who wont re-sign at the Nou Camp, and Iker Casillas.
But De Gea needed a big display on a big occasion to provide a catalyst for a United career which he seemed to be losing a grip of after his surrender of a high ball at White Hart Lance last month threw away two points with it. You would expect Steele to defend his man, but he said that there is an inner fortitude which football overlooks in the boyish goalkeeper who wears a perennially anxious look.
"One of the great strengths he has got is a calmness," Steele said. "We teach him that the calmest man of the field has to be the goalkeeper. And the one thing he has got is a fantastic inner strength. Any criticism literally goes off that quiff he has – cresta cabeza ['quiff head'] we call him. He's able to say, 'Right, fine'. If he is hurt he doesn't show it.
"He might have dark moments but I think he keeps them away from the training ground and away from when he is preparing for games. He has got his family close to him. He doesn't read the press. But all the other mediums are there which he knows about. He knew the change was going to be difficult. You bring a boy into the Premier League at 19 it's not easy. But he's 22 and has played in about 170 first-team games now. He's not inexperienced but what he isn't experienced at his dealing with the varied performances you need in the Premier League."
De Gea's distribution is the other secret of his game which is overlooked in the rather unsophisticated way we view goalkeepers in Britain, Steele said. "He is following Edwin [van de Sar] in that respect." Composure and distribution: these are precisely the two qualities that Sir Alex Ferguson spoke about in De Gea when he had first signed him from Atletico Madrid, in the pre-season tour nearly two years ago in which he admitted that letting Petr Cech pass him by had always haunted him. "He's young, he's quick, he has fantastic presence and composure. His use of the ball is outstanding so all of these are things that don't go away," Ferguson said back then, in the United States.
The shot-stopping has become a given, though even that can be undervalued at times. "That's the one," Steele said, when the subject of the keeper's early tipped stop from Madrid's Fabio Coentrao cropped up. "If we go 1-0 down to Real Madrid after five minutes at the Bernabeu, that makes things a lot harder. He saw it very late, one of the boys might have been offside in front of him but he got his finger to it. Some may have had the anticipation, he had the speed of the first-step movement and the great long reach he has and got enough on it. That is how thin the dividing line is with goalkeepers. That's why you can be a hero one minute and zero the next."
The demands from United players that De Gea be given the chance to build on what he delivered in the Bernabeu illustrates the collective will behind him in the squad. Steele stopped short of saying this is a coming-of-age performance for the keeper. But he believes it might be one.
"Trust me, if you've worked with him day by day then you'd see he's very mature for his age and will only get better," Steele said. "Yes, of course he has had to learn. He's still growing physically. He'll get stronger physically and as he does it will help him in his game."
'Heroics needed': Spanish reaction
AS: "Heroics needed at Old Trafford"
"Never write off the red devil on the United crest. Don't ever rule out this legendary team, or the ghosts that breathe life into them.
"There were complaints about the referee, but even those were tempered. The battle will continue at Old Trafford, where Mourinho's team will need to hold onto the crown on their badges and their history, as well as their faith in the counter-attack."
Marca: "It's in the air"
"In what was his most special match since he landed at Real Madrid, Cristiano [Ronaldo] did not take his eye off the ball.
"The Portuguese held himself in the air for several seconds, Michael Jordan-style to level a tie that was threatening to drift away."
Register for free to continue reading
Registration is a free and easy way to support our truly independent journalism
By registering, you will also enjoy limited access to Premium articles, exclusive newsletters, commenting, and virtual events with our leading journalists
Already have an account? sign in
Join our new commenting forum
Join thought-provoking conversations, follow other Independent readers and see their replies