Diogo Dalot's attacking instincts on debut offer glimpse of more dynamic Manchester United to rival City strengths
The full-back demonstrated why United spent a significant fee on a player who had only eight senior appearances to his name with bold, physical, adventurous wide play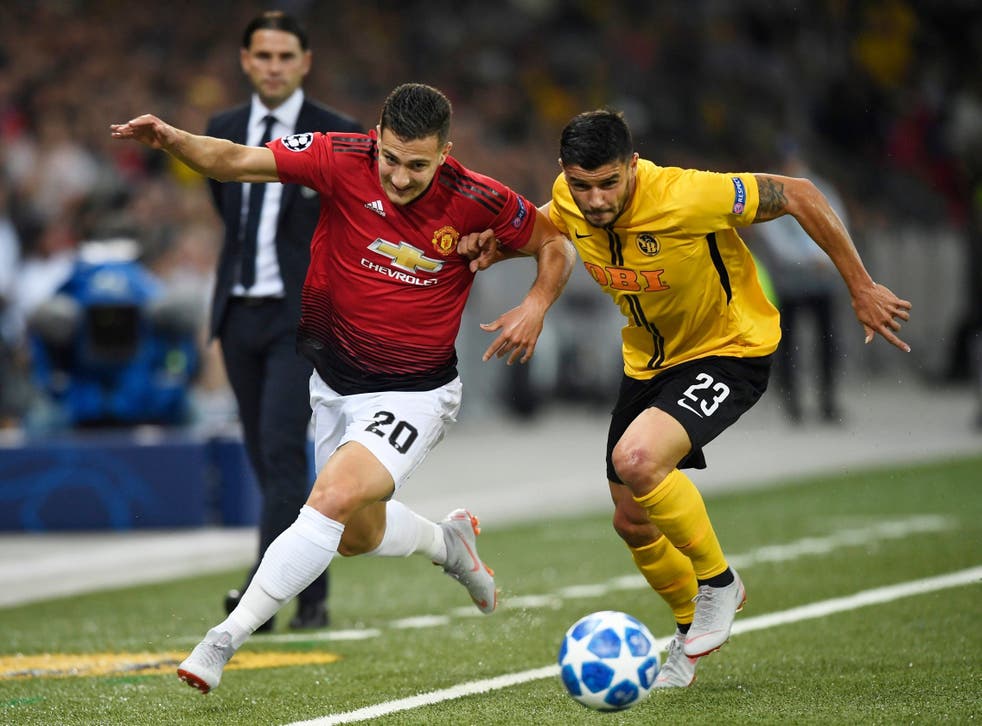 Diogo Dalot's first Manchester United display was an impressive one and, according to his manager, the first of many. "Everybody could see the potential," Jose Mourinho said, reviewing the teenager's performance in Wednesday night's win at Young Boys. "He is a 19-year-old player who has more than 10 years to play for Manchester United."
If Dalot is indeed still a United player in a decade's time, the promise seen in Bern on Wednesday will have been realised. Though relatively unknown upon his £19m arrival from Porto this summer, the full-back demonstrated why United spent a significant fee on a player who had only eight senior appearances to his name.
His first touch of any consequence as a United player came after two minutes and was a wicked, whipped cross which narrowly escaped Romelu Lukaku in the Young Boys penalty box. Not long after, he was riding the challenge of Miralem Sulejmani, escaping his opposite number Loris Benito and centring the ball again.
Young Boys vs Manchester United player ratings

Show all 11
Benito never got a handle on his opponent, and Dalot's best moment came when knocked the ball around the Young Boys left-back, beat him with speed and strength down the touchline, veering out of play at one point – think Gareth Bale in the 2014 Copa del Rey final – before collecting the loose ball and picking out a cross.
This was bold, physical, adventurous full-back play by a youngster who can only grow into the role. In for the absent Antonio Valencia, who was left at home due to concerns over the Stade de Suisse's artificial pitch, Dalot took up more advanced positions than the Ecuadorian while also tending to play more direct.
At 19 years of age, he is understandably a little raw and this impressive first outing was almost undone by the heavily watered plastic surface when Dalot slipped midway through the first half, allowing Christian Fassnacht a clear sight of goal.
It was his only moment of uncertainty, though, and outweighed by the many positives. For many, the most encouraging aspect of his display will be his willingness to attack. A sometime-striker while coming through Porto's Fintas academy, Dalot's instincts to the progress the ball forward first and ask questions later have never left him.
On the opposite flank, meanwhile, Luke Shaw is enjoying something of a renaissance. In his post-match press conference, Mourinho could not praise Dalot without speaking just as highly about the left-back.
This sudden emergence of two daring full-backs comes with a recent parallel from across the city. Ask anyone paying attention to football in Manchester over the last two years to pick out a specific point when it began to go so right for Pep Guardiola and they will most likely say the summer of 2017, when he completely revamped Manchester City's options on the flanks.
The ageing full-back quartet of Pablo Zabaleta, Aleksandar Kolarov, Gael Clichy and Bacary Sanga were moved on after Guardiola's first season. Though they were great servants of the club, they could not carry out their manager's demands, whereas Kyle Walker, Benjamin Mendy and Danilo – signed for a combined total of £123.5m – could.
Mourinho does not ask as much of his full-backs as Guardiola. The role is simply not as influential in his more rigid, naturally conservative approach. But an overlooked aspect of his United tenure has been his reliance on ageing, unnatural players in the position.
Valencia was the outstanding outfield player of Mourinho's first season and has served the club well since dropping back into defence midway through Louis van Gaal's tenure, but at 33-years-old, offers ever-diminishing returns. His inconsistent crossing has become something of a running joke.
At left-back, Ashley Young has provided an unlikely answer to what was quickly becoming a problem position. His steady displays there last season not only earned him an international re-call but successfully papered over a crack in United's squad.
Young, though, is also 33-years-old and carries little of the attacking potency that led Sir Alex Ferguson to move for him seven years ago. Both he and Valencia struggled to add variance to United's staid attacking play last season, particularly at Old Trafford. A younger pairing may be preferable, especially when United need to take the initiative.
In Shaw's case, this recent run of form cannot be another false dawn and he has to remain in his manager's good books. In Dalot's, we only have one game's worth of evidence, but there is nevertheless hope that he alone might offer the attacking dynamism, fluency and unpredictability that Mourinho's United has so often lacked.
Register for free to continue reading
Registration is a free and easy way to support our truly independent journalism
By registering, you will also enjoy limited access to Premium articles, exclusive newsletters, commenting, and virtual events with our leading journalists
Already have an account? sign in
Register for free to continue reading
Registration is a free and easy way to support our truly independent journalism
By registering, you will also enjoy limited access to Premium articles, exclusive newsletters, commenting, and virtual events with our leading journalists
Already have an account? sign in
Join our new commenting forum
Join thought-provoking conversations, follow other Independent readers and see their replies