Domenico Tedesco, the young polyglot transforming Schalke and walking in the footsteps of Jurgen Klopp
Schalke's sporting director Christian Heidel tells The Independent why he handed an opportunity to Tedesco, and explains how the impressive young coach has taken it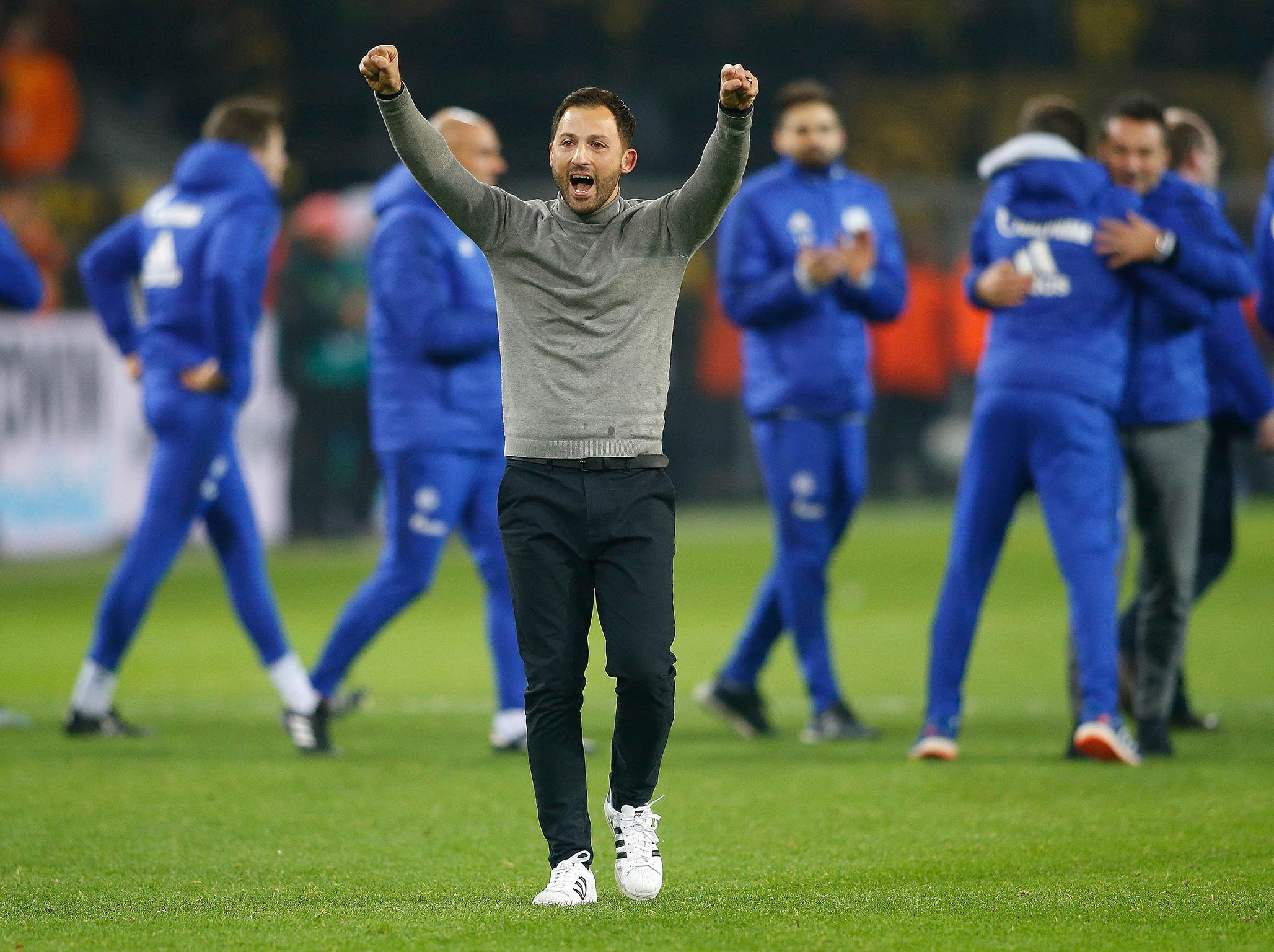 "With Jürgen Klopp, it was the case," says Christian Heidel. "With Thomas Tuchel, it was the case and the third time it happened in this way was with Domenico Tedesco," he says, ending with a flourish.
It is a matter of yards away from the entrance to Schalke's Veltins Arena that Heidel, the club's sporting director, is sitting down with The Independent and enthusing about how impressive Tedesco was when he interviewed him last summer.
"The difference is when you're sitting at a table with these people, you go out after and think about the conversation you've just had. 'What did he say?' You think about it. When you sit at the table and go out after and think: 'What did we just talk about?' Then it didn't leave behind an impression."
Heidel is therefore happy to place him in the same category as the now-Liverpool manager who he gave his first-team coaching break at the age of 32 in Mainz. He did the same for a 35-year-old Tuchel, the favourite in Germany to take the Bayern job this summer.
The Schalke job isn't quite on the same level in German football's hierarchy but it remains one of the biggest. Last season they finished 10th in the Bundesliga. Heidel sacked Markus Weinzierl despite having appointed him just a year earlier after arriving himself from Mainz. His subsequent choice of a now 32-year-old Tedesco has paid off with Schalke second and on course for a return to the Champions League after a three year absence.
And yet it was only a year ago this week that Tedesco came to the attention of Heidel for only the second time. On 8 March, the Italian-born coach got his maiden first-team coaching job with Ezgebirge Aue in the Bundesliga 2. Deep in relegation trouble when he arrived, Tedesco earned 20 points in 11 games to keep them up.
Just 93 days after his appointment, he was announced as Schalke's new coach. It was seemingly quite a step up for someone who had coached in the academies at Stuttgart and Hoffenheim but Heidel valued the nine years he spent there, working up through the age groups.
"He has worked with 12-year-olds, for instance," says Heidel, his eyes widening. "That is a challenge." It was important for Heidel that he'd worked in a youth academy centre and therefore "knows how these young players have learned, knows how to talk to them and for the young players then, the adjustment [in the first team] isn't so big".
It was when Stuttgart's Under 17s first travelled to Mainz three years ago that he first came to Heidel's attention. Such was Tedesco's energy on the touchline, he had to glance down at the team-sheet just to see who the opposition coach was.
It was with Hoffenheim though that as Under 19s coach Tedesco succeeded Julian Nagelsmann, the 30-year-old current first-team coach who took them to 4th in the Bundesliga last season. They both took their coaching badges at the same time too, even regularly sharing the car journey north up to Germany's renowned Hennes Weisweiler academy as they completed their final coaching badge.
"That Tedesco came top of his class there did not interest me in the slightest," says Heidel.
Instead, his "personal background" really interested him and understandably so too, given what Tedesco had achieved outside of football before focusing solely on coaching when becoming Stuttgart's Under 17s coach in 2013.
That Tedesco is fluent in five languages is something Heidel puts down to his diligence. Yet with a bachelor's degree in business engineering, a masters in innovation management whilst also having worked in project development at Mercedes, it must have appealed to Heidel too, being a former car dealer, that on top of all that, Tedesco was also a qualified engineer.
"I often had coaches during my involvement in football that already had professional experience outside of football. That actually allows them to have a different perspective, a different way of how they often deal with people. That is extremely important."
Heidel continues: "If you're being asked: 'What's the most important thing for a coach?' Then most would say: 'That he knows football and that he can handle himself well.' I always say the most important thing above all is intelligence.
"He had already been successful in his job away from football. That means he also knows what's going on outside of football to do with life experience. There are people who were only in football their whole lives. They're also good coaches. I believe though – and I've experienced this with Thomas Tuchel and Jurgen Klopp – that people who stood in their life on their own two feet have an advantage there."
After intelligence, Heidel lists knowledge and social competence as the second and third most important things, both for him and that Tedesco had shown him.
"When he came here, I felt it already on the second day that the players had accepted him. He has charisma – it's one of those things, you either have it or you don't."
Defender Naldo confirms that. He confesses to The Independent that before last season, he'd never heard of Tedesco and when appointed, the Brazilian centre-back went online to find out what his new coach looked like.
The 35-year-old defender has spent his last 13 years in Germany, with four of them spent playing alongside Per Mertesacker at the heart of Werder Bremen's defence. Yet after a disappointing campaign last year under Weinzierl, he felt written off. Since Tedesco's arrival, the defender with over 300 Bundesliga games to his name has been revitalised by 'the best coach' he's ever had.
"We clearly have many great names in the team and we have many young players that don't have a name. Despite that, when one of the bigger players isn't pulling his weight, he just won't play. That makes him [Tedesco] different.
"He's the boss but he always listens to our opinion and ultimately, he finds the best solution for the team."
That solution may not always be a popular decision. As Heidel puts it: "What makes Domenico stand out is that he doesn't avoid any difficult conversation."
One such chat was with defender and former captain Benedikt Höwedes, a 16-year stalwart at the club until he left on loan this summer to Juventus. Tedesco had told him he could no longer guarantee him a starting berth, having handed the captaincy on to goalkeeper Ralph Fährmann.
This was one of the 'few unpleasant decisions' they had to make according to Heidel.
"Hats off for a 31-year-old as he was then to sit down and say: 'I think we have to change our captain that's a world champion and so on.' It came from him, not from me because he was convinced."
Working with the players at his disposal thereafter is something Tedesco has excelled at, even if the football isn't always easy on the eye. Three formation changes alone during their 2-1 victory against Nagelsmann's Hoffenheim gives you a taste for how Tedesco always wants to keep the opposition on the move. The tactical flexibility of his team is to his credit but this has been honed with almost daily sessions with the players this season.
"There are coaches who only do the same things, regardless of who they're playing, and they're often the teams who look like they're playing without a plan." That's not Tedesco, says Heidel, who "always coaches with the opponent in mind".
The masters in innovation management seems to have come in handy too. Benjamin Stambouli has moved from midfield to centre-back whilst young German midfielder Max Meyer has gone from being a No 10 to excelling in a deeper holding role.
Then there's former Wigan striker Franco Di Santo. The Argentinian has become an important cog in recent weeks in an unorthodox No 10 role, having previously been ridiculed by some of his own fans who'd sing to the tune of 'Go West': "We drink until Di Santo scores."
The best example of Tedesco's coaching prowess, though, came in November, according to Naldo.
Schalke drew 4-4 away at arch-rivals Borussia Dortmund having been 4-0 down at half-time. When coming into the dressing room, Tedesco first let he and his players gather their thoughts for five minutes before gathering his players into a huddle where he crouched in the middle.
"Normally when you go into the dressing room four down at half-time, your coach comes in and rants loudly," says Naldo.
"He was really calm. He said we have to forget what happened in the first half. This is a learning process for us but in the second half, it doesn't matter how: we have to win. 1-0, 2-1. It doesn't matter how. Not: "We have to score four goals." He has just said a better performance in the second half than we did in the first half."
Such is Naldo's humility, he has to be prompted to say that he scored the stoppage-time equaliser, 'the most important goal I've scored' he eventually admits with a chuckle.
His coach wore a slightly more serious expression in the club's press conference before facing Mainz. Tedesco reiterated that the word 'Champions League' is not crossing anyone's lips in the dressing room and nor will he allow it.
Step by step is Tedesco's approach but the reality is that next season he could well be coaching against the likes of Real Madrid, Manchester United or even Juventus, the club he followed growing up.
For Schalke fans, him being there alone would be a relief with no coach lasting longer in Gelsenkirchen than two years since 2002. If he doesn't though, it won't be down to a lack of faith from Christian Heidel. He smirks: "Even if we lose 11-0 at the weekend, I'll still be satisfied that he's here, just not with the result."
Join our commenting forum
Join thought-provoking conversations, follow other Independent readers and see their replies