Dortmund's resurgence down to Klopp, who spent £5m to win league
Debt-ridden German club have been turned into champions by genius of young coach
Glenn Moore
,
Jack Pitt-Brooke
Tuesday 13 September 2011 00:00 Comments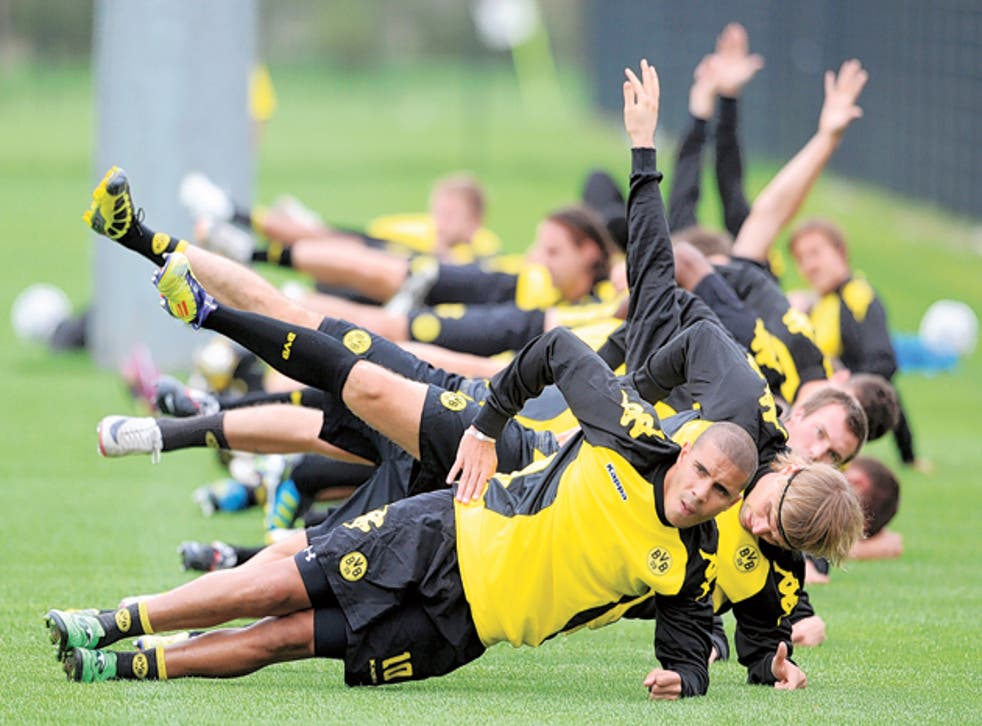 The frequent lament from Arsène Wenger about football's crazy economics, expressed in apocalyptic terms yesterday, will have found an echo in the boardroom of tonight's opponents. Borussia Dortmund are one of the biggest clubs in Europe's strongest economy, but six years ago they were on the brink of bankruptcy after extravagant spending, and on-field failures, plunged them into debts of £125m.
Having persuaded banks and creditors to be patient, a new management slashed costs, boosted commercial activity, and made an inspired choice of coach, eventually. Fringed maverick Jürgen Klopp was their fourth manager in four years when he arrived in 2008 following a largely successful period at Mainz, and an impressive sabbatical as a television pundit. Little more than three years later, the debt has been slashed by 80 per cent, and the club are Bundesliga champions.
The professorial Klopp did not look an obvious fit for the blue-collar Rhineland club, but his passion and charm soon captivated the huge support. Always dressed in black, Klopp behaves on the touchline like Martin O'Neill and has admitted that when he watches his behaviour on television "I scare myself". Ben Gladwell, a Germany-based reporter who has followed Klopp closely, said: "He has a very endearing personality. On the sidelines he gets involved. He's very vociferous, more often jumping in the air than with his feet on the ground."
This sort of behaviour tends to work best with young teams, and Dortmund's average age is just 22. Many have seen a link in his preference for young players that he can cajole, coerce and command with Klopp's own youth – when a fiercely competitive father would drive him on at football, tennis and skiing. "He would out-run and out-ski me," Klopp has said of his father. "He would show me no mercy and never let me win."
Klopp went on to become a moderately successful professional player, spending his career in Bundesliga 2 with Mainz. Like many a successful manager, including Wenger, he read the game better than he played it.
"I was never able to transfer what was in my head on to the pitch," said Klopp. "I had the talent for the regional leagues, the brain for the Bundesliga."
Now he is putting that brain to use, seeing things in players that others had not. Several have been given their chance by Klopp, or had their careers revived by him. They include centre-half Mats Hummels, now 22, who was released at 20 by Bayern Munich but who has become a German international under Klopp; and Japanese playmaker Shinji Kagawa, who was signed for £300,000 from Cerezo Osaka and stunned the Bundesliga with the speed with which he settled. He has come back well after breaking his leg in the Asian Games in January.
That signing was typical of Klopp's philosophy. Kagawa is quick, mobile and creative, he was also cheap. With debt-reduction Dortmund's main aim Klopp has had to buy carefully – the championship-winning squad cost less than £5m to assemble. That was more than covered by the €10m (£8.6m) sale of midfielder Nuri Sahin to Real Madrid in the off-season.
Given the limited investment, Dortmund's title charge was a shock, even if Klopp had overseen two seasons of improvement, leading the team to sixth- and fifth-placed finishes. Progress seemed unlikely when they lost their opening game last season but they then won 15 of the next 16 and never looked back. Inevitably Klopp attracted attention, with Liverpool interested prior to Kenny Dalglish's appointment, but he signed a new contract to keep him at the club until 2014.
The season's discovery was Mario Götze, rumoured to be the subject of a £30m bid by Arsenal as last month's transfer window closed. The teenager, who played with Hummels in Germany's recent defeat of Brazil, can play in the hole or on the right, and has the vision, the footwork and burst of pace to earn himself the tag of "the new Mesut Özil". Just as impressive and young are Dortmund's centre-back pair. Born within six days of each other in December 1988, Neven Subotic and the aforementioned Hummels are perfectly complimentary.
Subotic, Bosnia-born, Florida-raised and with a penchant for going on holiday in a campervan, is often compared to Nemanja Vidic as he is physically powerful, while Hummels is feted for his more subtle skills, possessing precocious gifts of anticipation and distribution. They are flanked by attacking full-backs in Pole Lukasz Piszczek and German international Marcel Schmelzer.
Away from matchday Klopp is a cerebral coach, innovative in his tactics and methods. He took a sports science degree while still playing and has had his players practising exercises related to movement and co-ordination designed to improve their awareness and fluidity. Klopp favours a 4-2-3-1 system, with emphases on pressing, possession and imaginative attacking interplay. "They are modelled on an approach of quick and short passing," said Gladwell. "They keep the ball on the ground, and never play long balls." Wenger said: "They have a similar style to us so it will be very interesting."
Of Klopp and Dortmund, Wenger, who has many similarities to his opponent, added: "He's a man with personality who has done extremely well in the German football temple. He works in an area where maybe the football roots are the deepest in the world. Schalke-Dortmund-Mönchengladbach: this is the triangle in German football. When I was a kid [growing up across the border in Alsace] we had eight teams in the Bundesliga within 100km and Dortmund had 80,000 people at every game.
They still do. The Westfalenstadion regularly holds 81,000 for Bundesliga games, with 25,000 standing and singing on the Gelbe Wand (Yellow Wall). Standing costs €14.90 for adults, or €219 for a season ticket (Arsenal charge £951 for their cheapest season ticket). The yellow wall will be less mobile tonight, though probably as noisy, as for Champions League matches the terrace has to be converted to seating.
The atmosphere will be fervent despite a start to the season as slow as Arsenal's. After an opening day win the Bundesliga defence has not gone well with four points from the next four games including a 2-1 home defeat to promoted to Hertha Berlin on Saturday. "Dortmund are now a side that everyone raises their game against," explained Gladwell.
Tonight, though, they are the underdogs, which will suit Klopp, and maybe his players.
Three key confrontations: where tonight's match will be won or lost
Mats Hummels v Robin van Persie
Facing Robin van Persie will perhaps be one of the greatest challenges of Hummels' young career. Regularly praised for his defensive timing, positioning and composure, he will need to draw on all such resources to halt a striker who has scored 16 Champions League goals in his career.
Mario Götze v Kieran Gibbs
Gibbs will have to subdue one of the highest-rated youngsters in Europe. Mario Götze recorded six goals and 15 assists in Dortmund's title win last year. Gibbs will have to stay alert to minimise Götze's threatening influence from the wing.
Shinji Kagawa v Alex Song
Song has been frustrated by a three-match suspension in the Premier League, so will relish the chance to return to duty. He will need to be fully alert to track the movement of the subtle and gifted Kagawa.
Register for free to continue reading
Registration is a free and easy way to support our truly independent journalism
By registering, you will also enjoy limited access to Premium articles, exclusive newsletters, commenting, and virtual events with our leading journalists
Already have an account? sign in
Join our new commenting forum
Join thought-provoking conversations, follow other Independent readers and see their replies