With Eden Hazard back to his best, big European wins could become the norm again for Chelsea
Belgian forward Michy Batshuayi grabbed the headlines for his last minute winner at Atletico Madrid but it was his compatriot who was the real star of the show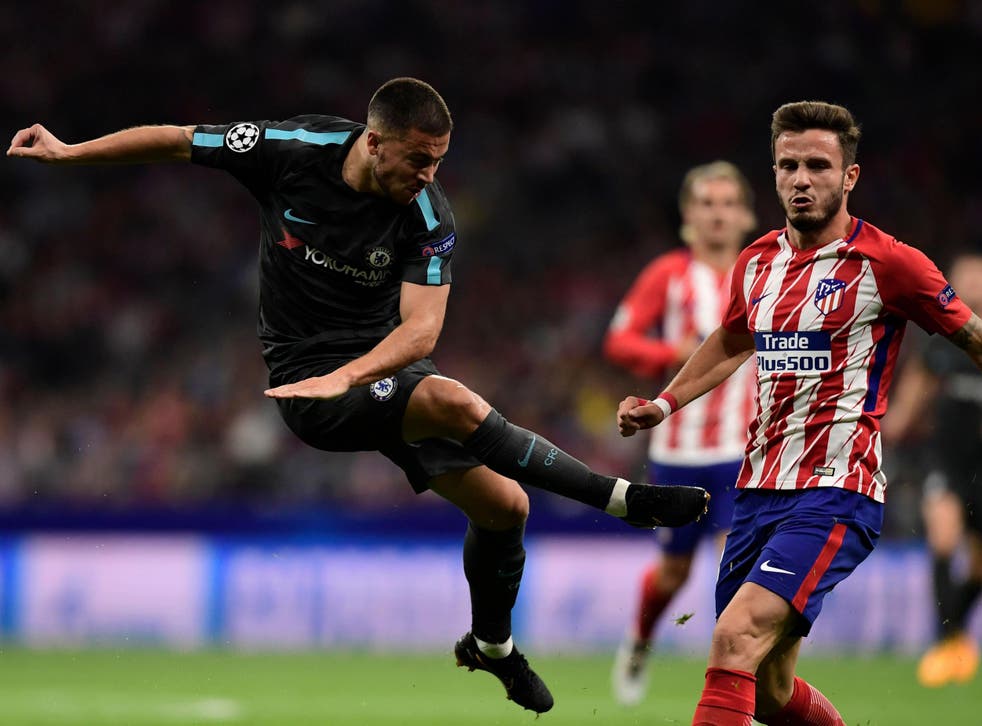 When Chelsea need a last-minute winner, Michy Bathsuayi has previously joked, they call for Batsman.
But this was far from a Robin by the Blues who had grown into this game, executed a classic continental away performance and can claim a huge scalp by knocking off one of Europe's best at home.
It wasn't a surprise that the winning goal came from the boot of a Belgian in this, the European premiere at the Estadio Wanda Metropolitano. But it was a surprise that it was Michy Batshuayi – a man becoming something of a specialist in important goals – who got it.
Atletico Madrid vs Chelsea player ratings

Show all 22
Because Eden Hazard, finally back to full fitness and looking his best, had been the best player on the park all night and is hitting dazzling form at just the right time.
Hazard's representatives are currently in discussions with Chelsea over a new, £300k per week contract that would make him the best-paid player in the club's history. Even with Hazard's long-held adoration for Zinedine Zidane – a sentiment that's fairly mutual – the temptation must be to commit his future to the Blues knowing that Real Madrid's galactico policy is now more geared towards younger, ascendant talents than ready-made superstars these days.
On this evidence, that is how Hazard can be categorised.
It should not be underestimated just how good Atletico have been over the past few seasons. They are a genuine continental power and that has been based on them forging the best defence on the continent. Going 1-0 down against them, particularly away from home, should have been a death sentence but Hazard continually gave them life.
"We know very well that there are very strong teams in this competition and Atletico Madrid are one of those," said Antonio Conte.
"I think we are starting to build something important and season by season we are building. The Champions League is a great competition and there is a great desire to show that we deserve to play this type of game."
While it might not be fair to say that Chelsea don't yet feel at home again on the big stage, Conte suggested they want to show they are worthy of being considered among the continent's elite. The only way to do that is to find yourself among the final four or eight teams in the competition and they took a large step towards the last 16, at least, with this win in Madrid.
Given the paucity of competition, this might qualify as one of the best away performances by a Premier League team in Europe for many seasons. Enthusiasm about these results can be tempered by the fact that this isn't knockout football and Atleti will still back themselves to edge out Roma and join Chelsea in playing Champions League fixtures in the new year, but the display itself was impressive and particularly the visitors' second-half dominance.
Hazard was at his creative, troublesome best and could have provided an assist for Alvaro Morata twice in the first half had the boyhood Atletico fan been able to finish. As it was, he had to wait until the hour mark when Morata, one of European football's best headers of the ball, glanced home a perfect cross from the Belgian.
"We must be very happy because Eden's performance was amazing," said Conte.
"It was the first big game for him after the bad injury and his answer was fantastic, positive. He had a great link with Álvaro."
"We are very confident, trust me," said Hazard himself. "Atletico are very good. We want to play games like these. We play for Chelsea, one of the biggest clubs in the world and we want to win everything."
As the magnitude of a big away result sank in and Chelsea's players began to filter out of the Metropolitano Wanda en route back to London, Hazard was asked if this was his best European performance.
"I play this well every week, you're just not paying attention!" he joked.
If he does, big European wins could become something of a norm, rather than a novelty, for Chelsea.
Join our new commenting forum
Join thought-provoking conversations, follow other Independent readers and see their replies