Where next for Erling Haaland? Dortmund's Champions League run could help decide
Norwegian striker is one of Europe's hottest properties and his performance in its biggest competition this year could influence his next step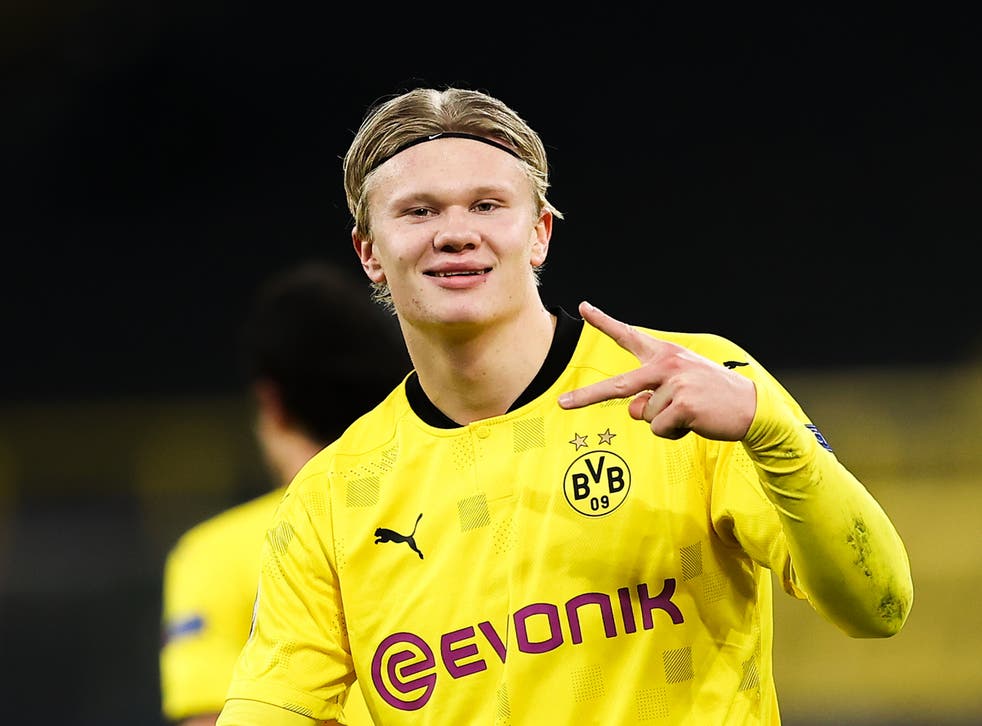 It is a week that, in very basic terms, sums up why Erling Braut Haaland chose Borussia Dortmund in the first place. It could well be influential in his next choice too.
The Bundesliga club are having a bad season having sacked Lucien Favre, but they are still within touching distance of the Champions League places - and, crucially, still in the competition.
The chance to produce on club football's greatest stage could genuinely be important this season, amid a greatly suppressed transfer market.
Everyone in the game wants Haaland, and the question about his future is set to be the sport's next great saga along with that of Kylian Mbappe, but the reality is many clubs are wondering whether they can actually afford him. Barcelona, for example, have a lot of sales to try and get through before they can even think about getting into position for a bid.
It remains true in the emotion-led world of football, however, that big performances in big games can have a persuasive effect. Clubs may suddenly see it as much worse business to miss out, especially for someone who sometimes feels like football's version of Jonah Lomu.
This could be relevant to Haaland's own ideal career plan.
The 20-year-old wants to eventually play in England, but maybe not for some time. The view is that the Premier League is the most physically demanding, with the most rigorous schedule, and it does create the possibility that power-based players burn out quicker. Haaland and his father, Alf-Inge, have noted the way forwards like Michael Owen, Fernando Torres and Wayne Rooney had to change their game after bursting into the game so young, and having played a lot of football in the Premier League.
The Haalands have always been conscious of long-term planning, and want him to have a hugely productive career into his thirties. Informing this is also the experience of his older brother, Astor, who was considered a promising player until injuries forced him out of the professional game altogether. They want every step to be carefully considered.
It all means the favoured choice right now is Spain, with Real Madrid currently leading the chase.
The Spanish champions have deep economic problems of their own but there has been a growing feeling around the club that some kind of plan can be put together that allows the purchase of Haaland in one of the next two windows. A blockbusting Champions League campaign could hasten that along, while also affecting the fee. The wider situation means prices are going to come down, but Haaland would still command in excess of £100m.
It is still possible that it will only be Premier League clubs - fired by so many international TV deals - that can actually afford him. The two Manchester sides are watching closely, but the strength of the player's camp means this isn't just a case of Mino Raiola selling to the highest bidder.
The wider context of this Champions League tie against Sevilla emphasises the issue. Julen Lopetegui's side are currently in fourth place in La Liga, a point behind Barcelona, and four behind Real Madrid with a game in hand. They are thereby closer to the big two than at any point in the modern game, with the current situation having levelled the field a little.
That logically follows since, beyond leaders Atletico Madrid, Sevilla have long looked the Spanish club who best adjusted to a world with the worst financial gaps ever encountered. Monchi's recruitment is perhaps the only transfer approach as praised as that of Dortmund.
In that sense, this match is almost a meeting of mindsets, and clubs with a shared experience looking to use this relatively favourable draw to expand beyond the other. You only have to look at the list of stars that once played for either.
Dortmund could almost be seen as the Sevilla of Germany, and Sevilla the Dortmund of Spain. They are both second-tier clubs who have displayed a first-rate approach to navigating modern football, and bridging the gap.
It is how they buy so many future stars. It is also why so many future stars move on.
Haaland is set to be the next. This tie, and whether he will get many more Champions League appearances this season, could influence where he goes.
Register for free to continue reading
Registration is a free and easy way to support our truly independent journalism
By registering, you will also enjoy limited access to Premium articles, exclusive newsletters, commenting, and virtual events with our leading journalists
Already have an account? sign in
Register for free to continue reading
Registration is a free and easy way to support our truly independent journalism
By registering, you will also enjoy limited access to Premium articles, exclusive newsletters, commenting, and virtual events with our leading journalists
Already have an account? sign in
Join our new commenting forum
Join thought-provoking conversations, follow other Independent readers and see their replies