The Independent's journalism is supported by our readers. When you purchase through links on our site, we may earn commission.
Feyenoord find family values pay - as the players it produces prove
The Rotterdam club do not have fancy facilities or an expensive academy but the set-up that produced 11 of the Dutch squad this summer is rated the best in Europe. Jack Pitt-Brooke discovers their secrets
Jack Pitt-Brooke
Tuesday 05 August 2014 22:58 Comments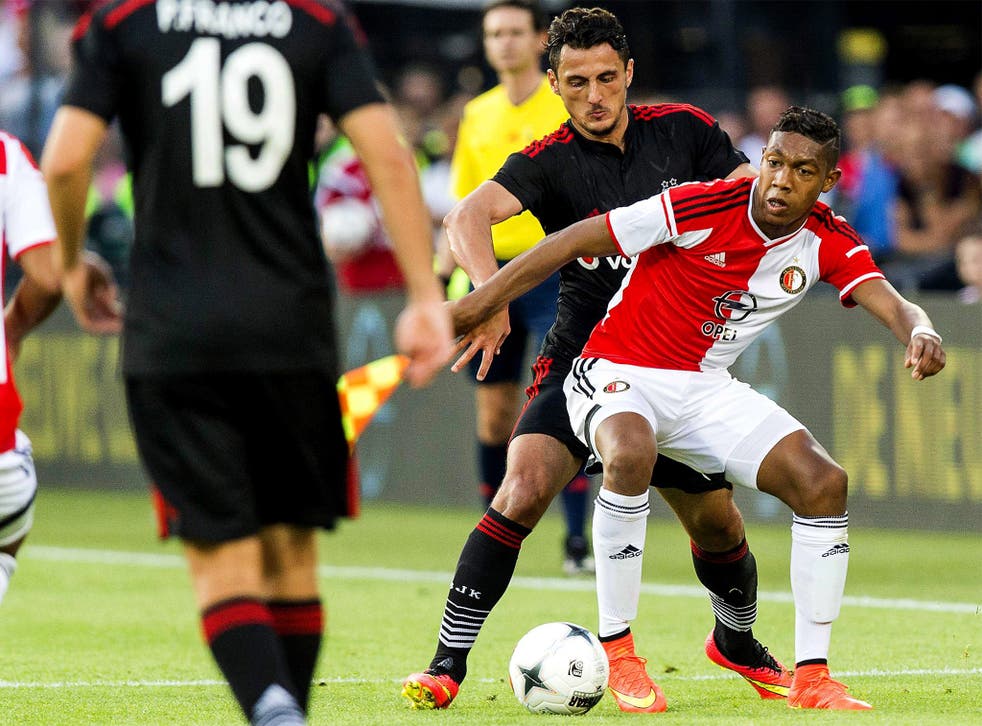 The best academy in Europe is not the richest, the biggest or the best-equipped. It is a cramped scattering of pitches, short of space in central Rotterdam, bisected by a dirty moat.
But Varkenoord, just across the road from Feyenoord's De Kuip stadium, has been producing excellent footballers for years. Eleven of the Netherlands squad at the World Cup were developed there, while nine of the players from the third-place play-off win over Brazil either started there or went on to play for Feyenoord.
Many of these players – almost all of them from Rotterdam and the surrounding area – have dragged Feyenoord up from the ignominy of drift, €43m of debt and a 10th-place finish in the Eredivisie three years ago back towards the top of the Dutch game.
The football food chain is ruthless, though, and this summer Feyenoord have already had to sell defenders Stefan de Vrij, Daryl Janmaat and Bruno Martins Indi, to the far richer Italian, English and Portuguese leagues. But there is a new generation of youngsters to take their place, and another after that. On Wednesday night they will try to overturn a 2-1 deficit against Besiktas to reach the Champions League final play-off round, but even if they do not, they should compete for the Dutch title again this season.
To call what exists at Varkenoord a production line or football factory would be to misjudge it, to overstate the resources deployed and to ignore the human values that make it so special. "It is to do with people, the atmosphere," explains technical director Martin van Geel from his office at the stadium. "The accommodation is not good, unbelievable, like an amateur club. The training ground is no good, it is too small. It is very difficult to work there. It has all to do with the people."
People like Damiën Hertog, the head of the academy, and a typical Varkenoord coach. Hertog is from Rotterdam, joined the Feyenoord academy at seven but never made it to the first team. He came back to coach the Under-19s five years ago before taking his current overseeing role.
Sat in the plastic dugout watching the Under-17s train, Hertog insists no individual was responsible for what goes on here. "The players play like a team, and the coaches work like a team."
So what, then, are the principles taught to the players? "To start, it is being down to earth," Hertog says. "What we expect is normal behaviour. There is no gap, no borders between the coaches, and no borders between the players and the coaches. They feel comfortable and enjoy themselves. The gaps are very small here, it is like a family. And when we get along like this, we can demand a lot of these players."
Hard work is the religion of the port city and the club. The fans have a saying "Geen Woorden Maar Daden" ("No words but deeds") which is taught to the players as well. This does not mean, though, that the players are run into the ground. Training is built around the principle that "less is more": each group – roughly 18 boys in each year, almost all of them from Rotterdam – does only four training sessions each week, rather than six, as they used to, while no sessions are repeated.
Coaching is geared towards producing fit, strong, team-oriented footballers, already expert in their roles in the 11-a-side game. Although this sounds obvious, it is a different approach from that at Ajax, where Dennis Bergkamp is trying to create brilliant individual players.
While Bergkamp's work at Ajax will need time to bear fruit, there is no doubt that Feyenoord, at youth level, are better now. They have won the Rinus Michels award for the Netherlands' best youth system for five straight years. They dominate the country's youth leagues. Last year they won the league at Under-21, U-17, U-16, U-15 and U-13 levels and the cup at U-19 and U-13.
The success of the age-group sides means a lot to the Feyenoord supporters and the Varkenoord complex swarms with fans on Saturdays when the first team is away. An Under-19 game against Ajax can expect up to 1,500 supporters in the rickety mini-stadium.
Playing for the Feyenoord first team brings pressure when the youngsters are called up – Van Geel mentions how "De Kuip, it either brings you to life, or you have De Kuip on your shoulders". But those new young players from Rotterdam – Jean-Paul Boëtius, Tonny Vilhena, Terence Kongolo and Sven van Beek – have a natural advantage as locals. They talk of how, in the eyes of their fans, they can do no wrong, and the effect that has on them.
"It is important because they know the culture of the club," Van Geel says. "They know the stadium and look to it, for many years, as their target. They want to get there. They know what it is like to play in a Feyenoord shirt, which is a little bit heavier than other shirts. The fans expect a lot of you, and they want you to win."
Every three weeks the complete technical staff of the club meet to discuss which academy players can move up to the first team. Coach Fred Rutten – who replaced Ronald Koeman this summer when he left for Southampton – attends.
The young players, then, are ready to make an instant impression on the first team when called upon. When Boëtius, a clever winger, made his first-team debut, in October 2012, at the age of 18, against Ajax, he scored and completed 90 brilliant minutes. When Van Beek, a centre-back to replace De Vrij, made his debut last year, again at 18, against PSV Eindhoven in the cup, he was excellent too. Those players, with a few experienced others, almost all of them Dutch, nearly carried Feyenoord to their first Eredivisie title since 1999 last season.
The problem is that Feyenoord's financial situation dictates that few of the young talents will stay. No player is paid more than €800,000 (£635,000) annually, and the total wage bill – €12m (£9.5m) in 2012-13 – is the fifth-biggest in the Netherlands, half of what PSV and Ajax pay.
Feyenoord will expand De Kuip from a 45,000 capacity to 75,000, and when that happens they should be able to keep their youngsters. That may come too late for Jordy Clasie, Kongolo, Boëtius and Van Beek, although those four will lead their Eredivisie challenge, live this year over here on Sky Sports 5. But expansion might keep the next generation at the club.
In the lobby at De Kuip there is a picture of the Feyenoord team that won the 2002 Uefa Cup, including an 18-year-old Robin van Persie. European glory like that might still be some way off but for now Feyenoord can still demonstrate the value of locality and community, a beacon of meaning a few miles from the port.
Sky Sports 5 is your new home of European football featuring Uefa Champions League, Euro 2016 qualifiers, La Liga, Eredivisie and more. Launches 12 August. Go to sky.com/skysports5
Dutch masters: Feyenoord products
Georginio Wijnaldum Left for PSV Eindhoven in 2011, played for Netherlands at World Cup.
Leroy Fer Went to FC Twente in 2011, now at Norwich City. Played at the World Cup.
Bruno Martins Indi Departed Feyenoord for Porto for £5m earlier this summer.
Stefan de Vrij Talented centre-back who left Feyenoord for Lazio this summer.
Jordy Clasie Known as the "new Xavi" in the Netherlands, now the club captain.
Terence Kongolo Centre-back who went to World Cup. His brother, Rodney, joined Manchester City.
Jean-Paul Boëtius Dangerous winger who is very popular with Feyenoord supporters.
Tonny Vilhena Strong, combative midfielder who plays alongside Clasie.
Sven van Beek The replacement for De Vrij and Martins Indi, 20-year-old centre-back.
Register for free to continue reading
Registration is a free and easy way to support our truly independent journalism
By registering, you will also enjoy limited access to Premium articles, exclusive newsletters, commenting, and virtual events with our leading journalists
Already have an account? sign in
Join our new commenting forum
Join thought-provoking conversations, follow other Independent readers and see their replies