Fifa presidential election: Sheikh Salman Bin Ibrahim Al Khalifa denies British MP's allegations
Fifa will vote on Friday for a new president to replace Sepp Blatter, who has been banned from the game for eight years
Wednesday 24 February 2016 08:43 Comments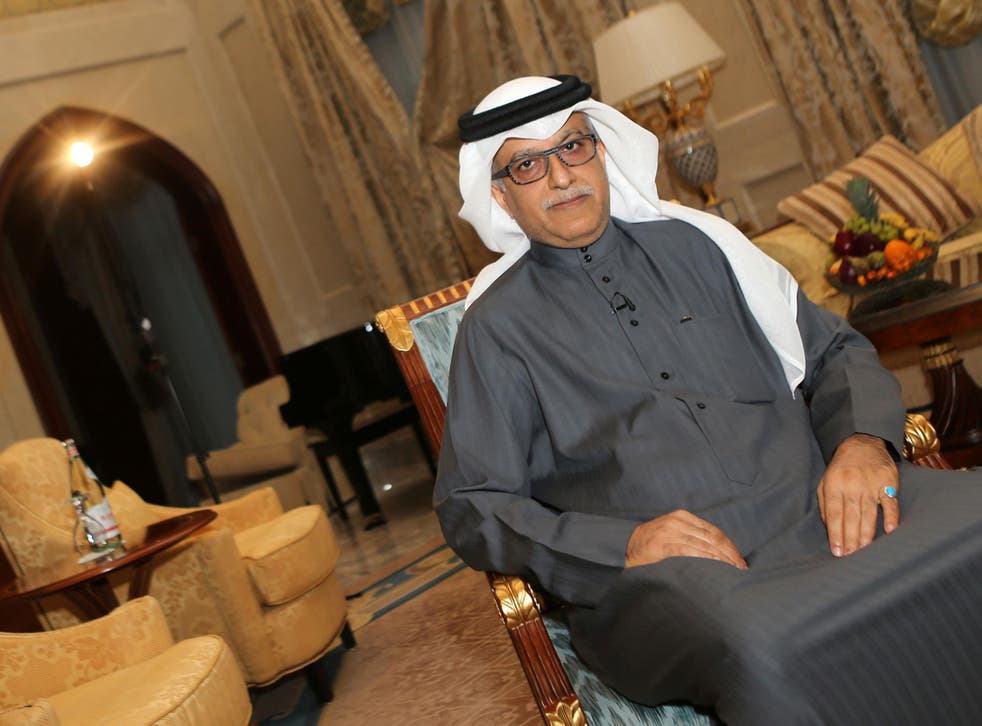 British Member of Parliament Damian Collins used parliamentary privilege on Tuesday to accuse Fifa presidential candidate Sheikh Salman Bin Ibrahim Al Khalifa of taking development project funds to finance an election bid.
The claims, made in a speech in the U.K. House of Commons, were swiftly rejected by Salman who is battling Gianni Infantino, the Swiss general secretary of European soccer body Uefa, and three other candidates for the top job in world football.
Conservative MP Collins, a supporter of the campaign group 'New Fifa Now', made the allegations relating to Salman's attempt in 2009 to be elected to the Fifa executive committee and his 2013 successful election to the presidency of the Asian Football Confederation.
Fifa will vote on Friday for a new president to replace Sepp Blatter, who has been banned from the game for eight years.
Collins, who made his allegations in the form of a petition in the House Of Commons, alleged Salman had misused Fifa funds meant for developing football.
"In August 2009 Sheikh Salman, then Bahrain FA president, was accused of using Fifa financed sports development budgets to fund his unsuccessful campaign for Fifa executive committee election," Collins told parliament.
"In a leaked letter received by the Al Bilad newspaper it was claimed that Sheikh Salman had spent upwards of 850,000 dinars (1.6 million GBP) on his campaign and that some of his money had come from Fifa financed football development projects," said Collins, citing two Fifa 'GOAL programmes'.
Reuters was not immediately able to verify Collins's claim regarding the newspaper report and the leaked letter. It was not clear who was the author of the letter.
Fifa GOAL programmes contain financing for specific projects and are not intended for general use by a federation or an official.
Fifa declined to comment and Fifa's Ethics Committee did not immediately respond to a request for comment.
"After Fifa requested urgent information from the Bahrain FA regarding the misappropriation of funds, Sheikh Salman did not comment until early December 2009, at which point he denied those claims, however the Bahrain FA did not dispute the contents of the leaked documents," said Collins, who did not specify which documents he was referring to.
The Bahrain Football Association did not immediately respond to an emailed request for comment.
The statement from Salman's team flatly denied that any GOAL money had been spent on his campaign.
The Salman camp said that Fifa's GOAL project money for Bahrain had been spent on projects agreed with the Zurich-based governing body and that "funding was paid to the third party contractors who carried out the projects" and was documented with Fifa.
"It would be virtually impossible to use GOAL funds since the money is transferred directly to the companies contracted to implement the projects. Fifa did ask for clarification on how the GOAL money had been used as part of its procedure in auditing all GOAL funds. The BFA responded with adequate information and documents, and consequently the inquiry was closed," they said.
The statement said that some of the GOAL projects that were alleged to have been redirected to Salman's campaign had already been completed before the 2009 election campaign, citing one for the BFA's headquarters that had been completed and inaugurated in 2003.
"For the avoidance of doubt, Shaikh Salman's 2009 election campaign was funded entirely from his own pocket."
The Salman campaign also rejected Collins' claim that the Olympic Council of Asia (OCA) may have offered inducements to vote for Salman in the 2013 AFC election.
"Sheikh Salman has and had no knowledge whatsoever of any inducements offered, or of any payments made by the OCA to any football associations and absolutely no evidence has been forthcoming to show this to have been the case," the statement said, noting that Salman had won the AFC presidential election convincingly with 33 of the 46 votes.
The OCA also rejected Collins' claim.
"The OCA strongly denies these accusations which are entirely without foundation," it said in an e-mailed statement.
Collins ended his speech urging the British government "not to support bids from the English Football Association to host Fifa tournaments should Sheikh Salman be elected president of Fifa.
Collins has been heavily involved in the work of the campaign group New Fifa Now which has been criticial of Fifa's internal reforms and has called for outside intervention.
On Sunday New Fifa Now wrote to all 209 national associations in Fifa urging them not to vote for Sheikh Salman.
The other candidates in Friday's vote are Frenchman Jerome Champagne, Jordanian Prince Ali Bin Al Hussein and South African Tokyo Sexwale.
Reuters.
Register for free to continue reading
Registration is a free and easy way to support our truly independent journalism
By registering, you will also enjoy limited access to Premium articles, exclusive newsletters, commenting, and virtual events with our leading journalists
Already have an account? sign in
Join our new commenting forum
Join thought-provoking conversations, follow other Independent readers and see their replies