Fiorentina vs Tottenham Hotspur match report: Soldado miss leaves Spurs with anxious wait
Fiorentina 2 Tottenham 0 (Fiorentina win 3-1 on aggregate)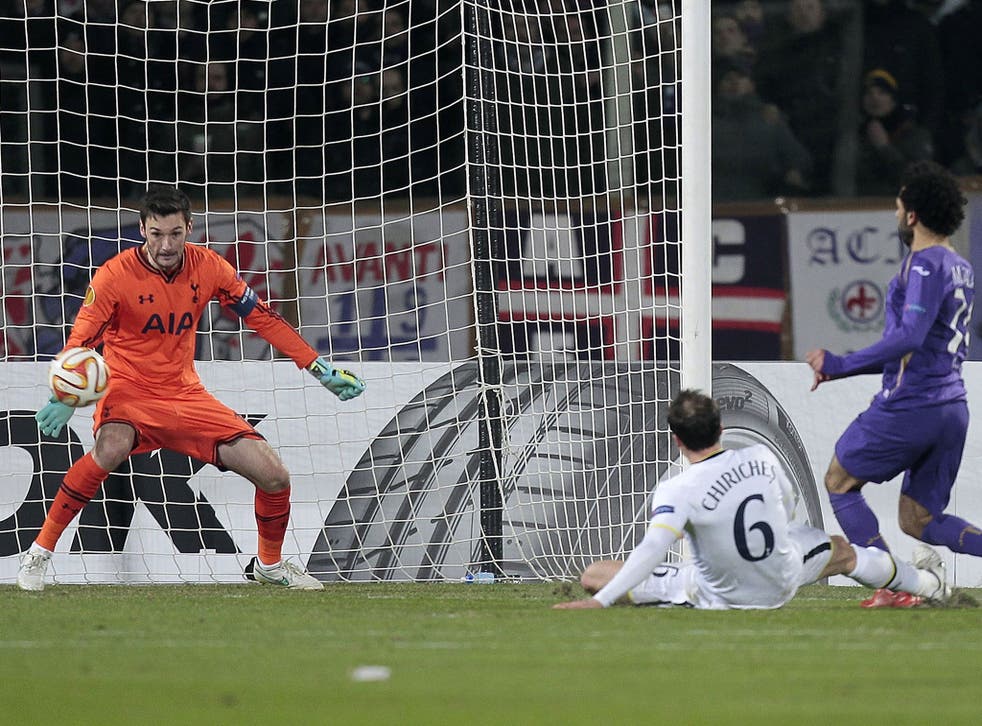 Mauricio Pochettino admitted here that his decisions this week would cast him as a genius or a flop. Yet what is a coach to do when his £26m forward wastes an opportunity so simple that the word "howler" cannot do it justice?
When Roberto Soldado charged towards the Fiorentina goal close to the half-hour mark in this Europa League last-32 second leg last night, with Nacer Chadli to his left and not a defender in sight, a goal looked inevitable.
Instead of shooting, Soldado tried to set up Chadli and succeeded only in steering the ball into the hands of goalkeeper Neto. That was Tottenham's chance and when Fiorentina had theirs, Mario Gomez and Mohamed Salah, on loan from Chelsea, were far more clinical.
Pochettino's decision to rest his top scorer, Harry Kane, with one eye on Sunday's Capital One Cup final against Chelsea, has backfired on him – for now. If Kane scores the winner at Wembley, this match will be quickly forgotten. Should Spurs lose, his decision to go with a weakened side here will be questioned exhaustively.
Asked if Soldado's miss had been decisive, Pochettino said: "I agree. In the first half we played well and deserved more. We are all disappointed. But do I regret leaving out Kane? No. We made seven changes, but Fiorentina made nine. We played well but in football you have to score when you have the chance. Fiorentina scored more than us and that is why they go through."
Tottenham believed they should have had a penalty in the 10th minute, when Christian Eriksen glided into the box and fell under a challenge from Stefan Savic, only for the officials to reject their claims. Eriksen was disgusted.
He did not show it, but the Dane must have been just as frustrated when Soldado made his monumental gaffe. Erik Lamela's angled pass deceived the Fiorentina back four and as they appealed for offside, Soldado and Chadli charged towards goal.
It seemed there could be only one outcome yet, as Soldado attempted to set up his team-mate, he managed to guide the ball into the arms of Neto. The home fans in the Curva Fiesole cheered their relief while Chadli leant on the post, seemingly unable to believe what had happened.
Knowing a scoreless draw would be sufficient to send them into the last 16, Fiorentina were happy to soak up pressure and use the pace of Salah on the counter-attack. The plan rarely worked in the first half, as Spurs dominated possession and attacked intelligently. Yet when teams fail to take chances as good as Soldado's, they risk suffering what happened to Tottenham.
On a desperately poor pitch Spurs became tetchy in the second half and their goalkeeping coach, Toni Jimenez, was sent from the dugout for protesting at a foul given against Benjamin Stambouli.
As Jimenez climbed the steps in the main stand, Fiorentina struck. Federico Fazio was at fault, presenting the ball to the impressive Milan Badelj, who quickly released Gomez. Fazio tried to recover but Gomez would not be distracted and he showed Soldado how the job is done with a crisp left-foot finish that gave Hugo Lloris no chance.
Pochettino sent on Kane and Andros Townsend yet, with Wembley at the back of his mind, took off Nabil Bentaleb and Chadli. But the tide had turned. Salah, who was devastating after he was switched from the left of the attack to the right, had already missed one excellent chance before he raced clear of Ben Davies in the 69th minute.
Bursting into the penalty area and on to Gomez's return pass, Salah caused Jan Vertonghen to dawdle as the Belgian defender tried to shield the ball. The Egyptian pounced and put the tie beyond the Londoners, maintaining Fiorentina's superb record here against English teams. In five ties, they have never conceded a goal to a side from this country.
Given his status at Chelsea, where he was a virtual outcast, it is possible Salah might never wear the blue shirt again. His performance here was enough to knock Tottenham off their stride and if they fail to recover their composure in time for Sunday's final, Salah will already have done his parent club a huge favour.
Register for free to continue reading
Registration is a free and easy way to support our truly independent journalism
By registering, you will also enjoy limited access to Premium articles, exclusive newsletters, commenting, and virtual events with our leading journalists
Already have an account? sign in
Register for free to continue reading
Registration is a free and easy way to support our truly independent journalism
By registering, you will also enjoy limited access to Premium articles, exclusive newsletters, commenting, and virtual events with our leading journalists
Already have an account? sign in
Join our new commenting forum
Join thought-provoking conversations, follow other Independent readers and see their replies