Fortune favours Liverpool
Liverpool 1 Atletico Madrid 1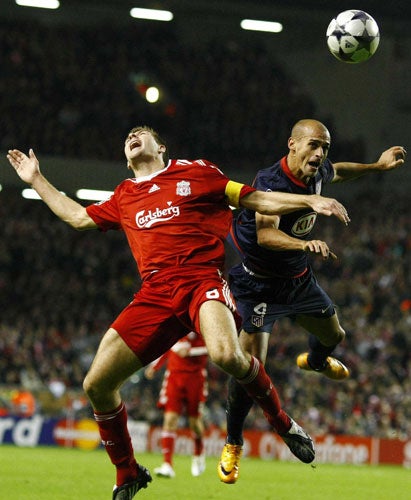 There are heroic late comebacks and then there are games when plain old luck, courtesy of an atrocious refereeing decision, gets you out of a hole. Anfield, full of fair-minded football folk, will recognise that Liverpool were the beneficiaries of the latter last night when the Swedish referee Martin Hansson awarded Steven Gerrard a late penalty that even the Kop was almost too embarrassed to appeal for.
The Atletico fans might wonder this morning whether the Hanssons of Sweden are in any way related to the Alan Hansens of Liverpool – so bad was the referee's decision. When Gerrard jumped into the Atletico defender Mariano Pernia in injury-time, Hansson took ages to make up his mind. It turned out that he had actually taken momentary leave of his senses and, in awarding the penalty, changed the game in an instant.
Gerrard smashed home the penalty, Liverpool's fourth late comeback this season, although his team escaped with a lot more than a draw. Another late Gerrard rescue act meant that all the old problems that are nagging away at the Benitez regime this season, were papered over by a dramatic late finish. As in their defeat to Tottenham on Saturday, Liverpool did not look like a team capable of carrying all before them.
Certainly not Robbie Keane whose finishing was nothing like that of Maxi Rodriguez, who took Atletico's goal beautifully in the 37th minute. The £20m Liverpool striker was substituted again last night – the 12th time in 14 games that he has not finished the match – and he hardly looked pleased about it. That he was replaced by David N'Gog, 19-years-old, did not make it any easier to take. With Fernando Torres again in the stands, Liverpool were dismal in front of goal.
Torres, Benitez said, had not quite been fit enough to play but he should be in the team to play West Bromwich Albion on Saturday. As for the penalty, Benitez came up with a self-serving explanation for the justice of it, claiming that a handball by Luis Perea earlier in the second half should have been given. "That handball was very clear," Benitez said. "If this [Gerrard's collision with Pernia] had happened in the middle of the pitch it would have been a free-kick so it was a penalty."
Typically, Benitez saw this as a game which Liverpool had dominated and Atletico had stolen the odd chance on the counter-attack. "We were attacking and attacking all the time," he said. "We had some problems when they counter-attacked but we kept playing until the end. We have to keep that quality because that's the way to change results."
Benitez estimated that his team had come from behind late in the game "five or six times" already this season whereas in reality it is more like three – against Middlesbrough, Manchester City and Wigan – although it could be argued that this is more of a necessity than a quality. The chances that fell their way in the later stages of last night were not taken, three were squandered by Daniel Agger, and Atletico looked much more effective on the counter-attack. They may have sold Torres to Liverpool but Atletico still have the strength in depth to leave Diego Maradona's son-in-law, Sergio Aguero, on the substitutes bench until late in the game.
There was very little for Gerrard in the way of chances, although when there is a last-minute penalty to be dispatched there is no-one you would rather have to do the job. "I'll have to have another look at it [the foul for the penalty], but in my mind it was a penalty," Gerrard said. "I got there first and he came into the back of me. If it had happened anywhere else on the pitch it would be a free-kick, so it was a penalty.
"I can understand their disappointment because of the timing of it. If it had happened at the other end we would have been livid. But that's football. It was a big result for us and a big point. Good teams usually don't lose two games in a row and so it was important we got something."
If they beat Marseilles at home on 27 November – the French side are the last team to win in the Champions League at Anfield – then Liverpool will be in the knockout stages. How far they will go beyond there is by no means certain. Keane missed the best chance of the first half when he ran onto Xabi Alonso's throughball in the 33rd minute but allowed goalkeeper Leo Franco to save at his feet.
There was a lesson in finishing from Rodriguez before half-time, he took Antonio Lopez's cross into his stride beautifully and left Jamie Carragher in his wake before picking his spot past Pepe Reina. All hell broke loose after Gerrard's penalty award and four Atletico players' names went into the book. They were, as Gerrard said, livid, and in the circumstances you could not blame them.
Liverpool (4-2-3-1): Reina (Babel, 61); Arbeloa, Carragher, Agger, Aurelio; Alonso, Mascherano (Leiva, 77); Kuyt, Gerrard, Riera; Keane (N'Gog, 71). Substitutes not used: Cavalieri (gk), Dossena, Benayoun, Degen.
Atletico Madrid (4-4-2): Franco; Lopez, Heitinga, Perea, Pernia; Rodriguez, Assuncao, Maniche, Simao (L Garcia, 90); Forlan (Aguero, 71), R Garcia.
Substitutes not used: Coupet (gk), Aguero, Sinama-Pongolle, Banega, Ibanez, Camacho.
Referee: M Hansson (Swe)
Group D
Results: PSV Eindhoven 0 Atletico Madrid 3; Marseilles 1 Liverpool 2; Liverpool 3 PSV 0; Atletico Madrid 2 Marseilles 1; Atletico Madrid 1 Liverpool 1; PSV 2 Marseilles 0; Liverpool 1 Atletico Madrid 1; Marseilles 3 PSV 0.
Liverpool's remaining group stage fixtures: 26 Nov: Marseilles (h); 9 Dec: PSV Eindhoven (a).
Join our commenting forum
Join thought-provoking conversations, follow other Independent readers and see their replies