Gael Kakuta interview: The Chelsea loanee on life in La Liga and ending up 'where I should be'
The striker will be a free-agent next year and is eager to make an impression, he tells Nicholas Rigg during an exclusive interview in Madrid
Nicholas Rigg
Friday 17 October 2014 14:39 Comments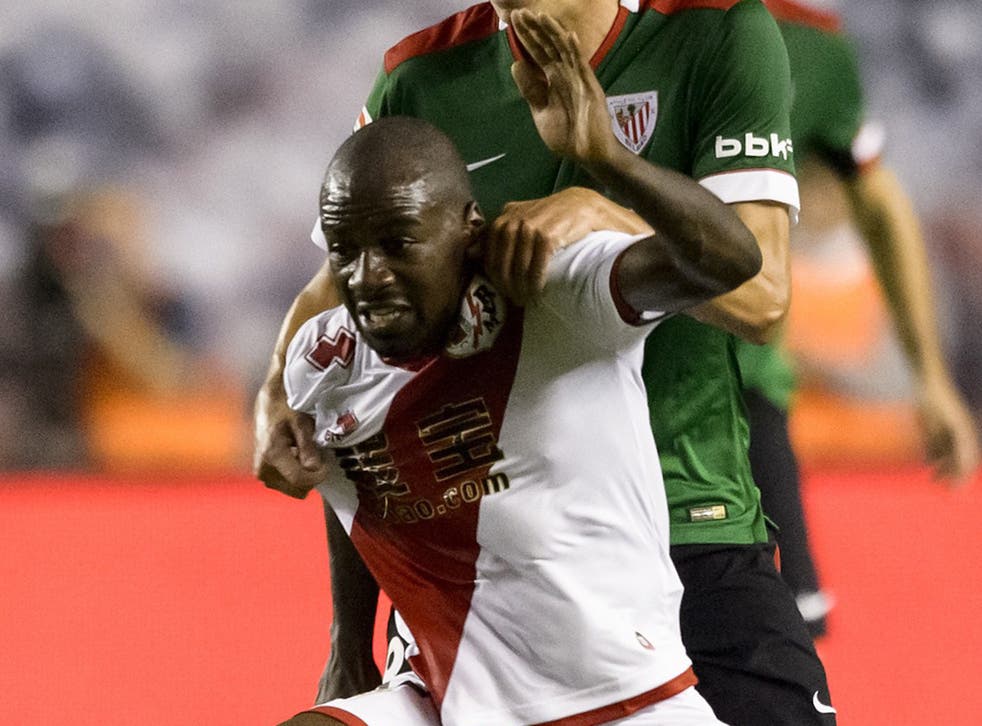 Six loan moves, seven clubs and five different countries. Gaël Kakuta is only 23 but you would be forgiven for thinking the well-travelled Chelsea forward was older given the experience packed into the last seven years of his career. That career was eventually meant to see him become a regular team-mate of Didier Drogba, Frank Lampard and John Terry at Stamford Bridge. The Frenchman has not kicked a ball in anger for Chelsea in almost four years, however, since a substitute appearance in a 7-0 FA Cup victory over Ipswich Town in January 2011.
He is now one of 26 players on loan from Chelsea across Europe.
Kakuta's latest venture is to Madrid. Not to La Liga champions Atlético or European champions Real, but to the more modest climes of Rayo Vallecano, a side battling with Getafe for the honour of being the Spanish capital's third club. Rayo survives by selling its best players every summer and manager Paco Jemez has the tough task of replenishing his squad year after year, usually with successful results. Kakuta is one of 33 transfers that either arrived or left the Vallecas club during the last transfer window.
The move will be seen as confirmation by some that the Frenchman's career is set on a downward spiral. Chelsea were so confident in his ability as a 16-year-old at Lens that they got into hot water with Fifa for signing him. The player was banned for four months and hit with a €780,000 fine for breaking his contract, while the Londoners had to suspend transfer activity for two windows. Those punishments were overturned by the Court of Arbitration for Sport but all that controversy has resulted in Kakuta making just six Premier League starts for the club.
The Lille-born player has been sent out on loan six times and Chelsea are not expected to offer him a new deal when his current one expires at the end of this season. That is of little concern for him right now, however, as he looks to continue the bright start that has seen him start in all seven of Rayo's La Liga matches so far this season, scoring twice along the way. It is a big season for Kakuta and, as a possible free agent come next summer, he is out to prove his doubters wrong.
"From the first story from Lens, with the transfer ban and my ban also, people have heard my name since I was 17 so they've been expecting a lot from me since then," he said. "Things didn't go the way people wanted so now they think I'm finished but I'm only 23 years old. Some players only really get their career going when they're 28 so for me I have plenty of time and I will end up being where I should be."
Chelsea midfielder Jon Obi Mikel said after Kakuta's debut that he "is a fantastic player" and that "he is the best in the club" in terms of skill. "You could see in this game how hungry he is," he continued.
"He wants to show the fans what he has got and hopefully he has more chances to do it". Those chances did not come but Kakuta insists he has never suffered from pressure, despite the early plaudits. "There is no pressure, I don't really listen to what people say," he said. "I know what I can do so I'm not letting myself down or afraid of anything, I'm focused on what I can do over the next few months and years."
Kakuta has not pulled on the blue shirt of Chelsea since January 2011 with loan moves to Fulham, Bolton Wanderers, Dijon and Lazio promising much but producing little. The exception was in the Netherlands with Vitesse Arnham, where he made 29 appearances spanning two loan stints with a club Chelsea has strong ties with.
That was not enough to get him back in favour at Stamford Bridge, but Kakuta is taking the positives from experiencing the game in five different countries and cultures at the top level and at such a young age. He is hoping those experiences serve him well in the near future.
"Everywhere I've been, even if I didn't play much, it was a good experience because I had different cultures in different countries and I've learnt from them and the players I've been playing with, so for me they've been good experiences," he explained. "All those loans for me are not negative, I take all the positives from them even if I didn't play, there are always two or three things that I've learnt everywhere I've been, there are things that I have got to know by going to other countries. It helped me to know better my body and myself, it's made me stronger."
The aim for the Frenchman is now to continue playing in La Liga on a weekly basis and in attack-minded Rayo, who refuse to change their forward-thinking style no matter who the opposition, he may have found his perfect match. He knows his fate is now in his own hands. "I needed to play," he said. "I had my part and responsibility of why I didn't play and now I'm only focused on football, on the pitch and off the pitch, what I'm eating, my recovery and those sorts of things. I'm careful about that. For me now it's just me who can kill myself by playing badly or getting injured or letting myself down. I won't do that because now I know what I have to do to be back in the big teams."
A loan spell at Rayo saw Diego Costa's career take off in Spain before he helped Atletico to the La Liga title and Champions League final and secured his own move to London over the summer. Time on the Vallecas pitch under the guidance of Jemez boosted the Spaniard's confidence, with ten goals coming in the 2011-12 season, his first double-figure tally in the top flight, and it is the Rayo manager's trust that is fuelling Kakuta's fine start with the Madrid club. "I needed to get my confidence," he said. "I've started matches, the coach is giving me confidence and he has trust in me, I'm showing that he can trust me.
"The goals also are very good for me because I need to have more goals and assists to compete at a higher level."
Kakuta admits he did not know a lot about the Spanish club before he arrived at their training base to the south of Madrid but did see Mohamed Diamé's successful leap from the club to the Premier League in 2009. Wigan Athletic signed him before he moved on to West Ham United and now resides with Hull City. The Chelsea man may be looking to use Rayo as a similar springboard this season with his days at Stamford Bridge seemingly numbered.
Register for free to continue reading
Registration is a free and easy way to support our truly independent journalism
By registering, you will also enjoy limited access to Premium articles, exclusive newsletters, commenting, and virtual events with our leading journalists
Already have an account? sign in
Join our new commenting forum
Join thought-provoking conversations, follow other Independent readers and see their replies