Gareth Bale booed by Real Madrid fans for not passing to Cristiano Ronaldo
Carlo Ancelotti finds no fault with world's most expensive player after accusations of selfishness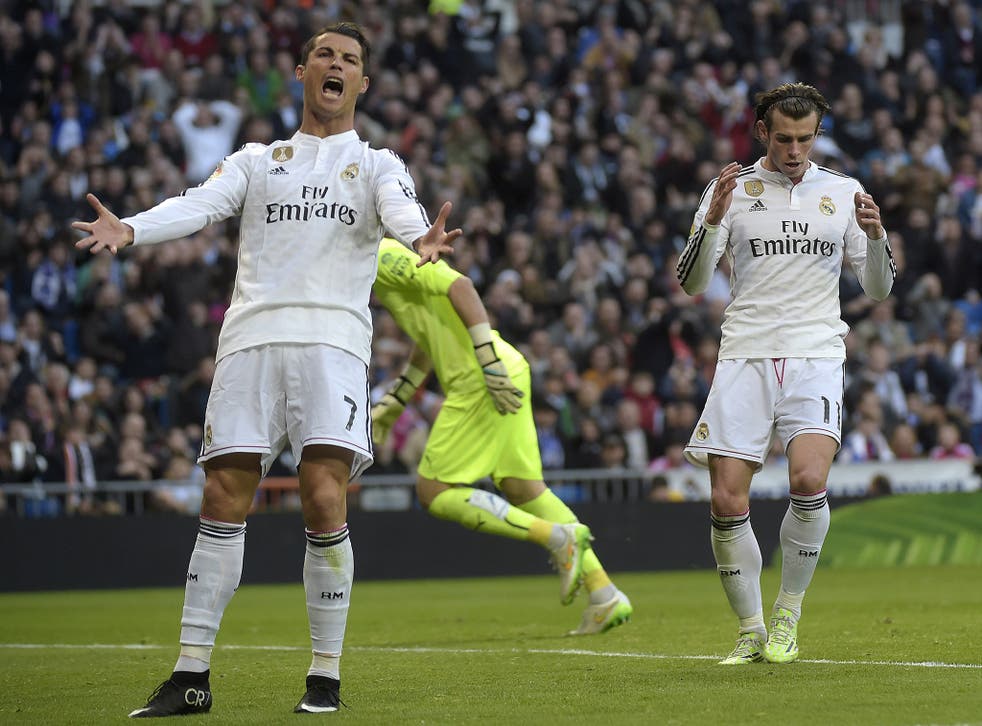 Real Madrid coach Carlo Ancelotti says he will take action if he sees any sign of selfishness among his players after Gareth Bale was jeered by supporters for not passing to Cristiano Ronaldo - but appeared to find no fault with the Wales international's actions.
Bale came in for criticism from Madrid fans at the Bernabeu on Saturday night after shooting wide when clean through against Espanyol rather than squaring the ball to team-mate Ronaldo alongside him .
Ronaldo also appeared to be angry at not being given what would have been a tap-in for him following the breakaway in the second half of the 3-0 win.
The incident came a week after Bale was also criticised for going for goal instead of passing to Karim Benzema during the European champions' 2-1 defeat at Valencia - a result that saw the end of Madrid's 22-match winning streak.
When asked about the subject following Saturday's game, Ancelotti said selflessness was an important part of his side's play, but did not criticise Bale, who scored Madrid's second goal with a superb free-kick.
The Italian told a press conference: "Bale has played a very, very good game. He's played with intensity and he's scored.
"It could be that at that moment the fans have asked for a pass to Cristiano which hasn't happened and like all strikers who are in front of goal he tried to score."
He added: "Altruism is a very important component of the team this season.
"If there is any play which seems selfish we'll clearly fix it. We have fans who demand a lot. Bale is a fundamental player like Cristiano and for that the fans demand much more than of others."
Meanwhile, Madrid defender Nacho Fernandez - who scored his side's third goal against Espanyol following first-half strikes by James Rodriguez and Bale - insists the relationship between Bale and Ronaldo is "fantastic".
He said in AS: "Their relationship is fantastic. We're a group, we all get on amazingly."
Register for free to continue reading
Registration is a free and easy way to support our truly independent journalism
By registering, you will also enjoy limited access to Premium articles, exclusive newsletters, commenting, and virtual events with our leading journalists
Already have an account? sign in
Register for free to continue reading
Registration is a free and easy way to support our truly independent journalism
By registering, you will also enjoy limited access to Premium articles, exclusive newsletters, commenting, and virtual events with our leading journalists
Already have an account? sign in
Join our new commenting forum
Join thought-provoking conversations, follow other Independent readers and see their replies