Gerard Pique joins chorus of praise as Celtic fans bring the noise against Barcelona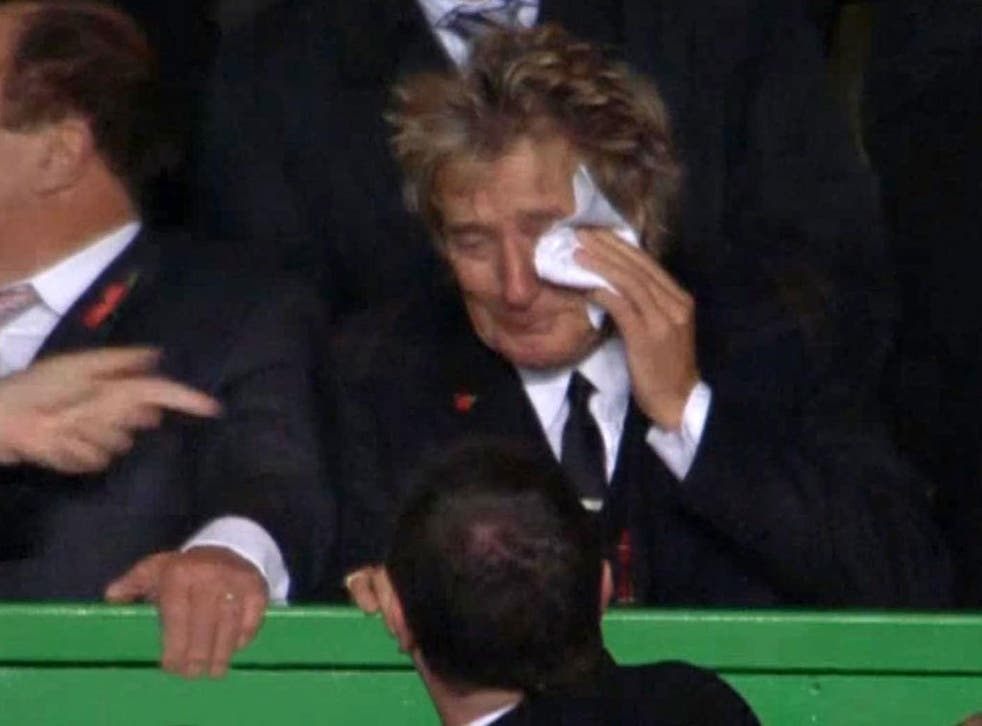 "We're doing the huddle in the Champions League."
And they were. All of them. The most memorable aspect of an atmosphere that inspired Barcelona defender Gerard Pique to tweet about it at 11 o'clock on Wednesday night, was the communal feel. A team effort which involves every supporter can become cliched, but at Celtic Park it mattered.
Doing the huddle is what Manchester City and fans in England would call the Poznan. It was some sight as 55,000 people turned their backs on one of the most remarkable games the famous old ground has seen, to jump up and down, locked arm to shoulder with people either side of them.
What was revealing was the reaction of sections of the media from Barcelona. The Nou Camp is a football ground where thousands flock daily just to walk around it. Yet when the huddle started (including the corporate supporters in their suits) several of those from Spanish newspapers stood up and immediately clicked their mobile phones to record. They did the same when home fans started blasting out Depeche Mode's "I Just Can't Get Enough". As one comment on a YouTube video rightly says, Celtic now own that song.
The Green Brigade, a group of Bhoys ultras who sit in a corner of the ground and often lead the chanting, had worked hard to produce a breathtaking montage before kick-off that spelled out 125 years in memory of the club's foundation in 1887, along with a huge Celtic badge.
The club scarf is still a more accepted match-day accompaniment in Scotland than south of the border, and that makes Celtic's rendition of 'You'll Never Walk Alone' more memorable. It all cranked up the atmosphere to fever pitch by the time Wednesday's Champions League game started. When Victor Wanyama headed in the opening goal after 21 minutes, the ground rocked. When Tony Watt burst through and shot for glory, a crescendo erupted.
The backing was continuous. Depeche Mode, "The Fields of Athenry", even Zombie Nation's dance hit "Kernkraft 400" boomed around Celtic Park. It was noise to remember. Neil Lennon had wanted to "bring the thunder back". He got it with interest.
"No words to describe the atmosphere at Celtic Park," Pique typed into his phone as he left the stadium.
And then this, yesterday, from La Marca, who gave the man of the match award to Celtic's supporters. "There is probably no bigger home advantage in all of football than at Celtic Park," it wrote.
Praise does not come much higher than that.
Celtic reaction from around the world
* The Great Wall Barcelona were the guest of honour at Celtic's birthday party. It is hard to imagine how this Celtic team, with the support of the fans, ever lose a game in this old and beloved stadium. (Mundo Deportivo, Spain)
* Celtic shock Barcelona Celtic sent shockwaves around Europe as they produced a stunning win over Barcelona. (Jamaica Observer)
* Celtic record memorable win Victor Wanyama and teenager Tony Watt scored to earn Celtic a memorable 2-1 victory. (The Indian Express)
* Barcelona stunned Celtic marked its 125th anniversary with one of the club's greatest victories. On a night when the club celebrated a milestone of longevity, its disciplined defensive display repelled Europe's best team of recent times. (The Province, Canada)
Join our new commenting forum
Join thought-provoking conversations, follow other Independent readers and see their replies