Gianni Infantino celebrates Fifa election success with legends football match
Just ahead of kick-off, Infantino was greeted by Sheikh Salman of Bahrain, the pre-election favorite who he beat on Friday
Monday 29 February 2016 17:48 GMT
Comments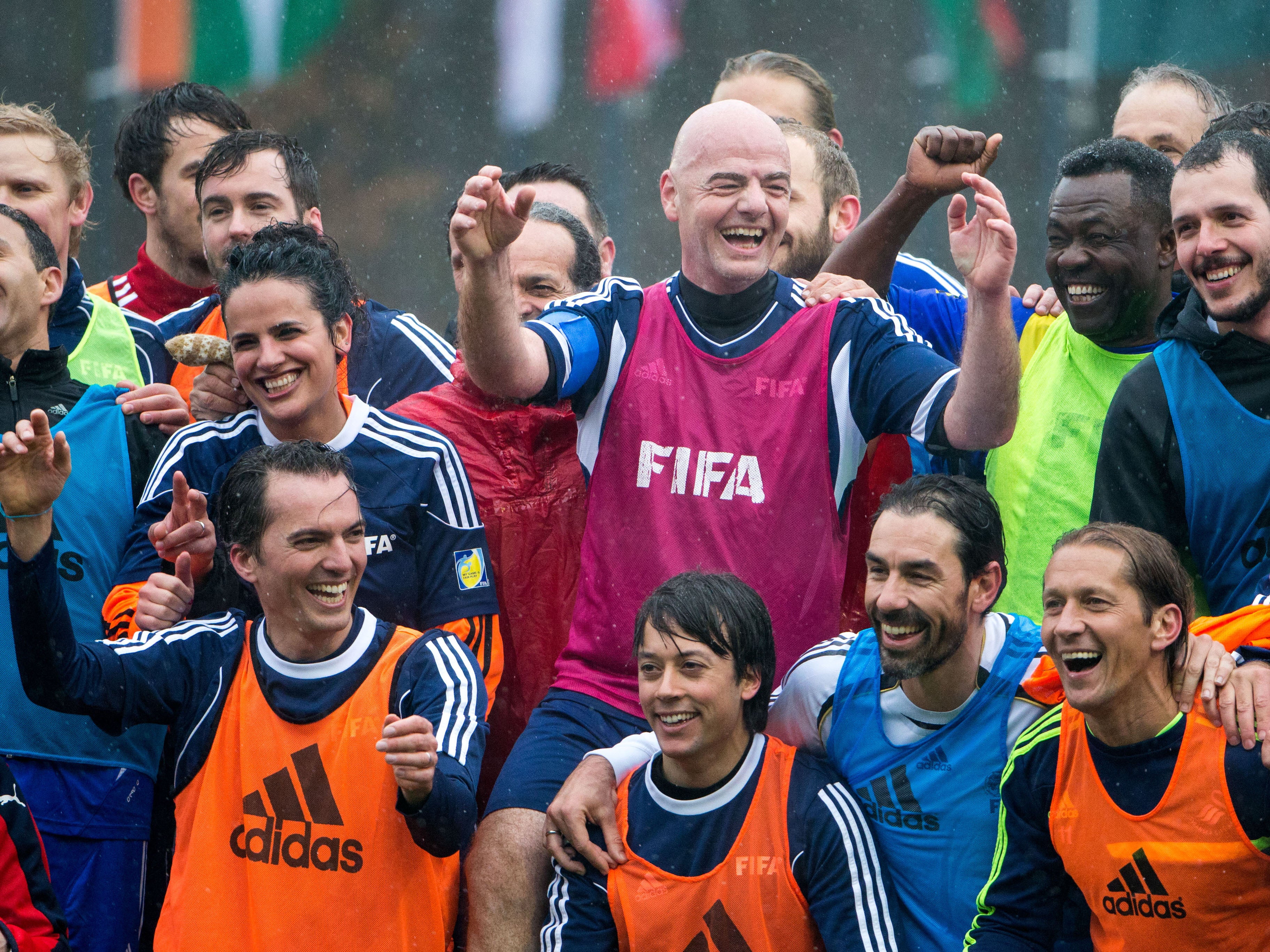 New Fifa president Gianni Infantino said on his first full working day he still did not know what he would be paid as head of football's global governing body.
Infantino kept a campaign promise by hosting a football match next to Fifa's headquarters for staff and several greats of his generation.
Another pledge he plans to fulfil within 90 days is starting the 2026 World Cup bidding contest, likely to include the United States, Canada and Mexico.
"It is fairly urgent," Infantino said, about a contest Fifa stalled after U.S. and Swiss federal corruption investigations hit nine months ago.
"Definitely, I think we need to launch the bidding process in the next couple of months, probably before the congress in May."
First, there was football to play, alongside stars like 2006 World Cup-winning captain Fabio Cannavaro and Luis Figo, both former Fifa world players of the year.
Just ahead of kickoff, Infantino was greeted by Sheikh Salman of Bahrain, the pre-election favorite who he beat on Friday for a stunning victory.
Infantino then got down to business for two 25-minute matches in chilly rain and fog that offered an obvious punchline at a Fifa which must persuade skeptics that it wants to be transparent.
"A great day," Infantino said later. "The hard works starts now, we are ready for that."
Fifa president Gianni Infantino plays football
Show all 5
His working day began with his former staff at European body, Uefa, where Infantino was the CEO-like general secretary since 2009. He gave a farewell speech in the Uefa auditorium about three hours' drive away at Nyon, Switzerland.
Infantino was due to address hundreds of Fifa staff in the afternoon, many apparently demoralized by fallout from the scandal-tainted Sepp Blatter presidential era.
On Friday, Fifa's acting secretary general Markus Kattner told election delegates in a speech of "general uncertainty that is affecting morale of the Fifa team."
"What I will tell the Fifa staff I will tell the Fifa staff, not you," Infantino quipped to reporters gathered in a post-match media mixed zone, while dressed in a Fifa-logo track top and shorts.
Infantino inherits a Fifa which voted Friday to remove many decision-making powers from the president and widely discredited executive committee. Instead, staffers have more control of commercial decisions to secure Fifa 's $5 billion income from each World Cup.
In arguably his decisive appeal to voters, Infantino said 25 percent of Fifa money should be redistributed directly to football bodies. "It's your money," he said in a finger-jabbing gesture during his final pitch from the congress hall stage.
Fifa's restructure is among wide-ranging reforms that will guard against corruption in Zurich, and should be adopted by national federations globally by 2018.
"The leader is setting the tone," Infantino said. "The same as I convinced the congress to vote for me, I count on convincing all those I have to convince to do the right things to implement the reforms."
To reflect the changing power structure, the president will be paid less than the CEO who Infantino has said should not be a European. One contender will be Windsor John, the former Fifa staffer now running the Sheikh Salman-led Asian Football Confederation.
Infantino will also be paid less than Blatter, whose salary and bonuses kept secret for 18 years will be revealed in the 2015 financial report. It is published in mid-March.
Asked if will earn less than his confidential salary at Uefa, where revenue topped 2.1 billion euros ($2.3 billion) last year, Infantino said: "I have no idea yet."
"I have not discussed with anyone what my pay, or not pay, will be," the 45-year-old former lawyer said. "It is not for money that I was candidate to become Fifa president."
Reuters.
Join our commenting forum
Join thought-provoking conversations, follow other Independent readers and see their replies