Since the 2006 Champions League final Arsenal and Barcelona have gone on very different paths
Barcelona and Arsenal looked fairly equal when they met in the 2006 final but since then one has  gone on to rule the world, the other chose stability under Wenger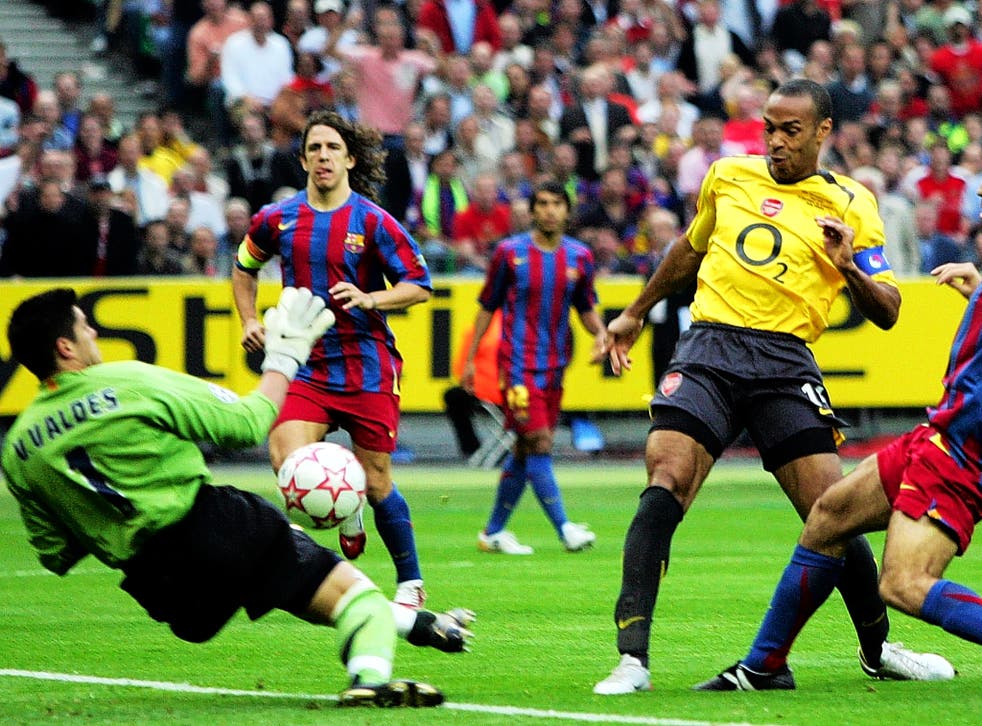 Just under 10 years ago, Arsène Wenger took his Arsenal team to Paris to play Frank Rijkaard's Barcelona in the Champions League final. The two sides looked fairly evenly matched. Barcelona were the best team in Spain, Arsenal had just been knocked off their perch as the best side in England. Each had one genuine world-class player, in Ronaldinho and Thierry Henry respectively. Barcelona had won just one European Cup before, Arsenal were in their first final. This was just before the era of the European superclub and the two outfits met on a relatively even footing. Barcelona scraped home 2-1 in a tight game.
Ten years on, Barça have now won five Champions League titles, with Arsenal still stuck on none. Barcelona are the biggest football brand in the world, while Arsenal, for all their steady progress off the pitch, are in the second tier of global clubs. Barcelona are at the very top. So what happened?
Lionel Messi
The Argentine striker missed the 2006 Champions League final with a hamstring injury and was so upset that he could not bring himself to celebrate afterwards. He was 18 years old, still breaking into Rijkaard's team and had scored just nine goals for Barcelona.
Messi's grand tally of Barcelona goals now stands at an implausible 439. He has won the Ballon d'Or for five of the last seven years. Barça's successes in that time would be unimaginable without him. He scored in the 2009 and 2011 finals, and was instrumental in their 2015 win, dismantling Pep Guardiola's Bayern Munich in the semi-final first leg. "Messi was injured in 2006," reflected Wenger yesterday. "But you have seen the damage he has done since."
There are many ways to explain Barcelona's success but often in football the obvious answer is the right one.
"One thing is a team, another thing is a team with Messi, it's a different story," Jose Mourinho said last year. "He played in a Champions League final with Guardiola, he is playing in a Champions League final with Luis Enrique. And if one day he plays for Anthony [Portuguese for "Joe Bloggs"], Anthony will go to a Champions League final with him. So when people analyse teams, you have to remember that this boy makes everything different. He makes everything different."
Pep Guardiola
That explanation from Mourinho may do a slight disservice, however, to Guardiola. Even given the quality of players at his disposal, there is no question that Guardiola transformed Barcelona when he replaced Rijkaard in 2008. He inherited a group of talented players who had passed their best and lost focus. He got rid of Ronaldinho and Deco, and the rest of the squad knew that they had to come with Guardiola or they would be out.
Guardiola transformed Barcelona into a football machine, playing a fast, intense, pressing and passing game that we had not seen before. Barça had great individuals, but it was Guardiola who turned them into relentless winners. In his four seasons at the Nou Camp, they collected three La Liga titles, two Champions Leagues, two Copa del Reys and two Club World Cups. That is why he was in so much demand when he left the Nou Camp in 2012, and again this year, from the other richest clubs in Europe. Arsenal, by contrast, have stuck with Wenger, ensuring consistency and stability through a difficult time. But when have they looked like moving to the next level?
Transfers
When asked at his press conference yesterday why Arsenal had fallen so far behind Barcelona, Wenger gave a very clear answer. "The difference is that Barcelona have spent much more money than we have, it's as simple as that," he said. "In 2006, it was already the case. They already had stars on the way up. And they bought Neymar. We could not have bought Neymar. Maybe today we can."
Barcelona have certainly been able to bring in a level of player beyond the reach of Arsenal, long before their £71m purchase of Neymar in 2014. Wenger tried to sign Luis Suarez for £40m in 2013, one year later he went to Barcelona for £75m. That investment of almost £150m in fees alone is what has built this latest version of Barcelona. To say nothing of the money spent on Dani Alves (£23m in 2008), David Villa (£30m in 2010), Jordi Alba (£11m in 2012), Ivan Rakitic (£16m in 2014) and the rest. They even signed Henry, Cesc Fabregas, Alex Song and Thomas Vermaelen from Arsenal, leveraging their superior resources and profile to pick off some of the Gunners' best players.
The Emirates
While Barcelona were cashing in on the unbalanced Spanish television deals, and deciding to abandon their commitment to unsponsored shirts, Arsenal were paying for their very expensive new stadium. The 2006 Champions League final straddled the Highbury and Emirates Stadium eras, and as soon as Arsenal moved they had to start paying the £390m bill for it, in part by selling their best players.
"We suffered a lot to build this stadium," Wenger said last month. "We have to be very tight financially to pay it back."
Barcelona have no such concerns. They are a commercial giant and last season, when they won the treble, the club turnover was €608m (£470m). Their president, Josep Maria Bartomeu, has targeted an annual turnover of €1bn by the end of his term in 2021, and that does not sound so ridiculous.
Barcelona 4-1 Arsenal (6-3 aggregate) 2010
Lionel Messi showcased his genius by scoring four goals in the second leg to send Arsenal crashing out. Nicklas Bendtner put the visitors ahead on the night, after the first leg had finished 2-2, before Messi scored a first-half hat-trick.
Barcelona 3-1 Arsenal (4-3 aggregate) 2011
Barça lost the first leg 2-1, but took the lead at the Nou Camp through Messi's chip. Arsenal levelled on the night thanks to Sergio Busquets' own goal but Robin van Persie was controversially sent off for kicking the ball after the referee had blown for offside. Xavi made it 2-1, then a Messi penalty settled the tie.
Join our new commenting forum
Join thought-provoking conversations, follow other Independent readers and see their replies