How Real Madrid helped rebuild Manchester United after the Munich air disaster
The Madrid president raised funds and staged friendlies in 1958 out of respect for Matt Busby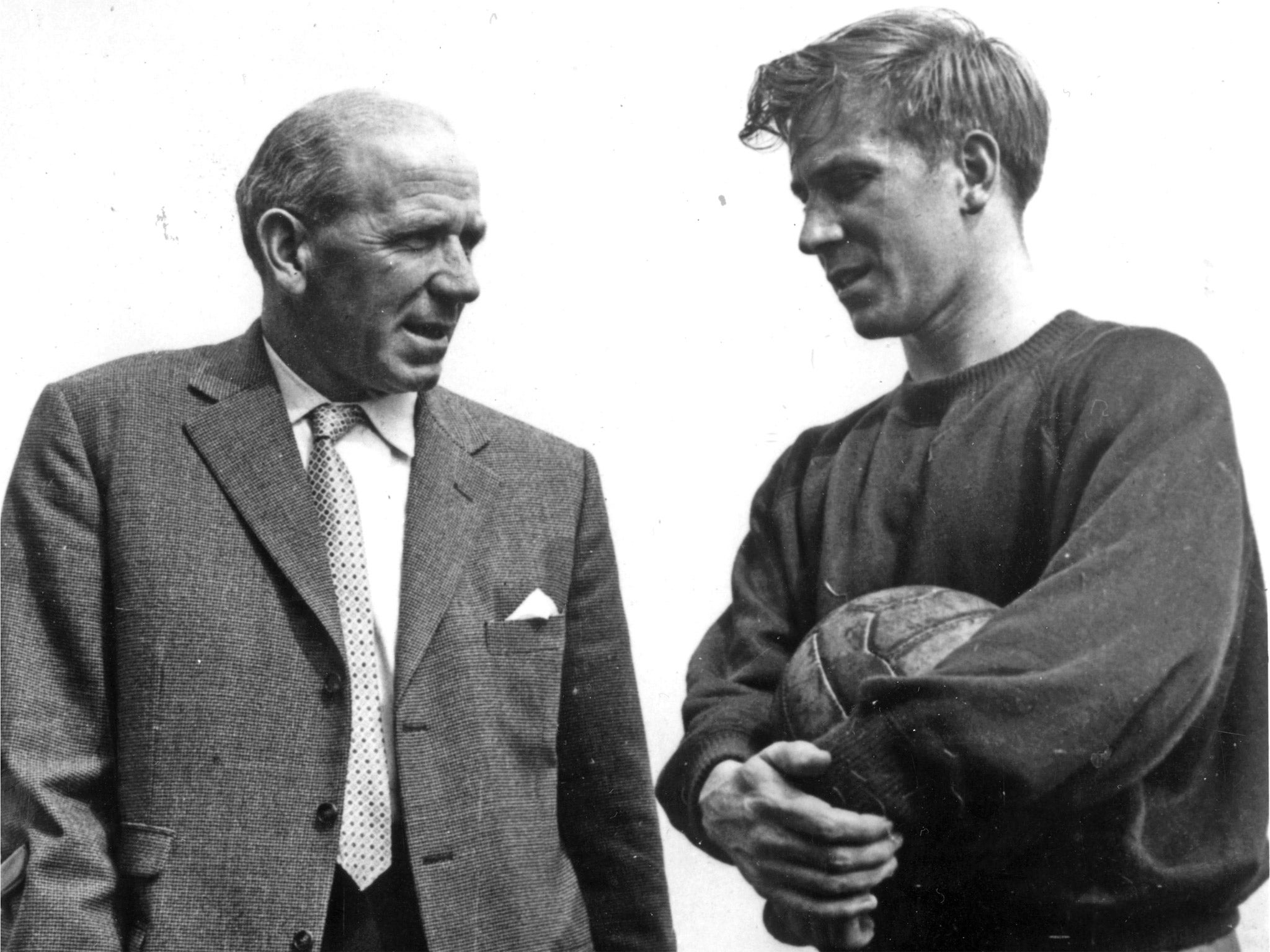 They are supposed to be the best of enemies: the socialists revered by the Stretford End and the club who were supported by Franco and have raided Manchester United's academy.
Who can forget the hatred in the words of Sir Alex Ferguson just five years ago when he said, as Real Madrid pursued Cristiano Ronaldo, they were a "mob" to whom he would not sell "a virus".
But relations between the clubs, which have thawed a little since Jose Mourinho's arrival in Spain, have a much happier history. Not least in the famous friendship between Santiago Bernabeu, the old Madrid president, whose name was given to the ground United will play in, and Sir Matt Busby 50 years ago.
Munich air disaster: The Busby Babes play Burnley in 1957
The story of it is revealed in John Ludden's book A Tale of Two Cities: Manchester and Madrid 1957-1968 and Ludden told The Independent he was surprised there is some modern animosity between the clubs. "When you look back on the history and you see what Real Madrid did for United after Munich." he said, "It's incredible."
This warmth between Bernabeu and Busby grew out of mutual respect for each other's teams, and led to some remarkable displays of generosity and charity when United were at their lowest. It grew out of the European Cup semi-final of April 1957, which Madrid won 5-3 on aggregate but were held to a stirring 2-2 draw in the second leg at Old Trafford.
Bernabeu was so impressed by the spirit and quality of United's young side that he offered Busby a job. The Scot, though, was desperate to win in Europe with United, and said no.
Ten months later, United's young team was devastated by tragedy. An air crash in Munich, 55 years ago last week, killed eight players, three staff and 10 others. They had just won a European Cup quarter-final. The dream of Busby's side conquering Europe looked over.
United lost their semi-final to Milan three months after the crash but Milan were beaten 3-2 by Real Madrid in the final. Bernabeu, dedicated the win to his fallen friends from Manchester and even offered United the trophy, though it was turned down.
If that offer was purely symbolic there were material pledges too, most significantly the offer to loan United the world's finest footballer, Alfredo di Stefano, "the Blond Arrow", for the 1958-59 season. "Bernabeu went to see Di Stefano about this," Ludden said. "He was willing to go until the end of the season, United paying half his wages and Madrid the other half. But the Football Association blocked it as he would be taking the place of a potential British player."
So Madrid helped in different ways. They made a memorial pennant with the names of the Munich dead, called "Champions of Honour", which was sold in Spain to raise money for United. There were offers to the injured and bereaved to recuperate at Madrid's luxurious facilities in Spain at no cost.
There was also a series of fund-raising friendlies between the two teams. As well as the human and sporting cost, the Munich disaster had hit United's finances. Real Madrid usually charged £12,000 for such games, but Bernabeu told United "pay what you can afford".
These games were not just fund-raisers, though. "United could not even dream of Europe, it was more a case of staying up [in the First Division]," said Ludden. "So Busby's idea was to keep the idea of Europe alive for the fans and players. It gave the players a level – of Ferenc Puskas and Di Stefano – they had to get to if United were to get back in Europe."
In October 1959 Madrid won the first friendly 6-1 in front of 63,000 at Old Trafford, with Di Stefano, Puskas and Francisco Gento outstanding.
Madrid won the re-match the following month 6-5, a remarkable game watched by 80,000 entranced fans, who applauded both teams off. That evening Madrid organised a fund-raising banquet for the bereaved families of Munich in which Bernabeu said Busby was "not only the bravest, but the greatest man I have ever met in football".
For the next friendly, in October 1960, Puskas and Di Stefano were injury doubts. Bernabeu asked Busby if he wanted to postpone the game but United's manager insisted, saying that Madrid "had become like family". Puskas and Di Stefano were so impressed they played anyway and helped produce another classic, which Madrid won 3-2.
United were getting closer and in the next friendly in December 1961 they beat Madrid 3-1, and the following September won 2-0 in the Bernabeu. United won the FA Cup that season, the first trophy after Munich, and the title followed before the European Cup in 1968, United overcoming Madrid in the semi-finals on their way to the prize Busby had driven his rebuilt team towards for 10 years.
"If it had to be anyone, then I am glad it was them," said a gracious Bernabeu afterwards. He had played his own part in their resurrection.
Join our commenting forum
Join thought-provoking conversations, follow other Independent readers and see their replies