Johan Cruyff: Barcelona, Ajax and Netherlands legend diagnosed with lung cancer
Cruff was diagnosed with the illness last Tuesday in a Barcelona hospital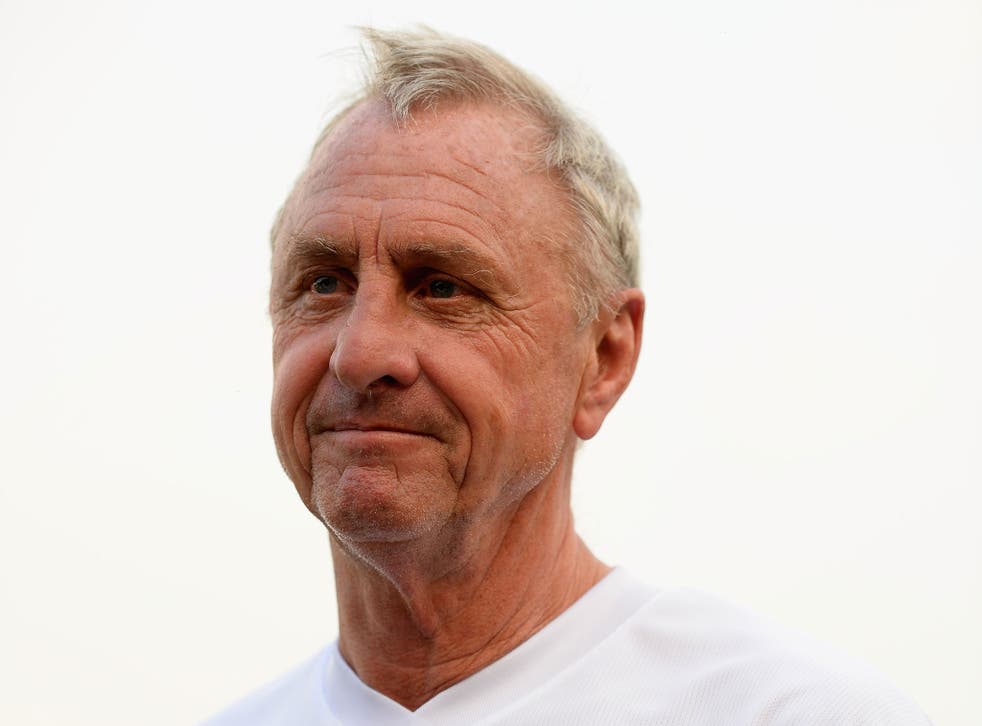 Barcelona and Netherlands legend Johan Cruyff has been diagnosed with lung cancer, reports in Spain have revealed on Thursday.
Spanish newspaper El Mundo is reporting that Cruyff was diagnosed with the disease last Tuesday in a Barcelona hospital. It's added that the 68-year-old will undergo further tests to determine the extent of the illness.
Cruff, who also delved into management with Ajax, Barcelona and the Catalonia national team, was a long-term smoker and admitted to smoking up to 20 cigarettes a day. Regarded as one of the greatest footballers to play the game, Cruyff underwent open heart surgery in 1991 during his Barcelona reign, and quit smoking following the double heart bypass operation before managing the Spanish side for another five years.
Cruyff enjoyed phenomenal success with Ajax as a player as he won the Eredivisie six times between 1965/66 and 1972/73, before adding to more top flight titles on his return to the Netherlands in 1981/82 and 1982/83.
He won five Dutch Cups during his two spells with Ajax, but his ability to play the style named "Total Football" under manager Rinus Michels proved to be Cruyff's biggest claim to fame as together they won the European Cup in three consecutive seasons spanning 1970 to 1973.
His attacking prowess caught the eye of Barcelona and in 1973 Cruyff move to Spain and promptly won a La Liga titles in his debut season. However, further success eluded the club during Cruyff's stay and despite going on to become one of the club's most gifted players, Cruyff departed in 1979 with just an additional Copa del Rey crown to his name.
Spells with United States clubs Los Angeles Aztecs and Washington Diplomats followed before a brief return to Spain with Levante, but Cruyff was soon back at Ajax for a successful two-year spell before ending his career at Dutch rivals Feyenoord where he helped the Rotterdam side win a Eredivisie and Dutch Cup double in 1983/84.
On the international stage, Cruyff scored 33 goals in 48 appearances for the Netherlands, but a World Cup success eluded him. At the 1974 World Cup, the Netherlands national side made it all the way to the final but lost out to West Germany, while a best European Championship finish of third was achieved in 1976 when eventual winners Czechoslovakia beat the Dutch 3-1 in the semi-finals.
As Ajax manager, Cruyff led the side to Dutch Cup success in 1985/86 and 1986/87, along with the Uefa Cup Winners' Cup, but it was with Barcelona that Cruyff reached his pinnacle as a manager. He masterminded the Catalans' four consecutive La Liga titles between 1990 and 1994, while he also claimed the 1991/92 European Cup.
Register for free to continue reading
Registration is a free and easy way to support our truly independent journalism
By registering, you will also enjoy limited access to Premium articles, exclusive newsletters, commenting, and virtual events with our leading journalists
Already have an account? sign in
Register for free to continue reading
Registration is a free and easy way to support our truly independent journalism
By registering, you will also enjoy limited access to Premium articles, exclusive newsletters, commenting, and virtual events with our leading journalists
Already have an account? sign in
Join our new commenting forum
Join thought-provoking conversations, follow other Independent readers and see their replies