Jol hints at an exit for restless Zamora
Fulham manager defends decision to leave out striker and says it is not his job to keep him happy
Jack Pitt-Brooke
Wednesday 14 December 2011 01:00 Comments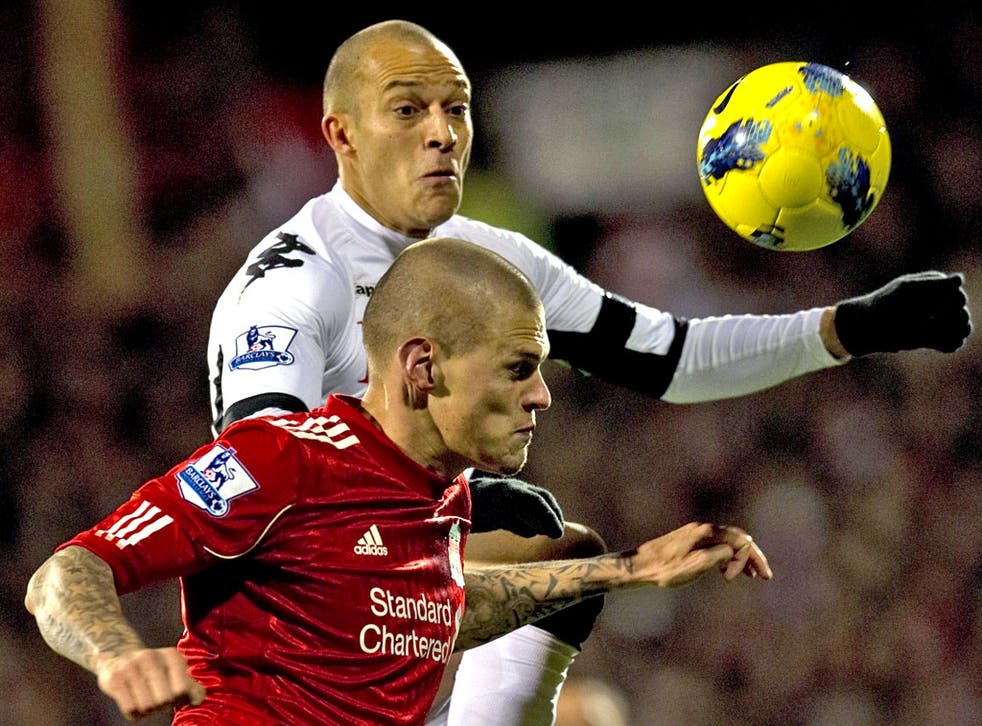 Martin Jol has little sympathy for frustrated striker Bobby Zamora. The target man was left out of the Fulham squad for the game at Swansea on Saturday. While Zamora is likely to start in the Europa League against Odense at Craven Cottage tonight, a game they must win to be certain of reaching the next round, Jol insisted yesterday that the England international got enough matches, and that it was not his job to prioritise the happiness of individual players.
Comparing Zamora's position to that of youngsters trying to break through – "it's totally different" – Jol said that rotation of first-team players was necessary to keep the team fresh. "In a good atmosphere, a good team, they push each other," Jol explained. "So I thought last week it would be a time for [Andrew] Johnson to play again, because he scores goals. And he had good games and he worked hard in training. So that was my motivation."
As Zamora has started 20 games already so far this season, Jol does not believe he has a legitimate grievance regarding selection. "Bobby plays almost 90 per cent of all the games," he said. "So I think that helps him get a good profile."
Despite Zamora's frustration at missing games, Jol argued that being rested was for his own good, even if the striker did not see it that way. "I had the same a couple of months ago," he said. "I thought to rest him and I left him out, and he was moaning that he was not going with us, I think it was Runavik or something. [Zamora played in Runavik but did not travel to either Odense or Wisla Krakow]. So I thought that I did a good thing, for him to rest. So players have different opinions on that. You always get that."
Jol suggested that Zamora's disappointment may lead to his seeing a happier future for himself at a different club. "I said a couple of weeks ago, 'Do you love this club?'," he reported. "He said 'Yes, I love the club. I love the team.' So I don't think there's any problem. I think the grass is always greener, but it's not only for him. There's always, in a squad of 24, 25, you've got players probably who look at other clubs." When asked twice asked whether there had been enquiries for Zamora from other clubs, Jol merely replied: "I don't want to talk about one player all the time, because there's other players and you never ask me about other players."
Beyond the simple issue of selection, Jol suggested that he would like Zamora – when on the pitch – to play differently. "You've always got a little bit of disagreement," he said. "If you wanted them to go into space, they wanted to come to the ball. [Pajtim] Kasami has to play on the right, he wants to play No 10. I've got a lot of players who probably play in a different way." He made it clear, though, that he expects players to meet what is asked of them. "The main thing is the team, it's the club. It's not a provocation, it's an inspiration, trying to stimulate them."
Ultimately, Jol does not see ensuring the happiness of his entire squad as the most important part of his job description. "I make the decisions," Jol said. "[Marcel] Gecov is a young player, I think he needs time, he will be better. He would like to play all the games, he's played two games. So he won't be happy. I have to make the owner happy, I have to make the fans happy, and me, sometimes."
Bryan Ruiz is suspended tonight, while Danny Murphy and Steve Sidwell are both injured. Mark Schwarzer is a doubt with a back problem.
Register for free to continue reading
Registration is a free and easy way to support our truly independent journalism
By registering, you will also enjoy limited access to Premium articles, exclusive newsletters, commenting, and virtual events with our leading journalists
Already have an account? sign in
Join our new commenting forum
Join thought-provoking conversations, follow other Independent readers and see their replies