Goretzka finishes off Bayern move vs Eintracht
'Everything has changed': Joshua Kimmich on what Premier League players can expect from football's return
Interview: Bayern Munich talisman scored the decisive goal in the German title race – and explains how matchdays are an entirely different prospect during a pandemic
What struck Joshua Kimmich more than anything was the strange calmness in himself as much as out on the pitch. The Bayern Munich players were preparing for their biggest game of the season, the title showdown away to Borussia Dortmund, but it's not like they were pumped.
"Normally you have more adrenaline, and more tension inside your body when you walk in and see the 80,000 fans screaming," Kimmich says over Zoom. "Now you have to push yourself, and push your teammates. You have to be focused and more concentrated because there are no fans."
Perhaps, that sense of calmness aided Kimmich most, because he settled the game – and probably the German title – with a unique moment. The midfielder rose above the frenetic energy of that match to lift the ball over Dortmund keeper Roman Burki with a sumptuous chip. It has been the standout moment of post-coronavirus football so far, and the most consequential. There's thereby no one better to talk us through what a match-day in the new era is like - and what the Premier League can expect.
Going to the game
"Nearly every is changed. We are in the hotel with the face masks, also on the bus when we drive to the game. When we sit together in the hotel and restaurants, we have two-metre distance. It's really different for us.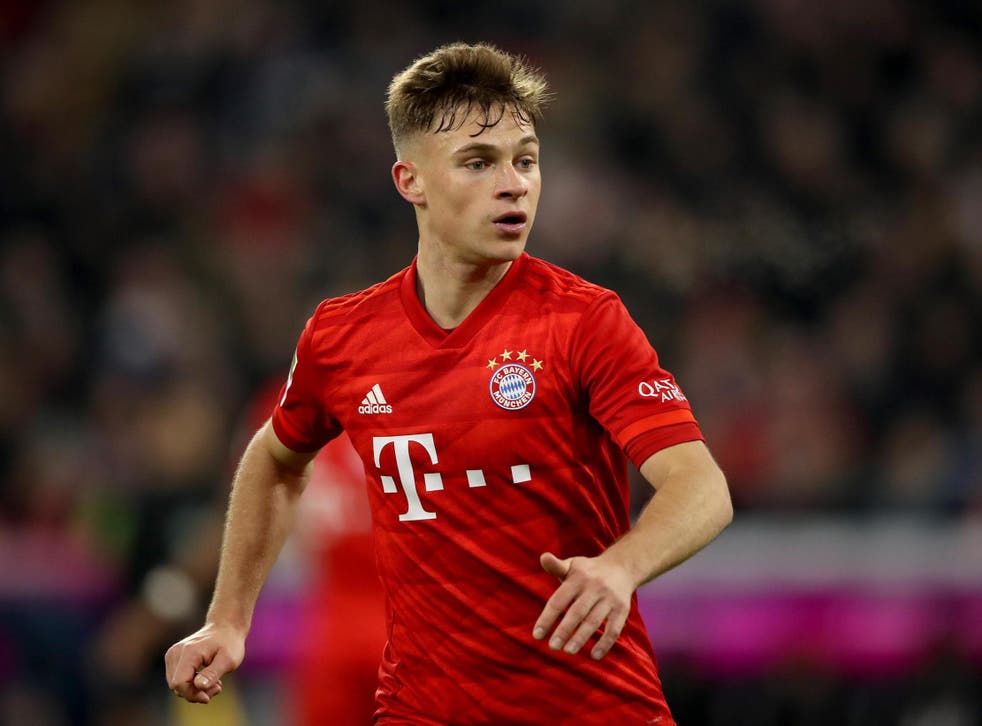 "There are a lot of things we have to do so it is possible to play football. As a club we know that we are all responsible for each other so we have to follow social distancing and wear masks.
"Not everybody thinks it's good football is coming back, but the system is good and we get tested every three days, and every day before games. We can be sure we are negative every three days, and this is important.
"For us it is really safe. Here in Germany we are the role model for other countries because we are the only place where it is possible to play football."
Kick-off
"You walk out and it's like in the under-17s or in your youth. You're just on the pitch and you start. Normally I enjoy it when you walk out and see the atmosphere, the fans, the full stadium. The stadium is always full at Bayern and it's really amazing. This is maybe what I miss the most.
"There is less emotion, less atmosphere. It's really different, especially against Dortmund. There is always a great atmosphere, but I think it's more a disadvantage for the home team."
Match fitness
"You can see that not everything went well in the first game against Union Berlin, but it was important to get the three points. Also against Dortmund we didn't start well.
"It was not my best game before [the goal]. I made a lot of mistakes. My appearance was not that positive.
"It was OK for us, because it was like a third pre-season. We worked a lot first at home with the cyber-training and after in smaller groups, then with the whole team. The physical factor is really important for us. I don't know exactly the difference between the normal games and games now, whether we run more or less, or it's more intensive or less, but until now it feels good for us and I think we don't have muscle injuries until now. Now we are in good shape. It could be a problem in the future, when the new season starts, because we won't get a holiday."
Matchplay
"It's really different without the fans, because there is less atmosphere, no screaming after every corner or chance. But the positive is you can communicate with each other. You can speak with each other. You can hear what the coach is screaming on the touchline.
"Maybe the focus is more on the game. It's not like a show. Also there is no more big show from the players any more, lying on the ground and screaming. It's more focused on the game."
The referee
"I can feel that I am less emotional when I speak to the referee. Maybe I am not that 'pushed' from the fans and not that emotional. When they are loud and they are screaming you are more emotional and maybe you speak in another way with the referee. Now you can be more quiet and calm and speak in a normal way. You don't have to shout at him, and he doesn't have to shout back."
Goals
"Normally I'm not the scorer but in this case [against Dortmund] I was really, really happy… but it's more special when you can celebrate with your fans. It's really special. Sometimes there is a lot missing."
It is possible, however, that Kimmich's distinctive goal was a direct consequence of the strange circumstances.
"We did a lot of shooting in training because we couldn't do a 'normal' game, as we had to be in distance from each other, where we worked in smaller groups," he explains. "I thought about it.
"I knew the goalkeeper was more in front of his goal when he was in a central position. The angle is easier for the goalkeeper when he goes out, so in training I saw that maybe this was possible to try and do it in the game. It was nothing planed, but I knew it was possible."
Germany has now proven that football is possible, too. This is what the Premier League can expect.
Join our new commenting forum
Join thought-provoking conversations, follow other Independent readers and see their replies