From Birmingham to Borussia Dortmund, Jude Bellingham isn't like other 17-year-olds
England Under-21 midfielder swapped Birmingham for the Bundesliga this summer and isn't looking back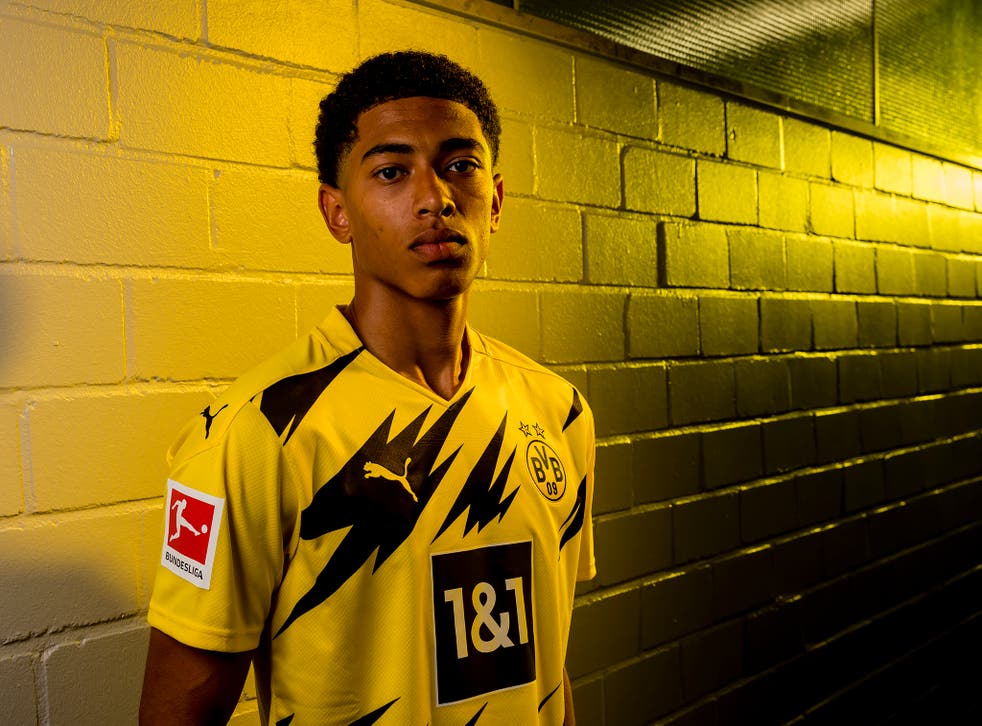 It is only when Jude Bellingham starts talking about his mother instructing him to do his secondary-school studies that you remember, yes, he actually is only 17.
You wouldn't think it from how he plays, how he speaks or how he comes across.
"It's the standard B-tec in sport that everyone in England has got to do so I'll get that boxed off and get my tutor off my case!"
The midfielder may be the latest example of Borussia Dortmund's progressive approach to signing young players, but a mere 40 minutes in his company makes you realise it would not feel anything like a risk to put him into a big game. He is impossibly mature.
The Midlands lad - who actually only turned 17 in June - is speaking to English media via Zoom before Dortmund's match away to Club Brugge in the Champions League, a competition that has already seen him add to his list of records. Of course, most are age-related. Bellingham this season became the youngest Englishman to start a Champions League match, to go with becoming the youngest to ever start an England under-21 game.
Not that any of this means much to Bellingham. Why would it when you've already started nine games this season for one of the biggest clubs in Europe? He has more grown-up ambitions.
"I never look at those records," Bellingham explains. "If it happens, it happens. It's all about doing what I do. If the records come, then brilliant, but really my job is to win football matches."
Bellingham's adaptation is all the more impressive given how challenging his situation could have been, and how challenging it still would be for many players far older than him.
He is a teenager living abroad for the first time, who must learn a new language, and at a time when Covid greatly constrains the ability to know a new country.
"That has hindered the way I've been able to explore and settle in," Bellingham says. "I've not really had the chance to do that."
Bellingham is living in an apartment in Dortmund, where his mother is helping him with things, not least the food the club sends him. He laughs that he needs to learn to cook, to go with his language lessons. Bellingham is determined to become fluent in German, and was having three sessions a week before this chaotic Champions League calendar kicked in.
"It will help me massively in all aspects of life," he says. "I am understanding more day by day. I find it tough to speak it. The way these guys can pronounce the words is outstanding and really weird to me, but I am understanding more and more as we go along.
"To be fair, everyone here speaks English really well. The coaches prefer to speak in German but there is always someone to translate and, now I have been here a few months, if I pick up three words in a sentence, that is enough to piece together what the coach is speaking about."
It feels like Bellingham has an instinctive understanding of football in any case, only aided by his background. It really does run in the family. His father, Mark, is a sergeant in the West Midlands police who was a prolific goalscorer in non-league football - hitting 800 goals in his career - and his younger brother, Jobe, has already followed Bellingham's path into Birmingham City's academy.
"I'm really proud of him," he says of his brother. "We've always kind of pushed each other. He's going through the stage where he's getting his growth, so it's hard to say what position he'll end up playing. I think he'll definitely be more of a forward player."
That would be more like Bellingham's father, who has naturally guided both.
"I used to watch him play all the time, it's kind of where I started to get that love for football.
"Growing up, he always gave me advice, helped me learn the basics of the game. But as soon as I got past a certain age, I felt like I was learning for myself almost, like I was getting experiences maybe he didn't have."
Bellingham even has the temerity to gently mock the manner of his father's goals.
"To be fair, they were all inside the six yard box! It's important just to keep him level headed!"
There feels no danger of Bellingham being anything but level-headed. Even the reasoning for joining Borussia Dortmund sounds so mature. Bellingham was given a tour of Manchester United, with Sir Alex Ferguson involved, but just felt the Bundesliga club's track record with young players made them the obvious path.
The precedence set by Jadon Sancho naturally helped, and Bellingham knew very early they were the only choice.
"For me it was Borussia Dortmund, and that's it. When you find somewhere that's the best place to be, you kind of ignore everything else, you know what I mean? So I was very focused on joining Borussia Dortmund at the end of the season.
"I've said how big of an example Jadon is for someone English and my age. We're all trying to play but specifically, we're trying to make that next step into Europe's elite, especially if you've already played at a certain level. I think Jadon has done that perfectly. There's no denying that and he was a massive factor in looking at his journey. Hopefully, I can mirror it and do the same.
"I played 44 times last season, so maybe my situation was slightly different to Jadon's but I am just glad to have got the opportunity."
It is one he feels that is absolutely crucial for young players around his age bracket.
"I think any footballer just wants to play football. And it's really as simple as that. The only thing I was bothered about in making this decision was playing football, and it was the best place to do that. I think there are plenty of young players out there who, if given the chance, would shine at first-team level, but you know, they don't quite get the chance for whatever reason. I think I'm almost like an example, as well as many others in our first team at the minute, to just give them a chance, throw them in the deep end and see what they can do. Because as we start to learn more and more, there's a lot more [young players] in the Championship now, you know, they can manage it, they can handle it, and the players are often better than you would think.
"My decision had nothing to do with money. And I was so focused and so happy with the interest from Dortmund that this became my first choice.
"There was obviously the size of the club, the fanbase, the atmosphere, which I obviously haven't been able to experience yet, but also the opportunity to play. It is as clear as day that if you come here and do the right things, you are going to get your opportunity. I have been given that so far and I just have to keep it going.
"I just think the way they integrate young players into the first-team squad is next level. There is not a club in Europe that does it quite like them. The way they are pushed and can also be reeled back in. They can review your performances. There is a person there for every player, especially Otto [Addo, the assistant manager], who has worked with the young players. He is great. Everyone has that support system to work for their chance in the first team."
It naturally helps the whole experience to have so many exceptional young players - like Erling Haaland, Reinier Jesus and Gio Reyna - around.
"I think when you're playing with these guys, it's easy to build a connection because you can kind of relate to them a little bit more, you're almost in a similar boat, especially me and the likes of Jesus from Real Madrid, and Gio, who are at a similar age, and similar points in our career, so it's easy to pick up things from those guys, and at the same time we have a great balance in the squad. I've said many times the young players will get the spotlight when things are going well, but you've got to look at the experienced players, and how much they help ease us into games as well. Mats is first class, as you guys know, Marco Reus, the list goes on, the balance is perfect in the squad, and I think everyone gets a lot out of it."
It is when Bellingham talks about the adjustment to the Bundesliga, however, that you realise how mature he really is. This is a player with a deep understanding of how the tactical mechanics of the game work, as much as what he has to do.
"In the Bundesliga, there's a lot of focus on tactics, and the way you can almost manipulate a formation to break down the opposition. There are things you can do to attack the weakness of other teams, and it is really clever.
"I think it's a style that matches my game at the moment. I'm a midfielder who likes to control play, but also create chances and get forward, getting stuck in as well. I'm really enjoying picking bits up from the coach about tactical awareness and stuff like that, and hopefully I can keep it going.
"It is a jump up for me but it is one I think I was ready for."
There's the biggest jump of all this weekend: a game against the European champions, Bayern Munich.
"Honestly, we're very focused on ourselves to be honest. We got a great win [Sunday, against Arminia], the focus immediately turns to the Champions League and then after the game in midweek, all focus goes on Bayern Munich and trying to stop them."
Spoken like a mature pro.
"To be fair, my parents would say I'm just as immature, and that I'm just putting it on for you lot!"
You get the sense, like his football, it comes naturally.
Join our new commenting forum
Join thought-provoking conversations, follow other Independent readers and see their replies