exclusive interview
Meet Julian Nagelsmann, the manager your club wants to hire
The RB Leipzig boss sits down with Melissa Reddy to discuss turning down Real Madrid, interest from the Premier League and trying to outwit Jose Mourinho
Friday 14 February 2020 11:00 GMT
Comments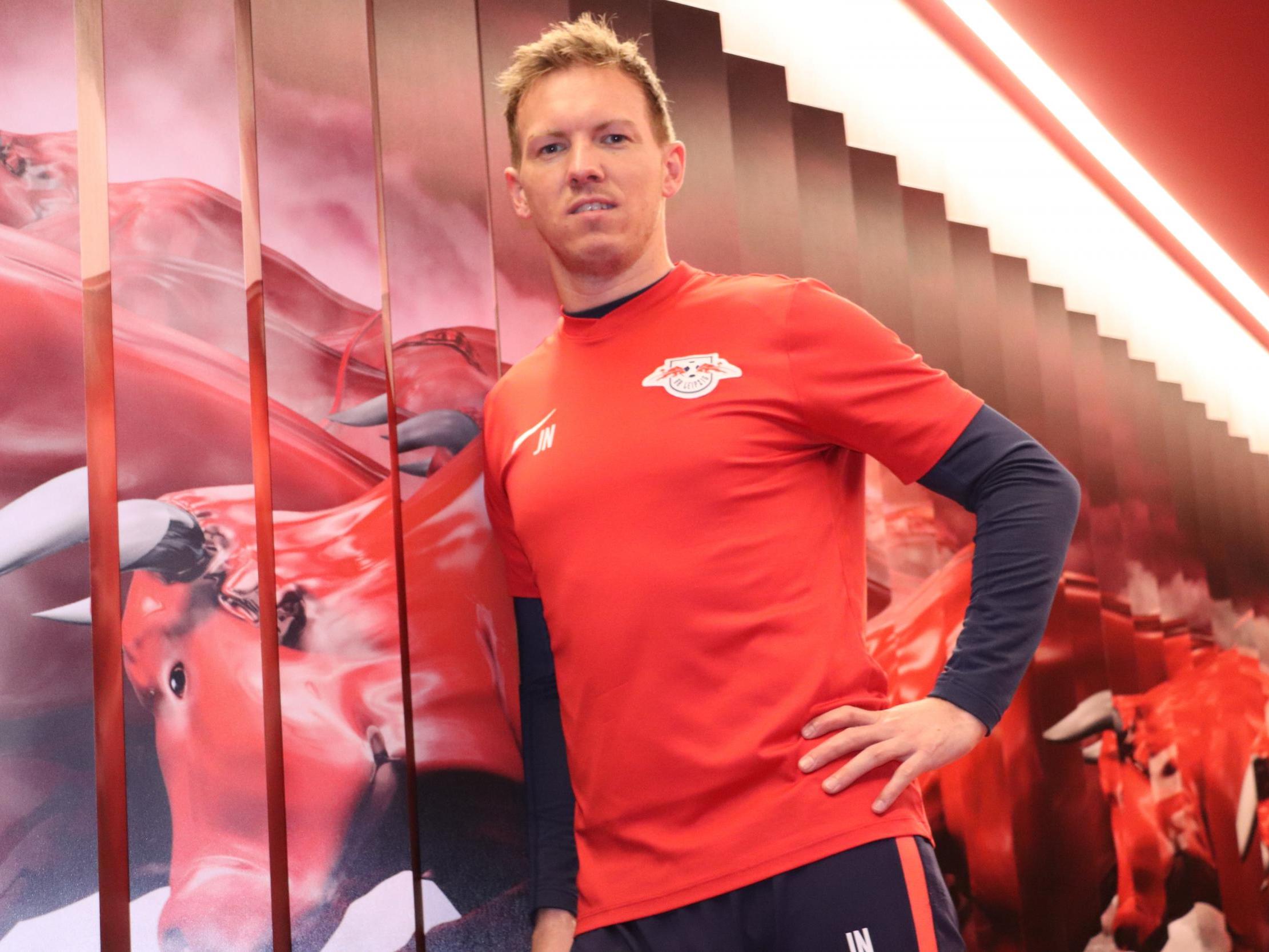 The phone rings, Julian Nagelsmann answers and listens attentively. The call comes much sooner than expected. Too soon.
It is somewhat surprising and certainly surreal. The voice on the other end belongs to Jose Angel Sanchez, the managing director of Real Madrid, who details the club consider him a primary candidate to replace Zinedine Zidane at the Bernabeu.
It is the summer of 2018 and Nagelsmann has not celebrated his 31st birthday yet.
He has guided Hoffenheim to third in the Bundesliga, securing Champions League football for the first time after a fourth-place finish the previous campaign, when Liverpool ousted them in the qualifier for Europe's elite competition.
The youngest manager in Bundesliga history has been linked to a host of jobs and there has been indirect contact from officials to ascertain his thoughts on most of them.
This is very direct. This isn't just any club either. "It's Real Madrid!," Nagelsmann emphasises as he recounts the conversation to The Independent and talks through his reasoning for not encouraging their interest beyond that initial chat.
Power rankings: Champions League last 16 teams
Show all 17
"It's normal if Real Madrid call you, you think about it," he admits. "I was surprised at first, I weighed it up and I didn't feel comfortable with a decision to go there. I want to improve. If you go to Real Madrid, there's no time to improve as a manager.
"You don't have a chance to be a better manager, you already have to be the best. I'm not the best now, but I can admit I want to be one of the best in future. If you go to Real Madrid or Barcelona, the fans, the media and the decision-makers don't give you the time to grow into that.
"They only want to see victories every game, titles, Champions League trophies. If you don't win, you can't say 'but I'm still young, I'm still developing.' It's not that easy in football to plan a career, because it is so unpredictable, but you have to try.
"The main thing is to make the right steps, not the biggest steps. Real Madrid is probably one of the highest steps you can take so I thought 'you turn 31, go to Real and where to do you go from there?'
"The other thing is language is very important to me. I like to communicate, I'm very expressive with my players. I can't speak Spanish yet, I can only say, 'hola, que tal.' So it was the biggest step, but not the right step."
Nagelsmann's considered perspectives on his career and the game have been carved by personal tragedy. In a half-year period aged 20, the centre-back suffered cruciate ligament damage that forced him to prematurely retire. Far crueller, his father Erwin then unexpectedly passed away after a short illness and Nagelsmann returned to the family home in Landsberg am Lech, a town in southwestern Bavaria.
He spared his heartbroken mum from dealing with all the administrative duties that followed, which "made me more mature and grown in my life."
Nagelsmann circles this period as fundamental to his development as a man and a manager, reminding him that there are far more important things beyond football. It taught him greater responsibility and how to peel back before making any major decision. Declining to have further correspondence with Real two years ago falls into that category, but his next move from Hoffenheim was mapped out before Jose Angel's charm offensive.
RB Leipzig had the inside track on Nagelsmann prior to Europe's powerhouses being alerted to the innovative mind disrupting the established order in the Bundesliga. Their former sporting director, Ralf Rangnick, had been at the Hoffenheim helm when the retired defender was assistant coach of the club's U17s, before taking full charge of the youth team. He forensically followed his progress, identifying Nagelsmann as "the greatest managerial talent in Germany" and the figure who could transform Leipzig into a consistent threat to Bayern Munich's dominance as well as make them a competitive Champions League force.
Rangnick and the club's CEO, Oliver Mintzlaff were so determined to land him ahead of the competition they predicted would emerge that summer, they acted uncharacteristically quickly.
"They really fought to get me," Nagelsmann recalls. "It's important as a manager that you feel a club believes in you and your methods. Oliver Mintzlaff and Ralf Rangnick showed me this. They called me over a year before they wanted me at Leipzig and told me why and how it would work. The next day, there was a contract sent to my email. It took just 20 hours after we spoke for it to arrive and that is not normal.
"A lot of clubs in the summer period phoned me and said 'perhaps we'd like to have you.' There was no perhaps with Leipzig. I am a young manager and it appealed to me to work at a club where the structure is clear, where there are not 20 guys all with an opinion that takes you in different directions.
"Here I can decide and things happen quickly because the vision is the same across the club. It's also interesting for me to work with a young team. They want to develop, to increase their capacity and get better every day. I want to develop, to increase my capacity and get better every day too, so we pull together on the same path."
Nagelsmann signed a four-year deal with Leipzig to become their manager ahead of the current season, with that agreement being made public on June 21, 2018 to avoid persistent speculation over his future.
"The funny thing about that is, I signed a contract and then it felt like 10 minutes later, all the clubs were interested," Nagelsmann laughs. "It's like when you go to a disco and you are single, you'll never find a girl. Then when you go to the disco with your girlfriend, quite a few want you!"
Tottenham were one of the clubs that did due diligence on Nagelsmann while seeking a replacement for Mauricio Pochettino and they double up as his first knockout test in Champions League football.
It is poetic that this fixture on the biggest stage will pit the Leipzig trainer against the man he used to be compared to when he worked in the shadows at Hoffenheim.
"It's around six years ago now when Tim Wiese, who was the goalkeeper there, called me 'Mini Mourinho,'" Nagelsmann remembers. "I was an assistant coach then and also working with the U19s. I was this new, young guy wanting to learn everything.
"We don't have the same philosophy, but I don't think it's the worst thing in the world to have a nickname associated with Jose Mourinho. He has won 25 trophies and is one of the biggest names in football. I'm happy that we have the challenge of games against a team managed by him."
Nagelsmann and Mourinho could not be more opposed by their approaches, distilled into proactive versus reactive, but there is much commonality in their pathway to top-level management. Both operated as scouts, immersed themselves in understanding sports science, were entrusted with developing youth teams and were valued assistants.
Their gifts were recognised and encouraged by established managers: Thomas Tuchel and Rangnick advocated for Nagelsmann's advancement, while Sir Bobby Robson and Louis van Gaal believed Mourinho would become formidable in the dugout.
The last-16 showdown between Tottenham and Leipzig, with the first leg in north London on February 19, will zoom in on the men in the technical area as a battle between a manager that defined the previous generation and one primed to outline the next.
While Mourinho is filed as spent in so many quarters, Nagelsmann flows with respect for someone he considers to be the most dangerous kind of opponent.
"Jose has experience in every sort of situation," the 32-year-old explains. "He has managed so many knockout games and knows what to do if his team goes ahead, is behind, concedes early, needs a late goal. I've only had knockout games in the DFB-Pokal – not in European football apart from the qualifier with Liverpool.
"It's totally new for me and totally different from how to manage Bundesliga games."
Nagelsmann expects Tottenham to "defend deep to their own goal, not give us space behind the defensive line." He is "prepared that Jose will change the approach home and away, but also within each leg."
In a boardroom at the expansive Red Bull Academy, conveniently located next to Leipzig's stadium, Nagelsmann's enthusiasm in engaging with Mourinho on a professional level is evident.
"As a manager, especially a young one, you want these kind of tests," he says. "I've never met him before, so it'll be good to do so for the first time.
"I love his press conferences. I remember the first one when he joined Spurs and the journalist asked: 'Is it because they lost the Champions League final that the team's performances haven't been good?'
"And he responded 'I don't know, I've never lost a Champions League final.' He is always good to watch."
Nagelsmann admits he has been viewing Tottenham matches "since Mauricio Pochettino was there. He is a really good manager and his team was great to look at as a spectator.
"I have seen many Spurs games, but I haven't been watching them with the purpose of analysis for our preparation, because we have had so much to deal with first."
Leipzig are protagonists in one of the tightest tussles for the title in Germany's top flight in recent memory. They are second, one point behind Bayern Munich and three ahead of Borussia Dortmund, so balancing their domestic and continental objectives with a small squad that has an average age of 23.5 will be tricky.
Nagelsmann concedes he has fudged his selection when switching between the competitions in the past. "During the first season of European football at Hoffenheim after we lost the Champions League knockout game to Liverpool, I changed a lot of players between Bundesliga matches and the Europa League for fresh legs.
"I learnt that we needed more stability. You need to keep five or six of the same places to give you structure, to be your spine. This is very important.
"The other difference is the mental and tactical change between the two competitions. We had too many offensive-thinking players for European games and opponents punished a lack of protection. In the Bundesliga, you can have maybe six or seven guys who learn more towards the offensive phases in a game, but never in Europe."
Nagelsmann is careful not to overload his squad with expectation and demands. Their position in the league coupled with finishing three points clear ahead of Lyon, Benfica and FC Zenit in Champions League Group G has understandably created a sense of anticipation around this campaign.
"It's normal to think of being German champions," Nagelsmann says, adding, "but if you've got a serious understanding, you know that the performance of a young team never goes in a straight line. There are ups and downs as they develop. They are not perfect in each game.
"We still have chances to reach our aims so we will go for them. For us, it's not only success to become German champions. Our process is important, not just the result. It is totally OK if we qualify for the Champions League again. We will give our best and see what we get."
Nagelsmann looks to the Premier League for a dose of inspiration. As a manager consumed with finding the edges, he is a keen observer of how those at the top of the game succeed in sourcing and implementing advantages.
"I watch a lot of Liverpool and Manchester City," he admits. "Last season, City had great flexibility, so many ways to open up the game and interesting positions in ball possession. It's always fascinating to watch Pep Guardiola teams.
"Liverpool have developed so well, especially in possession and having variety. In the first two seasons under Jurgen Klopp, it was more about counter-attack and creating attacking moments. That's the same process we are going through now at Leipzig, expanding to not only rely on pressing and counters.
"If you want to be a good manager, you have to watch Liverpool games. What they are doing is incredible. It's the performances that you can learn from, but more importantly, is what you can take away from their mentality.
"It's totally crazy when you're so successful, you're 22 points ahead of the next team in the league, but you do more and more and more to win games. That is a big message to give to players, especially the young ones.
"They should learn from Liverpool to always be hungry, to be better. It doesn't matter if you're nearly the champion, you still win and win and win and win."
Nagelsmann clearly has a deep appreciation for the Premier League, which is reciprocated. Tottenham, Arsenal, Chelsea and Leicester have all monitored him, while he has been spoken about as one for the future at Manchester United.
He is comfortable conducting this entire interview in English, stopping to only check the translation for two words on his phone: 'beeindruckend' and 'wortschatz' – impressive and vocabulary.
So is it fair to assume that his career planning has a pin in the Premier League?
"My normal idea is to stay at Leipzig for four years, but in football you never know what can happen. The Premier League interests me as do other clubs in the Bundesliga and La Liga, but I have to improve my Spanish first.
"I know it's very tough in England. I've been reading the interviews of Klopp and Guardiola about the intense fixture schedule and the demands on players and staff. I have a lot of interests outside of football like motorcross, skiing and enjoying experiences with my family.
"In the Premier League, there is no time slot for anything else. Football, football, football. But there are a few clubs that I watch closely and the Premier League is a goal for every manager."
Nagelsmann's phone rings just as we're about to wrap up. 'It's Jose Angel again,' I joke.
We laugh, but if he continues on this trajectory, there will soon be no step left but the biggest one.
Join our commenting forum
Join thought-provoking conversations, follow other Independent readers and see their replies