Liverpool's ​Jürgen Klopp warns Real Madrid not to rely on European experience in Champions League final
Klopp and his players will walk out at the NSC Olimpiyskiy as slight underdogs with their opponents looking to be crowned champions of Europe for a third consecutive season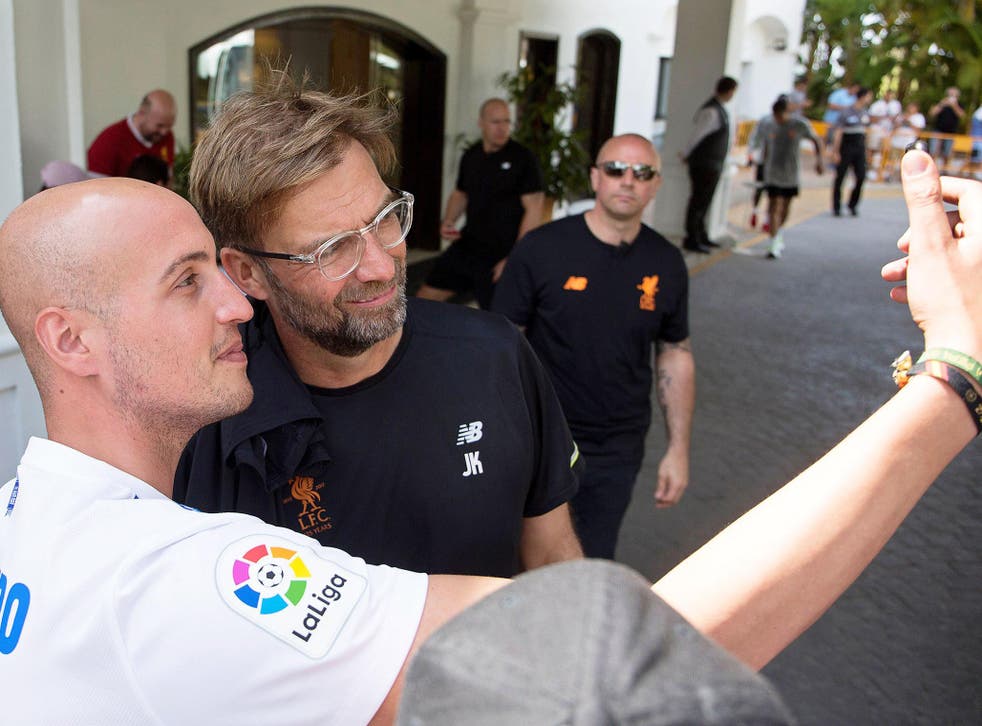 ​Jürgen Klopp has warned Real Madrid that their greater experience of Champions League finals will not count for everything against a Liverpool side playing for their "dreams" in Kiev.
Klopp and his players will walk out at the NSC Olimpiyskiy as slight underdogs on Saturday night, with their opponents looking to be crowned champions of Europe for a third consecutive season.
Zinedine Zidane's side is stocked with players of Champions League pedigree. Cristiano Ronaldo alone will have won as many European Cups as Liverpool if Madrid are victorious this weekend.
Yet while Madrid have a recent track record of success in this competition, Liverpool have plenty of belief in their own abilities and a desire to see their remarkable run to the Kiev final end triumphantly.
"I don't want to play that game," Klopp said, when asked whether Madrid should be considered favourites. "They are more experienced. That is a fact. If there is an experienced market, they should sell it because then they would be even more rich. Experience is very important in life but not the only thing. It is important to be more experienced but you can level it with desire, attitude, work rate and that is what I love in football.
"We made our own experience. We are not as long together as Real Madrid because they play these finals pretty much with the same team, so as a group they are very strong. That is all fact but it is still football and we have a chance and let's give it a try.
"Let's go there and try to perform on a level which maybe people would say it is not possible for us, but it is possible. We did all the things we need plenty of times already in the Champions League campaign and now we need to do it again.
"I saw the game against Villarreal [Madrid's 2-2 draw on Saturday] and it looks like they can do whatever they want against a good side like Villarreal. Still no one knows if [Karim] Benzema will start or [Lucas] Vazquez. It is a really good football team but we are a really good football team.
Liverpool's route to the Champions League final

Show all 14
"We are full of desire and we really work for our dreams. We hope we can show that and if we can show that, that is all."
Liverpool have approached every game in this competition with the same proactive, attacking mentality and Klopp unsurprisingly has no plans to change a winning formula, even against a side of Madrid's calibre.
"I am not a psychologist but if somebody would tell me constantly that everything is different in the next game then I would get nervous," he said. "We have to handle it like an opportunity because it is an opportunity. You cannot go into a football game knowing you can lose it.
"I experienced that plenty of times but I am still a happy person. Life goes on. We will show the players why it makes so much sense to be brave. It was not easy to be brave against Manchester City and against Roma but we did it. The moment we tried to defend the result we were almost out.
"I am in a good mood. I am really looking forward to the game. Unlike the Brighton one, I would buy a 1-0. This game I really want to play."
Register for free to continue reading
Registration is a free and easy way to support our truly independent journalism
By registering, you will also enjoy limited access to Premium articles, exclusive newsletters, commenting, and virtual events with our leading journalists
Already have an account? sign in
Register for free to continue reading
Registration is a free and easy way to support our truly independent journalism
By registering, you will also enjoy limited access to Premium articles, exclusive newsletters, commenting, and virtual events with our leading journalists
Already have an account? sign in
Join our new commenting forum
Join thought-provoking conversations, follow other Independent readers and see their replies