Champions League final collapse suggests Juventus' issues run far deeper than mere fortune
Max Allegri's team may have had the better of the first half but then the tide of the final completely turned against them as Real ran amok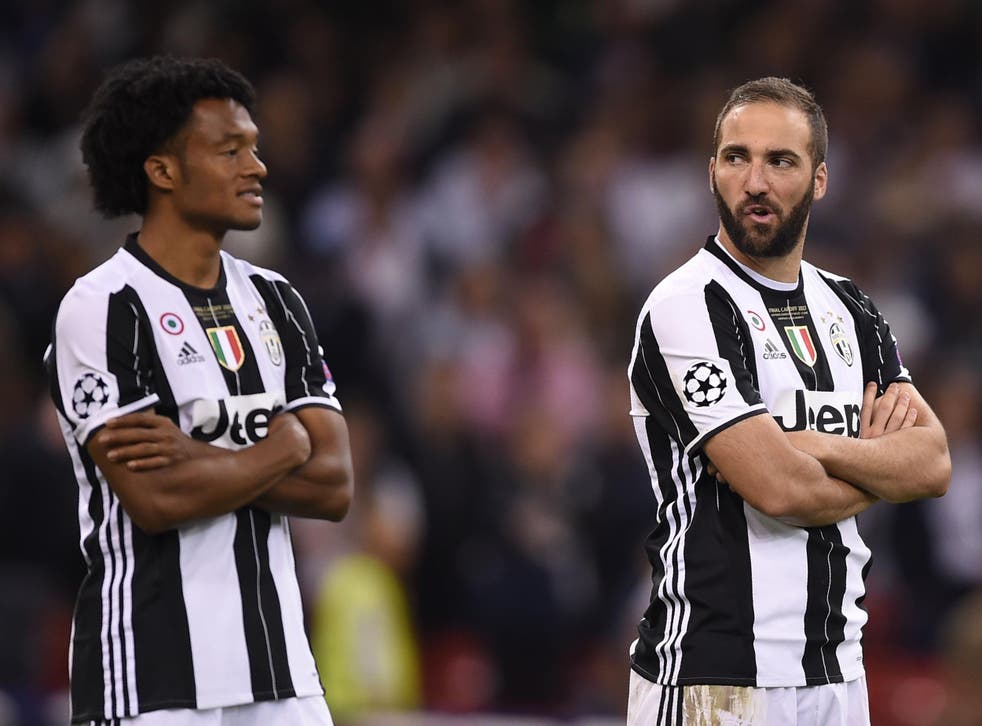 Poor Juventus. This was a seventh defeat in nine Champions league finals and, given Real Madrid's first two goals were deflected, they will probably feel they were a little unfortunate. Yet the truth is that, while Max Allegri's team had the better of the first half, Madrid bossed the second.
Perhaps if Casemiro's strike hadn't flicked off Khedira to fizz into the tiny space between Gianluigi Buffon's palm and the post it would have been different, but the tide of the game had turned against them by then.
Poor Buffon. At 39 he would have become the oldest player ever to win a Champions League. He has now lost in three finals and while he may have another chance next year – he has said he will not retire before the World Cup – the suspicion must be that he will end his career without club football's greatest prize.
He too will reflect on how cruel the game can be: he didn't have a chance for any of the three goals – and the second in particular was freakish – and yet his involvement beyond that was limited.
Juventus vs Real Madrid: Player ratings

Show all 23
And poor Juan Cuadrado who can feel he was hard done to with his red card, having collected a second yellow for brushing by Sergio Ramos, who hurled himself to the ground. His dismissal was too late to have any impact on the game, but it seemed emblematic of a night on which nothing much went right for Juve.
There had been much talk of whether Juventus would play with a back three or a back four; as it turned out they did both. Andrea Barzagli drifted to the right of the three central defenders so he was almost an orthodox right-back at times, with Dani Alves operating in front of him as what Italians used to call a "tornante" – a "returner" – shuttling up and down the flank.
That allowed him to engage with Marcelo, arguably Madrid's most effective player this season, high up the pitch, negating his attacking impact to an extent.
The two Brazilians cancelled each other out to an extent, and it was notable that the two first-half goals both involved the other full-back – Dani Carvajal getting the assist for Cristiano Ronaldo's opener before Alex Sandro's volleyed cross in the build-up to Mario Mandzukic's stunning equaliser.
Juve looked the better side for the remainder of the half but without really looking like converting that pressure into goals. Higuain has developed an unfortunate reputation, particularly in Argentina, for failing to perform on the highest stage. He missed clear chances in both the 2014 World Cup and 2015 Copa America finals, and had lost in three Champions League semi-finals with Real Madrid.
His two strikes in the first leg of the semi-final victory over Monaco doubled his tally of goals in 26 Champions League knockout ties. Earlier this season, the Argentinian quoted advice once given to him by Ruud van Nistelrooy about overcoming goal droughts: "You try but they won't come out. Then… they all come out at once." Not here, though.
He remains a frustrating striker, who drifts in and out of games. It wasn't that he missed chances here; it was that he never really got in the positions for them to be created.
To blame him would be unfair, for if there was a failing here it was a tactical one. Once Madrid had checked the surges of Alex Sandro by pushing Toni Kroos a little wider at half-time, Juve struggled to respond. And where Juve hadn't taken advantage Madrid were fortunate and then ruthless.
Dani Alves had been brought in not just because of his skills as a right-back but to help with the attitude. He has won 34 titles over his career, something he attributes to his sense of fun; he doesn't, he says, take football too seriously. Nobody had been on the winning side against Real Madrid more often. Other Juve players have spoken about his infectiousness. But it was not enough.
Unlucky? To an extent. But then Juve essentially folded once the second goal had gone against them. And that suggests issues that run deeper than fortune.
Join our new commenting forum
Join thought-provoking conversations, follow other Independent readers and see their replies