Juventus ready 'for the best game in their history' as they look to put Champions League demons to bed
After the defeat of 2015, the Italians now look more complete, coherent and clinical than they have done in years. Juventus are as ready as they'll ever be to end 21 years of hurt in Europe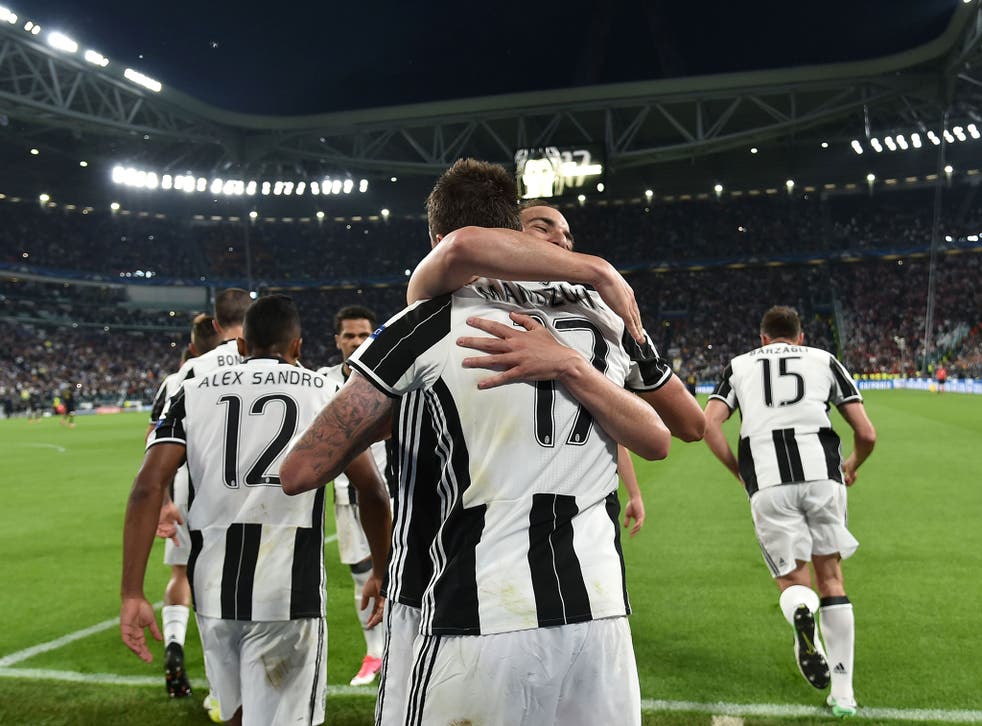 When Juventus flew back from the 2015 Champions League final in Berlin, after losing 3-1 to Barcelona, they had a special guest on their plane. The 21-year-old Argentine Paulo Dybala, who had just signed for €32m from Palermo. Claudio Marchisio asked Dybala whether he was ready to win with Juventus. Dybala told him to start preparing for their next Champions League final.
Dybala was right. Two years on Juventus are heading back to the biggest stage in football, in Cardiff on 3 June. And this time they are ready to go one better, and overcome the Spanish giant in their path. When Marchisio told that story, late on Tuesday night at the Juventus Stadium, there was only one question on everyone's minds: is this Juventus team better than that one?
That team from the 2015 final was certainly full of quality. They had the same goalkeeper and defence they do now, although Giorgio Chiellini was unfortunately injured for the final. They had Arturo Vidal, Andrea Pirlo and Paul Pogba in midfield, almost the most complete trio imaginable. And they had Carlos Tevez and Alvaro Morata up front.
Juventus vs Monaco player ratings

Show all 23
But that was just Max Allegri's first season after taking over from Antonio Conte, and as Leonardo Bonucci explained on Tuesday night, this team has improved since then. "We have grown over the last two years," Bonucci said. "When we got to the final then, we were a surprise. This year, given how we have played, I think we are more of a certainty."
Vidal, Pirlo and Pogba have all gone but what has impressed Bonucci is how the team has not lost out. "We have shown that we are a great team," he said, "and we are going to Cardiff to try to win as a mature team, aware of what we can do. Back in Berlin we had a great midfield. But this year we have matched that. The midfielders are in wonderful form. Now we just have to go to Cardiff and play the best game in the history of Juventus."
That is an ambitious target but then there is a real sense with this Juventus side that they have been building towards this final for years. The team is perfectly equipped to win in Europe, and Bonucci spoke about how they are playing in a more 'European' way now, more willing to sacrifice themselves out of possession. Pirlo and Pogba were great players for Juventus but neither was known for his defensive discipline. This team is a more solid unit, and in their 12 Champions League games so far they have conceded just three goals.
No-one symbolises that discipline and sacrifice better than Marchisio. On Tuesday night he had to come on after 10 minutes when Sami Khedira pulled up but he immediately put himself about for the service of the team. He is a veteran from the 2015 final but he trusts that this time there will be a better outcome.
"Cardiff will be different from Berlin," Marchisio said. "We really want to get this one right. We have been on an important path, and last year we went out to Bayern where maybe we deserved to go through. But the team has shown tremendous growth in every game, and that we have a great mental strength, a fundamental aspect for any great team."
That mental strength has seen Juventus shake off the defeat of 2015 and come back stronger than ever, just as Atletico Madrid did after losing in 2014.
But Juventus have done the hardest thing for any football team, which is to regenerate while maintaining the same levels. That is what the Juventus teams of the 1990s used to do. They won the 1996 Champions League final with Gianluca Vialli and Fabrizio Ravanelli up front, then let them both leave. The next year they were back in the final with Zinedine Zidane, Christian Vieiri and Alen Boksic. They lost that, signed Filippo Inzaghi and came back in 1998, but lost again.
Now 21 years on they can end their European drought. It would be the culmination of years of hard work and good decisions, from Conte, Allegri and Giuseppe Marotta who runs the club. "This road started a long time ago," as Allegri said. "It is the growth of the club, the players and myself. We worked a lot of after the defeat in Berlin to get back to a final again." Just as Dybala promised Marchisio two years ago.
Register for free to continue reading
Registration is a free and easy way to support our truly independent journalism
By registering, you will also enjoy limited access to Premium articles, exclusive newsletters, commenting, and virtual events with our leading journalists
Already have an account? sign in
Register for free to continue reading
Registration is a free and easy way to support our truly independent journalism
By registering, you will also enjoy limited access to Premium articles, exclusive newsletters, commenting, and virtual events with our leading journalists
Already have an account? sign in
Join our new commenting forum
Join thought-provoking conversations, follow other Independent readers and see their replies